VMware vSphere Infrastructure is widely used by many organizations across the world. Where everyone uses one or the other versions of vSphere (ESXi & vCenter). Every year IT Teams performs patch, update & upgrade of the vSphere using the different available ways. In this post, we will talk about why you should move from Baselines to Cluster Images in vSphere 8.
vSphere 8 is the latest iteration of the VMware vSphere solution. It comes with many new functionalities & enhancements compared to previous versions of vSphere. vSphere Lifecycle Manager which was introduced in vSphere 7 is further enhanced in vSphere 8. In which the mostly used baseline feature will be deprecated in the next version of vSphere. Baseline is used to perform patch/upgrade of ESXi hosts using Update Manager or Lifecycle Manager. Where you create different baselines for patching ESXi hosts & upgrade ESXi hosts.
VMware Update Manager has come a long way from vSphere 5.0 to vSphere 8.0. In the older version of VMware Update Manager, you have to set up Windows Server for Update Manager through which you can perform patches/upgrades. Later VMware embedded an update manager in the vCenter Server which doesn't require any additional installation. With the release of vSphere 7, a new Lifecycle Manager is introduced which can perform ESXi patches/upgrades as well as some of the firmware updates.
In vSphere 8 focus is on the cluster images where your complete cluster will be managed using a single ESXi image so that during the upgrade/patch it will be very simple instead of managing multiple versions of ESXi in the cluster. VMware is trying to simplify the lifecycle operations for vSphere ESXi management in the cluster where with a few clicks you can simply upgrade & patch your ESXi hosts.
If you are already using vSphere 8 then you must have noticed the warning in the Lifecycle Manager or Cluster updates section. If you are not using vSphere 8 don't worry below you can see the screenshot of the warning:
Cluster Updates Section: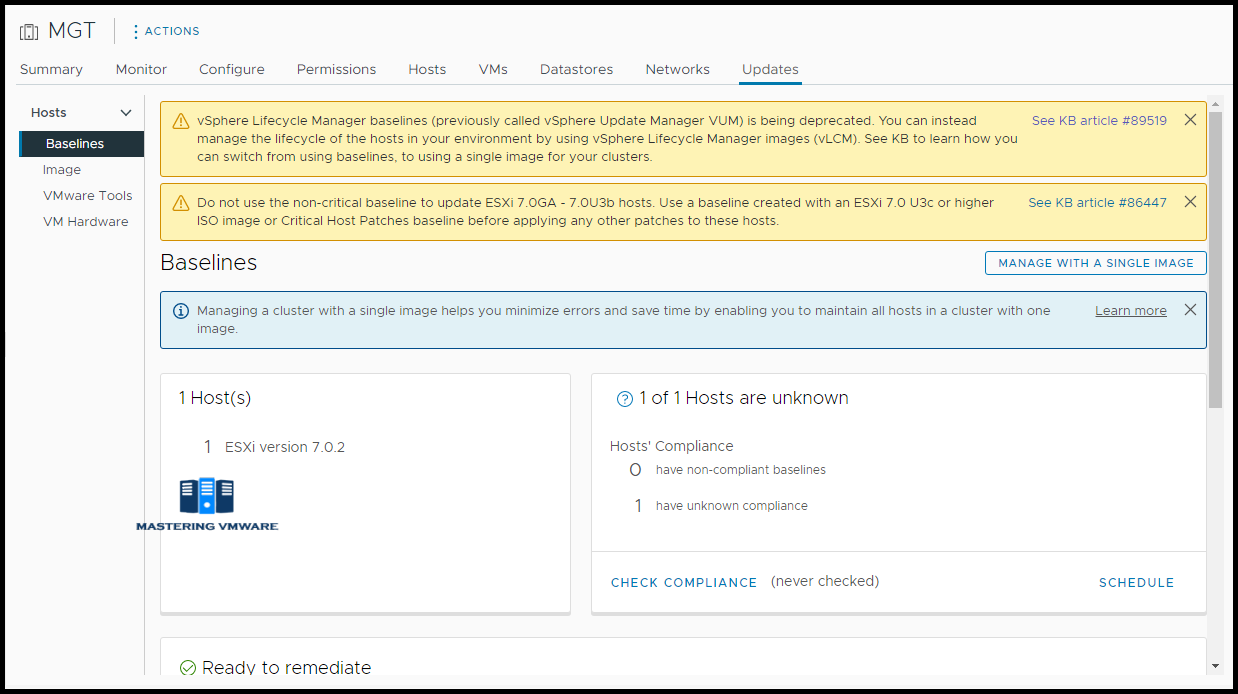 ESXi Host Updates Section: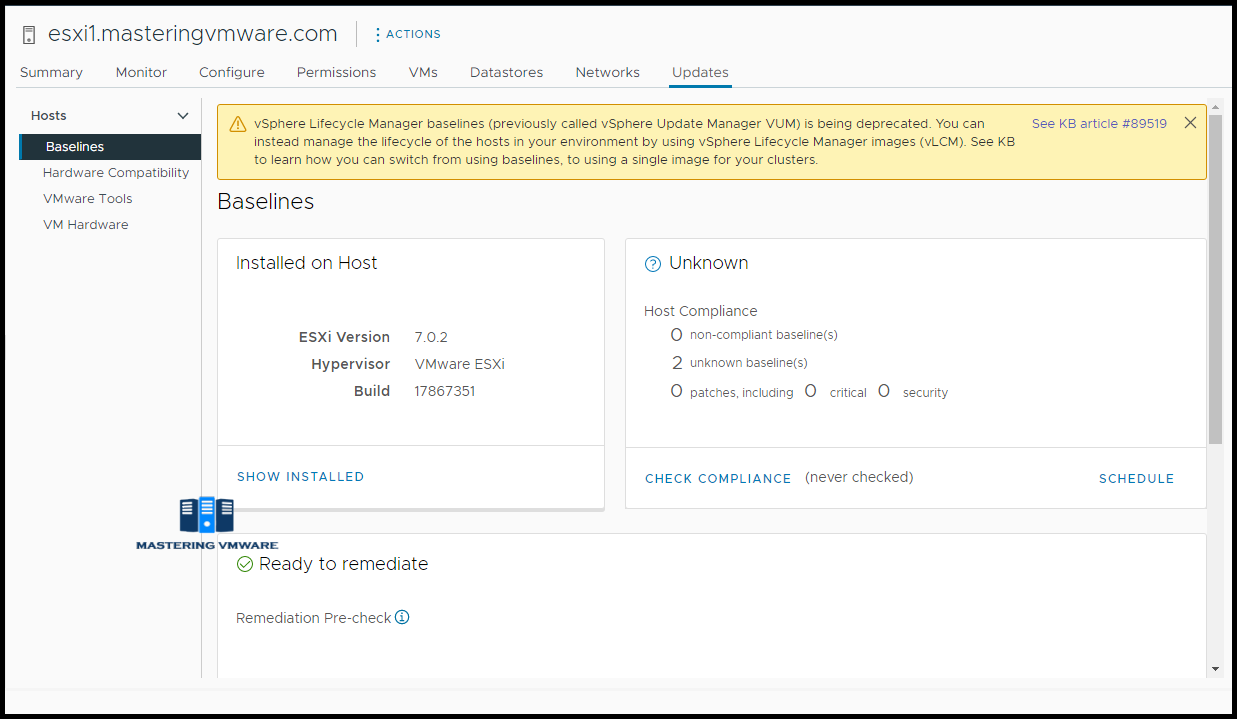 As you can see clearly warning message:
"vSphere Lifecycle Manager baselines (previously called vSphere Update Manager VUM) is being deprecated. You can instead manage the lifecycle of the hosts in your environment by using vSphere Lifecycle Manager images (vLCM). See KB to learn how you can switch from using baselines, to using a single image for your clusters."
It says that baseline functionality is being deprecated & you should start using vSphere Lifecycle Manager images for patches/upgrade of your ESXi. Don't worry baseline functionality is still available in vSphere 8.
Official Notification in VMware KB 89519:
With the launch of vSphere 8.0, we are announcing the deprecation of vSphere Lifecycle Manager Baselines (previously known as vSphere Update Manager VUM). The capability will continue to be supported, and will remain in the product, and is available for use in vSphere 8, until its removal in the next Major release of vSphere.
You can checkout VMware KB 89519 for more information.
If you are looking to convert cluster which uses Baseline to vSphere Lifecycle Manager images you can checkout below official VMware Documentation:
Convert a Cluster That Uses Baselines Into a Cluster That Uses vSphere Lifecycle Manager Images
Note: Reason for this post is not to create fear about the functionality but to make you aware & prepared for the next version of vSphere so that you start transition from baselines to vSphere lifecycle manager images functionality for your ESXi patches/upgrades.
That's it for Today Friends. I Hope you liked reading this post & If you find anything more to be added or removed feel free to write it in our comments. If you find it useful You are Feel free to share this on social media to help others & spread knowledge.
If you have any queries on anything you are free to write it in our comments section & we will make sure to provide you a better solution as soon as possible.
Follow us on Twitter for Regular updates: Mastering VMware
Join Our LinkedIn Group to get Updates & Discussions: Mastering VMware.
Check out our Facebook Group for discussions & more.
You can also Like & Share our Facebook Page for Latest Updates.