VMware vSphere ESX & ESXi both are Developed & proprietary software platforms of VMware. Both are Type-1 Hypervisor which allows to Virtualize the Datacenter. Till Version 4.1 VMware vSphere ESX was used than VMware has launched the ESXi into the Market. The name ESX is an abbreviation of Elastic Sky X.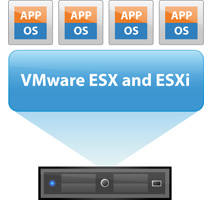 ESX & ESXi both are the independent Operating Systems which directly get installed into the Hardware Server. Both required the Hardware Compatibility before installing. You can check below the hardware compatibility guide is provided by VMware. Both are used in Datacenter's to Virtualize the Datacenter & Server's. We can easily deploy the Virtual Servers Using the ESXi.
You can checkout the Hardware Compatibility guide on VMware to check the compatibility of your Hardware for vSphere.
For More Information on VMware ESX & ESXi checkout our FB Group Files section.
That's it for Today Friends. I Hope you liked reading this post & If you find anything more to be added or removed feel free to write it in our comments. If you find it useful You are Feel free to share this on social media to help others & spread knowledge.
If you have any query on any thing you are free to write it in our comments section & we will make sure to provide you the better solution as soon as possible.
Checkout our Facebook Group for Discussions & More Stuff.
Like & Share our Facebook Page for Latest Updates.