vSphere 7
vSphere Guides
What is Hard Stop VM in vCenter Server 7
What is Hard Stop VM in vCenter Server 7 & How it works ?
In VMware environment virtual machine runs the applications,services & databases. Hard Stop is the newly announced feature in vCenter Server 7 which was not previously available. In this post we will see on What is Hard Stop VM & How it works.
Featured Sponsor
There are times when your virtual machine is in hung state & you want to shutdown the VM but you are unable to do it either from Guest OS or from vCenter server using Power off option. So in that case mostly we have to login to ESXi host using Putty & kill the process of that VM. Now we don't have to login to ESXi host to power off VM which is not responding. We can simply terminate VM from vCenter Server.
We can simply Hard Stop VM directly from vCenter Server. Hard Stop VM will terminate all the processes of your virtual machine & power it off. Hard Stop VM can only be used if your VM power off function is not working in vCenter Server.
So let's see How to Hard Stop VM in vCenter Server:
To Hard Stop VM > Right click on VM > Select Power > Choose Hard Stop.
You can also click on Action tab beside VM name > Go to Power > Hard Stop.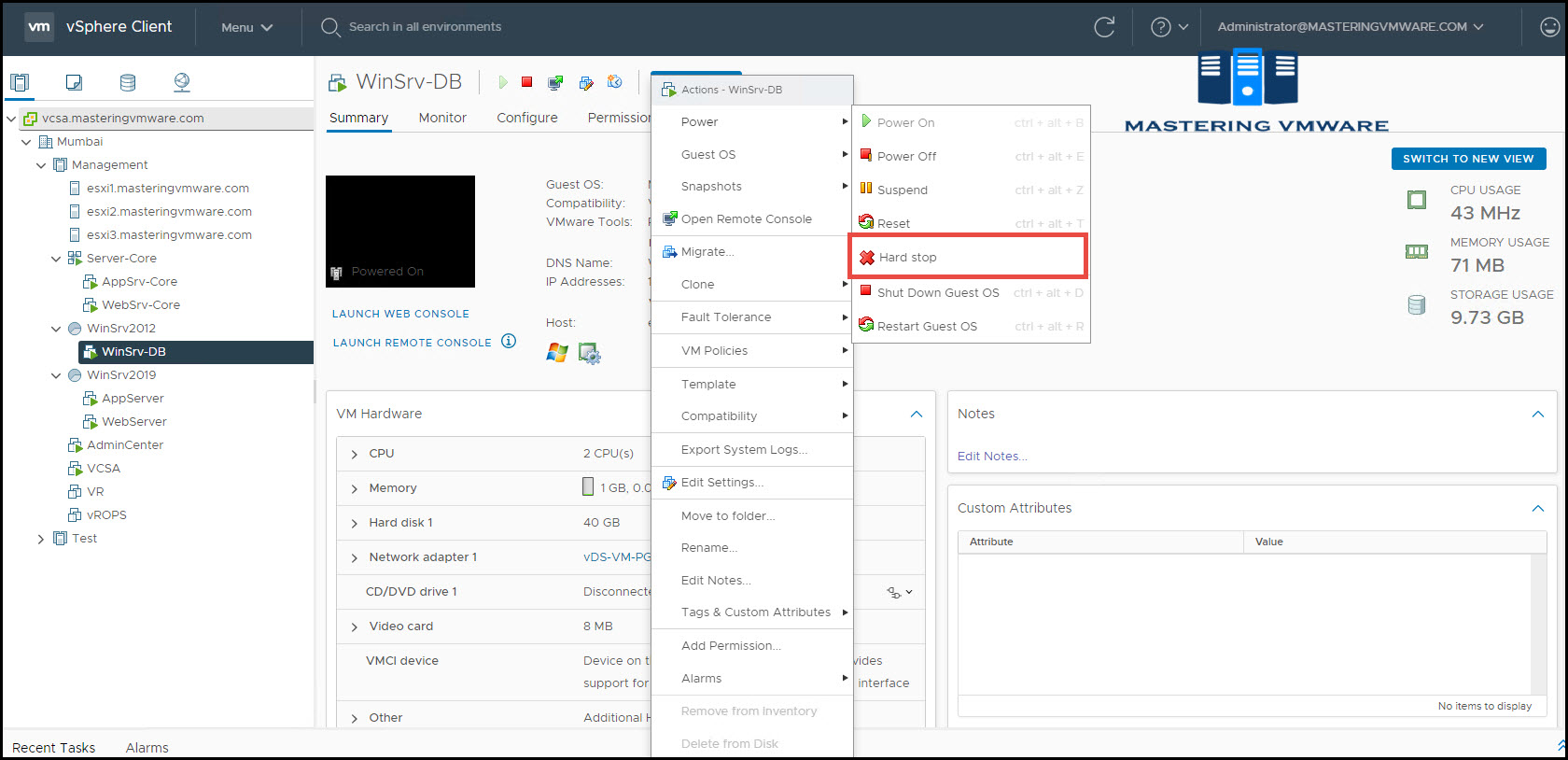 Now you will get the prompt that Hard Stop VM will be forcibly terminate the virtual machine & it can result in data loss.
So before going for Hard Stop you must try Shutdown from guest OS, Power Off from vCenter Server.
Once you click on Yes your VM will be terminated & powered off.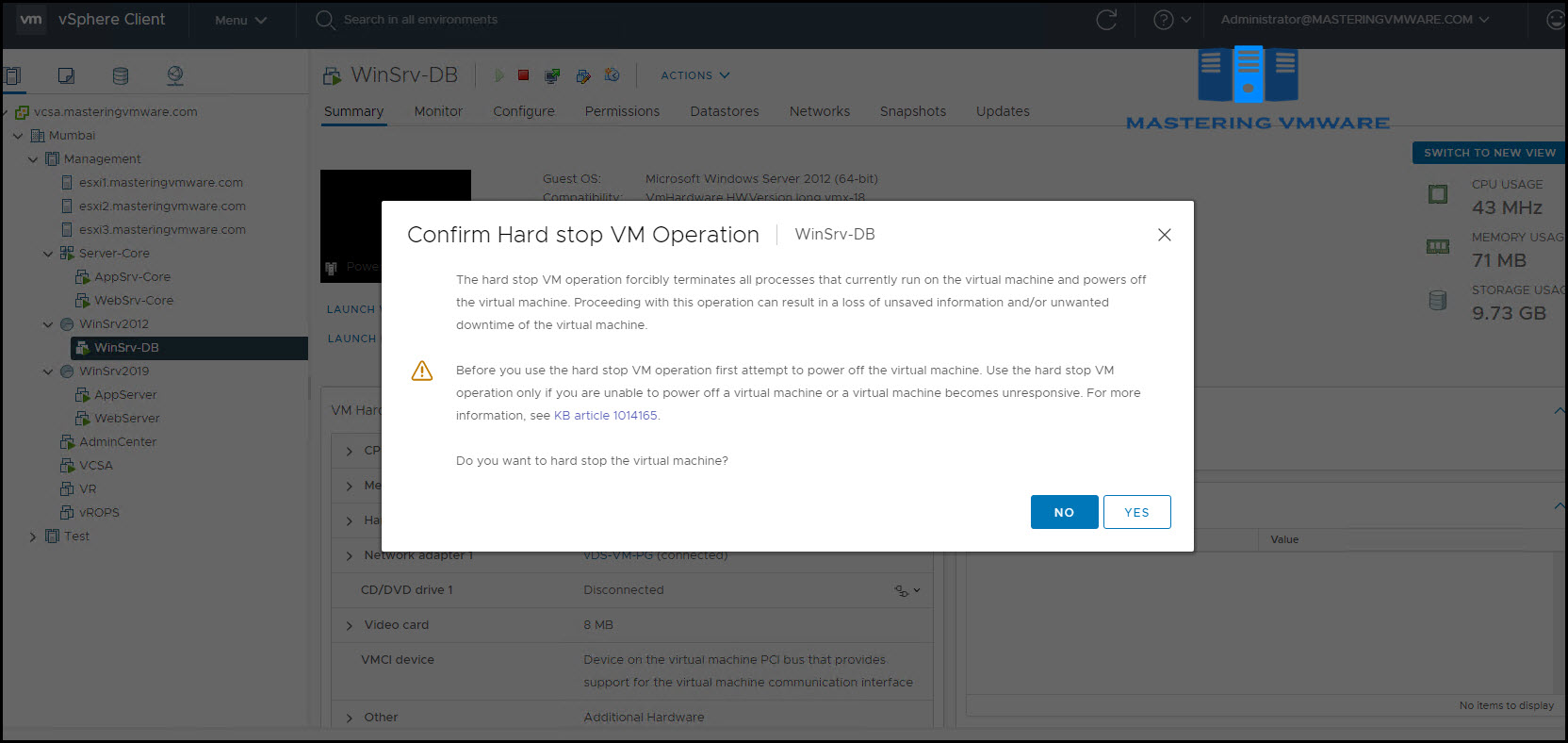 You can also see the status in the Virtual Machine Tasks that VM termination operation is requested.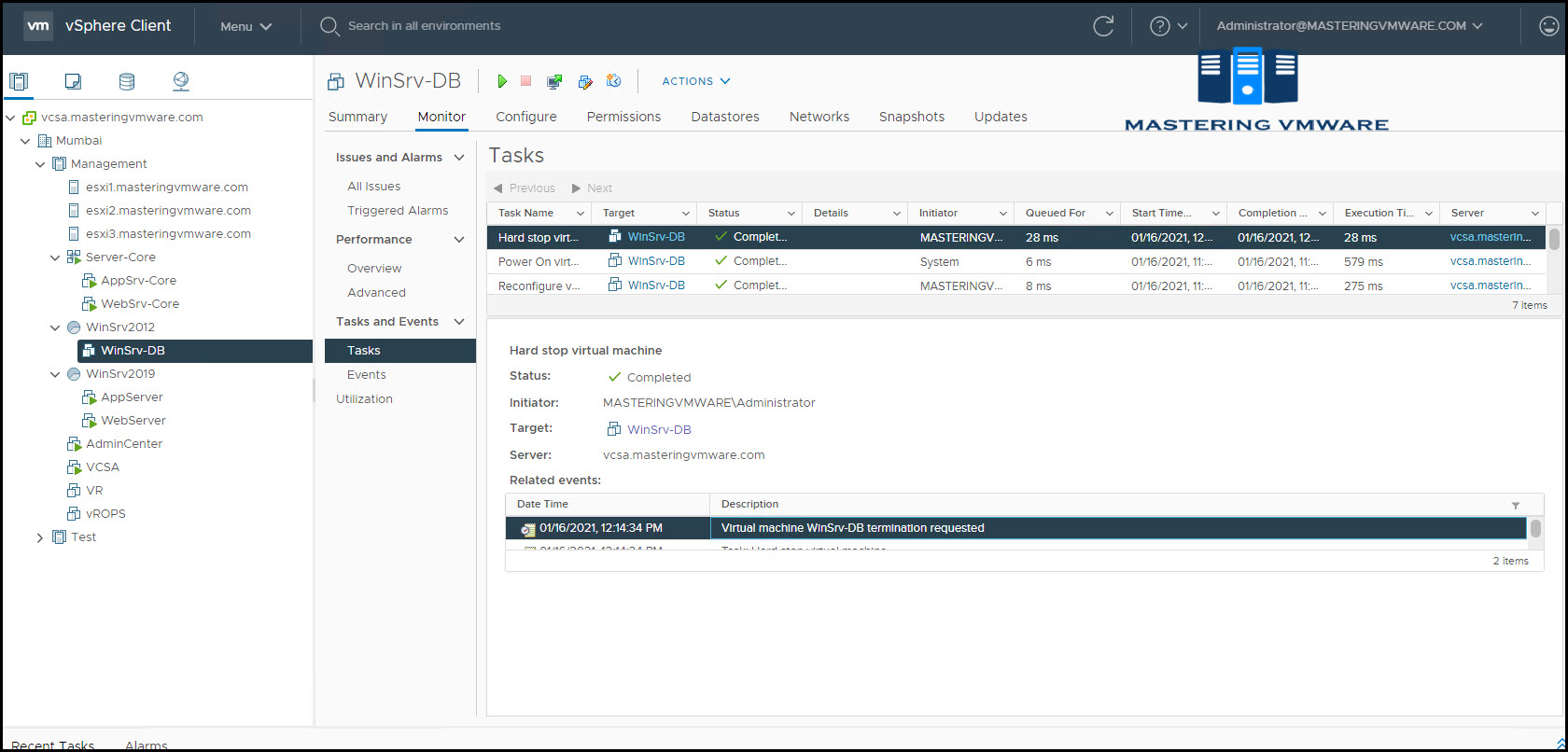 Once you perform Hard Stop VM, Your VM will be terminated withing 2-3 seconds.
You should not frequently use Hard Stop VM instead it only be used when you are unable to perform any tasks on the VM such as Guest OS Shutdown, VM power off from vCenter Server.
Hard Stop VM & VM Reset has different working. Hard Stop VM will forcefully terminate VM from vCenter Server & you need to start the VM again to power it on, In case of VM Reset it will power off VM & start it. So don't get confused with both the options.
If you haven't installed vCenter Server 7 than you can check our below step by step post:
How to Install vCenter Server 7 Step by Step ?
That's it for Today Friends. I Hope you liked reading this post & If you find anything more to be added or removed feel free to write it in our comments. If you find it useful You are Feel free to share this on social media to help others & spread knowledge.
If you have any query on any thing you are free to write it in our comments section & we will make sure to provide you the better solution as soon as possible.
Join Our LinkedIn Group to get Fast updates about our posts : Mastering VMware.
Checkout our Facebook Group for discussions & more.
You can also Like & Share our Facebook Page for Latest Updates.