Everyone is using VMware for virtualizing server but to manage all the vm's & to get all the information in a few minutes it is an big task because we have to search for every detail in vCenter Server & ESXi Host also. If you are VMware Admin than you must check out the below utility which will help you to get simple as well as advance reports of all your virtual infrastructure.
RV Tools is the Small windows .Net 2.0 application developed by the Rob de Veij. RV Tools uses VI SDK to gather all the information. RV tools will help you to list all the information about your virtual infra such as vm's, cpu, memory, storage, network & many more advanced.
This application supports ESX Server 3.5, VirtualCenter 2.5, ESX Server 3i, ESX Server 4i, VirtualCenter 4.x, ESX 4.x, VirtualCenter 5.0, VirtualCenter Appliance, ESX 5.0, VirtualCenter 5.1, ESX 5.1, VirtualCenter 5.5 and ESX 5.5.
The latest version of RV Tools is 3.7.
So how to Install & Gather all the information.
After Downloading the Installation is very simple as because it is the Windows application just accept license & next to Install.
After Installation start the RV tools by choosing the RV tools icon from the Desktop.
You will get Login Screen Like below :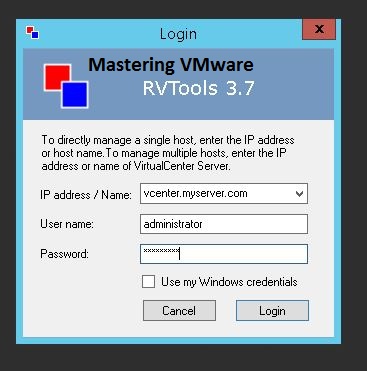 You can provide the ESXi host IP or vCenter Server IP to gather information according to your requirement.
Provide the Username & Password of the ESXi or vCenter which IP have provided.
Click Login it will take few minutes to analyze.
After successful you will get below screen with all the details listed in one window.
You will get full overview & in detail information about your virtual infrastructure.
You can also Export details into report in Excel or CSV format.
You can play around with all the menus to collect information according to your requirement.
That's it for Today Friends. I Hope you liked reading this post & If you find anything more to be added or removed feel free to write it in our comments. If you find it useful You are Feel free to share this on social media to help others & spread knowledge.
If you have any query on any thing you are free to write it in our comments section & we will make sure to provide you the better solution as soon as possible.
Checkout our Facebook Group for discussions & more.
You can also Like & Share our Facebook Page for Latest Updates.