Vembu is a one of the leading providers of Backup and Recovery solutions for your infrastructure. Vembu BDR Suite is a great offering from Vembu which is a suite which works with On Premise, Off site and as well as for cloud.
Featured Sponsor
Vembu has announced BDR Suite 4.0 few days earlier. 4.0 is the latest version of their BDR Suite solution. Vembu BDR Suite consists of 4 important solutions which are :
Vembu VM Backup: Backup Solution for VMware and Hyper-V.
Vembu Image Backup: Backup Solution for Physical Windows servers using image.
Vembu Network Backup: Specially for File and Application level Backups.
Vembu Offsite DR: Disaster Solution with Replication.
From above points you can easily understand that Vembu BDR Suite consists of all the required solutions by any organization which can protect their infrastructure.
Below are system requirements for Installing the Vembu BDR Suite:
Guest OS: Windows Server 2008 R2 and Above.
Architecture: 64bit
Memory: Min 8 GB, 16 GB recommended.
CPU: 4 Core and Above.
Network: 1Gbps and Above.
Browser: IE v11, Firefox v28 & above and Chrome v34 & above
Metadata Storage: 10% of the planned total backup data size.
It also supports Linux OS so you can check more on the Vembu Website for more.
Installation of Vembu BDR Suite in Windows Server is very straight forward it doesn't require any complex installation steps.
Installation Steps:
Download Vembu BDR Suite from Vembu Site.
Run the Installer.
Accept the license agreement.
Default Configuration or you can customize the configuration.
Customize Configuration Options:

PostgreSQL Server Configuration
Storage Repository Configuration
Configure Webserver Port , Username & Password.

Click Install to Start the Installation.
Installation will complete in few minutes.
By Default, Vembu BDR Suite comes with some default configuration such as Network Ports, Username and Password, you can configure, or change based on your requirement while installation.
Once the Installation is complete you can configure Time Zone and Set the Unique ID for Vembu BDR Server. It can be your machine name.
Below is the Login screen of Vembu BDR Server. Which you can access by clicking on Vembu BDR Server Shortcut or Put URL on the Browser:
http://IP or Hostname of Vembu BDR Server:6060/v/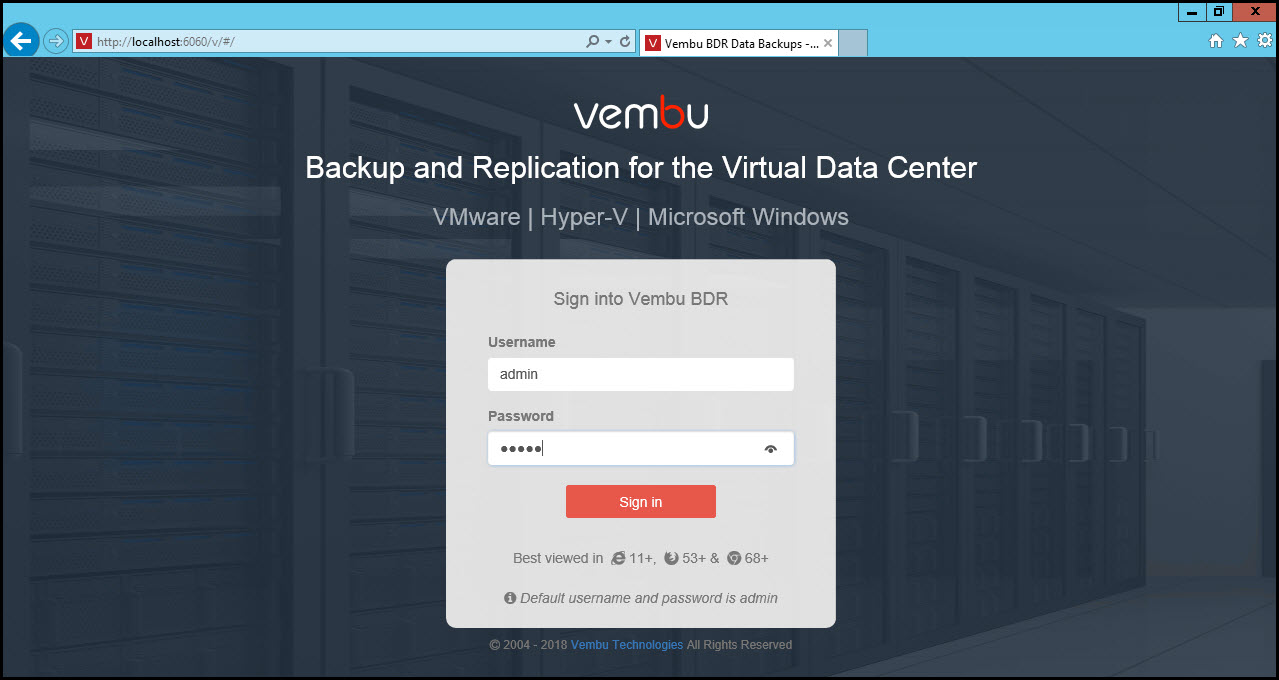 Once your login to the Vembu BDR Server you can see below screen which will display details about the current Backup Jobs running, Completed Backup Jobs, Recent Off-site Copy, Recent Tape Backups and Storage Quota.  Storage Quota will display all the storage repositories which you have configured in Vembu BDR Suite. It will also display the Storage Pools and its storage utilization so you can have overview of the storage usage in repositories.
On the Top you will find different Menu options which are explained below:
Dashboard: It is the default Home Page which shows the information about Backup Jobs & Storage Pool.
Backup: From here you can configure your Backup Jobs for VMware, Hyper-V, Windows Server and List and manage configured Jobs.
VM Replication: From here you can configure VM Replication and perform failover and failback.
Tape Backup: It allows you to setup and manage Tape Backups. You can add the Tape Servers.
Recovery: As the Name says you can recover your VMs from here. You will get all the Backup jobs so you can recover whichever you want.
Management: It allows you to manage the Vembu BDR Suite and access other features such as Offsite Configuration, Data Encryption, Credential Manager, Virtual Drive etc.
Settings: It allows you to configure settings such as Time Zone, Email Notification, Updates, Backup Window.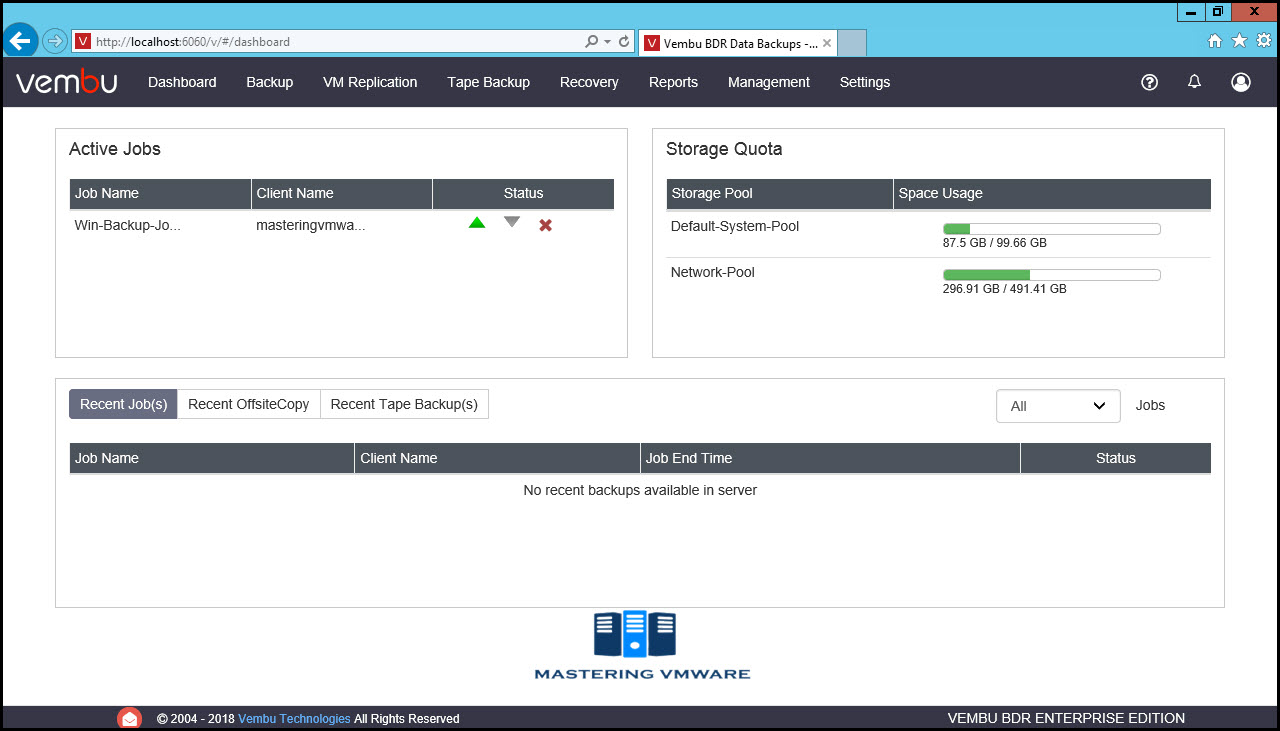 Backup Options:
As you can see from Below image you have various Backup options available such as VMware vSphere, Microsoft Hyper-V, Windows Server and Files and Application.
VMware vSphere: You can Integrate vCenter Server or the Individual ESXi Hosts.
Microsoft Hyper-V: You can Add the Hyper-V Cluster or the standalone Hyper-V Host.
Windows Server: You can add your Physical Windows Servers here.
Files & Applications: If you want to take the Backup of Files or the Applications so you must add the Agent in the system which you can download from here.
You can easily see that Vembu BDR Suite is the complete package where you have all the Backup Options available in one package, you don't have to rely on any additional tools or software's.
Storage Management:
It allows you to manage storage repositories where your backup data will be going to stored.
You can easily see from the Above image that you can use Local System Drives as well as Network Volumes. You can see the storage utilization and you can set the default storage pool so if one of the storage pools is full you can use another one.
Tape Management:
As you can see from Above image that you can also configure Tape Servers in Vembu BDR Suite. Tape Servers are mostly used in many places.
Backup Window: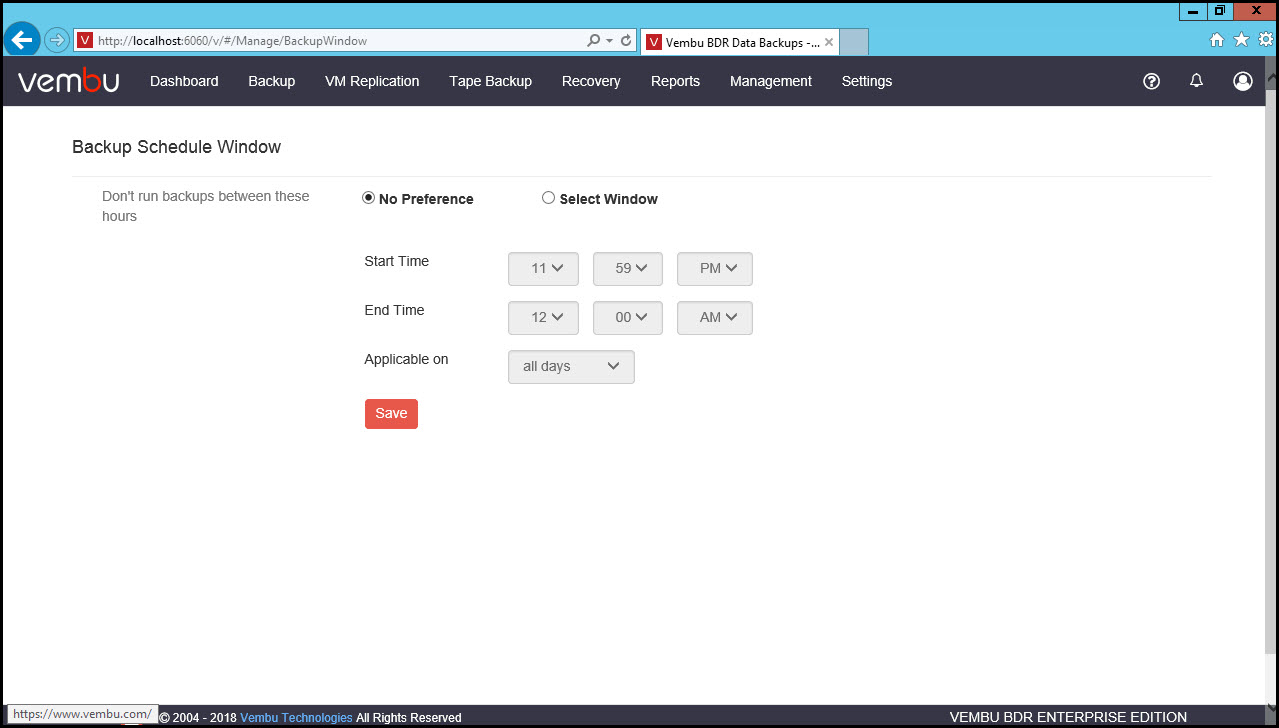 It is quite useful and unique feature where you can configure Backup Schedule windows so at that time your Backups will not run. It is recommended to configure this option so if you mistakenly configure Backup on this time then also Backup will not run in that time. You can specify Start time and End time which is suitable for your environment.
Credential Manager:
Credential Manager as the name says this can be used to store credentials so you don't have to manually configure or Type credential every time.  It is unique feature which you can use to save your time.
Configuring Backups:
Configuring Backup is simple 5 Step procedure. Which you can see from below image. You can Exclude disks as well which you don't want to Backup. If you have VM's which is running enterprise applications, then you can configure Guest OS processing for Application consistency.
Step 1: Select the VMs for Backup, you can also exclude individual Disks.
Step 2: You can enable Guest OS Processing for Application Consistency for Enterprise Applications.
Step 3: Select how frequently you want to run backup. Which you can run daily, weekly. You can also configure for Additional Full Backup Schedule and Retention.
Step 4: Specify the Retention period for Backups, Backup Storage locations and you can also Encrypt the Backup data by enabling Encryption.
Step 5: Review the Job Configuration and give the Name for your Backup Job.
So as you can see from above image that Configuring Backups is quite simple and easy task.
Restoring Backups:
Restoring Process is a 4 Simple step process:
Restore Type: You can specify how you want to restore your Backups such as Quick VM Recovery, Live Recovery to ESXi Server, File level Recovery, Disk Level Recovery, Disk Management Mount and Download.
Restore Version: You can see the available Restore versions based on the Date and Time. So you can select the Restore version whichever you required.
Restore Options: Here you can specify the Target Host, Target Datastore on which VM will be restored and Specify the Name for the Restored VM.
Review: You can review your selection before restoring so if you have missed something you can immediately select those values.
Vembu BDR Suite comes in 3 different editions Free, Standard and Enterprise. Free edition has very limited features where as Enterprise edition has all the features which you are looking for.
This was the complete review about the Vembu BDR Suite, and it's features and capabilities. Vembu BDR Suite is complete suite for your Backup and Recovery requirements which works on Virtual and Physical Environments.
It is very simple and easy to use suite where you don't require any additional knowledge. It works very smoothly without any issues. If you have any issues, then also you can easily reach out to Vembu Support for your queries.
Vembu BDR Suite comes as a Free Edition as well so before buying the product you can check and test it in your environment. You can also request Demo for Vembu. It is also optimized for Service Providers looking to provide BaaS and DRaaS to their customers.
Note: In this post all the configuration was done based on the VMware vSphere. So, if you are running for Hyper-V some steps will be different.
That's it for Today Friends. I Hope you liked reading this post & If you find anything more to be added or removed feel free to write it in our comments. If you find it useful You are Feel free to share this on social media to help others & spread knowledge.
If you have any query on any thing you are free to write it in our comments section & we will make sure to provide you the better solution as soon as possible.
Join Our LinkedIn Group to get Updates & Discussions : Mastering VMware.
Checkout our Facebook Group for discussions & more.
You can also Like & Share our Facebook Page for Latest Updates.