vSphere 7
VCSA Error: Exception in invoking authentication handler User password expired
Exception in invoking authentication handler User password expired
While working with any of the IT solutions we come across many issues or day-to-day events & errors. We always try to find solutions for them either by checking logs or we simply going ahead & perform the reboot. In This post, we will discuss on the VCSA Error Exception in invoking authentication handler User password expired.
Featured Sponsor
In the case of VCSA, we recently observed one error while logging in to it. Which was quite self-explanatory "Exception in invoking authentication handler User password expired". As you can see the error at the end it says that the User password is expired & hence we cannot log in to vCenter Server Appliance. So to resolve this we have to reset the root user password for VCSA. In this post, we will show you can easily reset the root user password.
Below is the sample screenshot of the error: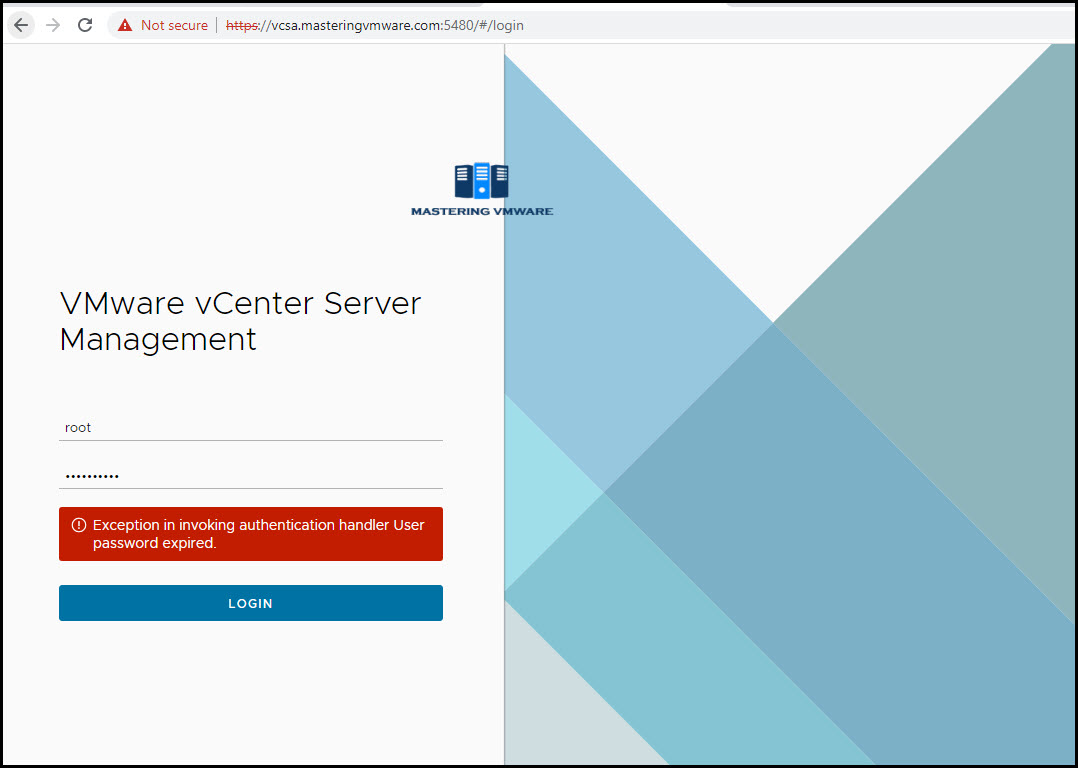 VCSA has it's own password policy where password validity for root user is 90 days by default. So if that 90 days are passed, password will get expired & you must reset root user password in order to login to VCSA.
So in below simple way we will see how you can easily reset VCSA root user expired password:
First you must have command line tool to access vCenter Server appliance such as PuTTY.
Login to VCSA using PuTTY.
Once you enter the password you will get prompt saying password expired.
So first provide your current password & then set the new password.
Once you set the password you can try to re-login again.
Using this way you can set the expired password for your vCenter Server Appliance. Now you can login to VCSA appliance management & verify the health status.
Note: This post is to reset the expired password. If you forgot the password then you can checkout below link.
How to Reset VCSA root password Step by Step ?
That's it for Today Friends. I hope you liked reading this post & If you find anything more to be added or removed feel free to write it in our comments. If you find it useful You are Feel free to share this on social media to help others & spread knowledge.
If you have any queries on anything you are free to write it in our comments section & we will make sure to provide you with a better solution as soon as possible.
Join Our LinkedIn Group to get Updates & Discussions: Mastering VMware.
Check out our Facebook Group for discussions & more.
You can also Like & Share our Facebook Page for Latest Updates.