SRM
SRM: How to Export Site Recovery Manager Configuration Step by Step
VMware provides the Export Import tool for the Site Recovery Manager 8.1. This tool can be easily used to export your site recovery manager configuration so that in case if something goes wrong with your site recovery manager configuration you can import the configuration easily with exported data. Exporting and Importing of data is very simple. It just requires few prerequisites which needs to be taken care. In this post we will see on How you can export the site recovery manager configuration and in the next post we will see on how to import site recovery manager configuration.
The tool supports the export of inventory mappings, recovery plans, protection groups, and the related objects into an XML file, and import from a previously exported file.
Below information can be exported using this tool:
Network Mappings
Folder Mappings
Resource Mappings
Storage Policy Mappings
Placeholder Datastores
Site Recovery Manager Advanced Settings
Array Managers with SRA Information
Protection Group Folders
Protection Groups
Recovery Plan Folders
Recovery Plans

Recovery Steps Callouts
VM Recovery Properties

Priority Groups for VMs
VM Dependencies
Shutdown Actions
Startup Actions
Callouts
IP Customization Settings
Prerequisite for Exporting Site Recovery Manager configuration:
You must have Java 1.8.x or later installed.
The

JAVA_HOME

environment variable must be properly configured. For example,

JAVA_HOME = C:\Program Files\Java\jre1.8.0_152

.
Before you can export a configuration, you must have a site pair with

Site Recovery Manager

8.1.x up and running on both the protected and the recovery site.

Import is supported in a clean Site Recovery Manager 8.1.x installation, registered to the same vCenter Server instance or to a vCenter Server instance which contains exactly the same inventory.
For Setting up Java Path below are the steps:
Go to My Computer.
Go to Advance System Settings.
Go to Environment Variables.
Click New under system variables.
Add the Variable Name and Value , Click OK to save.
Download the Site Recovery Manager Import Export Tool from VMware Portal:
Let's see Now How to Export Site Recovery Manager configuration Step by Step:
Step 1:
Open the Command Prompt with Administrator privilege.
Go to the Directory where you have downloaded the SRM Export Import Tool.
As you can see in the below image we already downloaded the tool.
Step 2:
Run the below command to export the configuration:
java -jar import-export-tool-8.1.0-8527244.jar export format
Step 3:
Now we have to provide following data exporting:
Provide the IP Address of the Lookup Service.
Enter the Port No: if you have used default press Enter.
Accept the Certificate: By entering Y.
Enter the Username and Password for the Site Recovery Manager.
Select the Site Recovery Manager Instance.
Enter the Username and Password for the Site Recovery Manager Instance selected.
Once all the correct data is provided you can see that within few seconds all the export will be completed.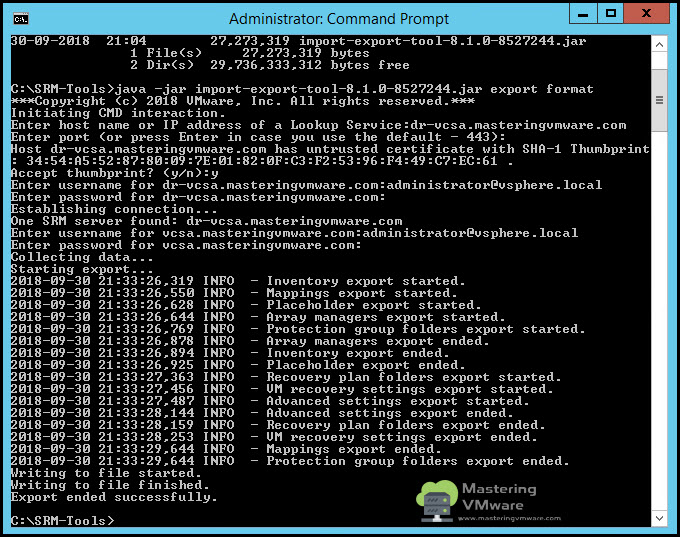 Once Export is completed successfully, you can see that one xml file is created :
That's it, Using this way you can easily export site recovery manager configuration data easily with few steps. Make sure you have correct java version is installed which is required for the export import tool.
Note: This Utility we have tested with the Site Recovery Manager 8.1, It might not work or available with older versions.
Checkout Site Recovery Manager Deep Dive for Installation,Configuration and Recovery :
Site Recovery Manager Deep Dive
That's it for Today Friends. I Hope you liked reading this post & If you find anything more to be added or removed feel free to write it in our comments. If you find it useful You are Feel free to share this on social media to help others & spread knowledge.
If you have any query on any thing you are free to write it in our comments section & we will make sure to provide you the better solution as soon as possible.
Join Our LinkedIn Group to get Fast updates about our posts :Mastering VMware.
Checkout our Facebook Group for discussions & more.
You can also Like & Share our Facebook Page for Latest Updates.
Source: VMware Docs.