Most of the companies uses VMware vSphere as their Infrastructure solution. VMware vSphere comes with the security so to avoid any issues but there are certain security measures you need to follow to enhance and add more security to your VMware Environment.
Featured Sponsor
Most of the peoples don't implement security measure in their VMware Environment so to improve security Runecast Analyzer is a solution for you to easily add and enhance to your VMware Environment. So, to make your VMware environments more secure.
Runecast Analyzer scans your specific configuration and provides Best Practices fit gap analysis report and Security Hardening checks.
VMware provides the Security Hardening guides to improve the security of your virtual infrastructure, but it takes time to check for each object and to perform on them, so if you don't want to do it manually you can do it easily with Runecast Analyzer. Runecast uses the vSphere Security Hardening guides to automatically provide a continuous security report. This will help you ensure successful security audits such as PCI DSS, HIPAA, STIG.
Below is the Sample View of the Security Hardening Dashboard:
As you can see from above image that there are many security measures displayed and you can see result of it Pass or Fail. So, based on the results you can perform security hardening.
You can filter out severity levels such as Major, Medium and Low. So, based on the severity you can fix and apply security guidelines.
It can be applied to all the Objects which are Virtual Machines, vCenter Server, Network and Compute. So, based on each object you can check for security compliance.
Below is the Sample Overview :
Below you can see one of the Guideline is Failed so you can expand the section and see its details with the resolution provided using VMware KBs. So, you can check for KBs and harden your security.
In the above image you can see that We have issue with the ESXi Patches, so it showed as failed, to avoid it we can configure Update Manager to update and patch the ESXi Hosts on regular basis.
Security Compliance Settings:
Runecast Analyzer supports multiple security compliance such as PCI DSS,HIPAA, STIG.
You can specify which Security Compliance you want to follow so based on that you can harden your Security and you can make your datacenter security compliant.
As you can see from Above image that you have flexibility to choose the security compliance so based on that you can harden your VMware Environment security. You just have to go to configure or settings section and go to Security Compliance Tab to make changes.
Reports:
Runecast Analyzer allow you to Export Reports in various formats such as PDF, CSV. So you can export the Reports of Security Hardening in VMware and based on that you can make changes In your environment.
You can export the Reports directly to show to your Teams or Management that security measures are not being followed and we can achieve it using Runecast Analyzer: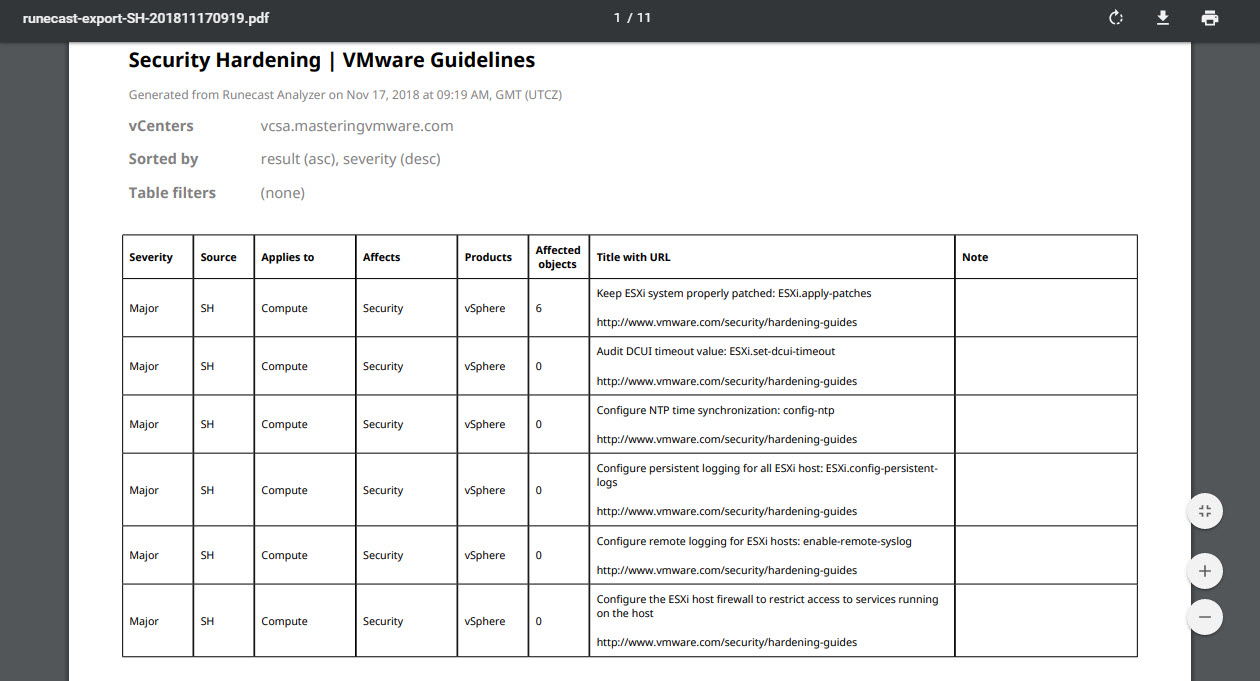 Using Runecast Analyzer you can improve overall security of your VMware Environment as well as you can make your infrastructure compliant with security. So that you don't have to worry about the Security issues within your Environment.
That's it for Today Friends. I Hope you liked reading this post & If you find anything more to be added or removed feel free to write it in our comments. If you find it useful You are Feel free to share this on social media to help others & spread knowledge.
If you have any query on any thing you are free to write it in our comments section & we will make sure to provide you the better solution as soon as possible.
Join Our LinkedIn Group to get Updates & Discussions : Mastering VMware.
Checkout our Facebook Group for discussions & more.
You can also Like & Share our Facebook Page for Latest Updates.