Runecast analyzer provides the real time operations & security insights into your VMware datacenter. Runecast Analyzer seamlessly integrate within your VMware Infrastructure and identify when combinations of components in your datacenter stack are vulnerable.  It is a patent pending rules engine that uses Artificial Intelligence (AI) and Natural Language Processing (NLP) to automatically discover all configurations in your environment that can trigger outages, fail security audits or other issues that negatively affect performance.
Featured Sponsor
Key Features of Runecast Analyzer:
Monitor & Troubleshoot your VMware environment with ease
Issue Prevention
Security Compliance
Log analytics
Hardware Compatibility
Best Practice recommendations
Runecast analyzer easily integrate with your vCenter Server & analyzes your complete VMware infra whether it is vCenter, ESXi, VMs, NSX, vSAN & Horizon environment.
Runecast 3 important key features allows you to make your infrastructure healthy & secure.
Scan:
It continuously scans the VMware knowledge base, security standards, best practices guide and social media to guarantee that you have the latest information and solutions to maintain and protect your infrastructure.
Harden:
Evaluates your vSphere, vSAN, Horizon and NSX environment and alerts you to potentially problematic con­figurations, ranked by criticality. Provides you with easy remediation steps to help you eefficiently and effectively troubleshoot.
Monitor:
Monitors your logs for specific patterns described in the VMware Knowledge Base articles in real time. Presents you with the issue and the resolution as soon as it is detected so you can plan for and address without delays.
Runecast Analyzer uses VMware's KB, Best Practices Guides & HCL list to provide you with the complete insight into your virtual datacenter. With the previous version HCL or HW compatibility option was not available but with the newer version they have added the HW Compatibility option which is very useful when you are planning for an upgrade of your vSphere Infrastructure. It Allows you to check for upgrade compatibility without installing any agent.
Dashboard provides the complete overview of the Issues, Security Compliance, Log issues & Best Practices for your vSphere Infrastructure.
So you can quickly work on the issues which are present in your environment & follow the VMware's Best practices to make your VM infrastructure harden and more secure.
Features introduced in the latest version of Runecast:
Hardware Compatibility analysis & Upgrade simulation
Granular vSAN Monitoring
vCenter Plugin
So, let's take the quick view of each feature how it works :
Hardware Compatibility analysis & Upgrade Simulation
With the time passes you always must upgrade your hardware & software to make your infrastructure more efficient & future proof. But most of the organizations does not go for upgrades easily because of hectic in finding the compatibility & support. It requires lot of time checking for each server BIOS, Driver versions , Nic version & many other compabilities to check for latest supported upgrades.
Runecast analyzer HW Compatibility & Upgrade simulation helps you to easily perform all the checks & compatibility against the VMware HCL so you can easily check your current infrastructure is compatible to run the latest version of vSphere or not. It simulates future with ESXi Upgradability feature.
Above you can see the Hardware Compatibility Overview feature where you simply go to HW Compatibility & it will show you the complete details of Server, Model, CPU, ESXi release, BIOS & IO Devices.
Now let's see How to easily perform the upgrade checks for your current infrastructure:
As you can see from below image that you first need to Turn on the ESXi Compatibility Simulation and then select the ESXi version from the drop down to check the version you will be upgrading in future & click Simulate.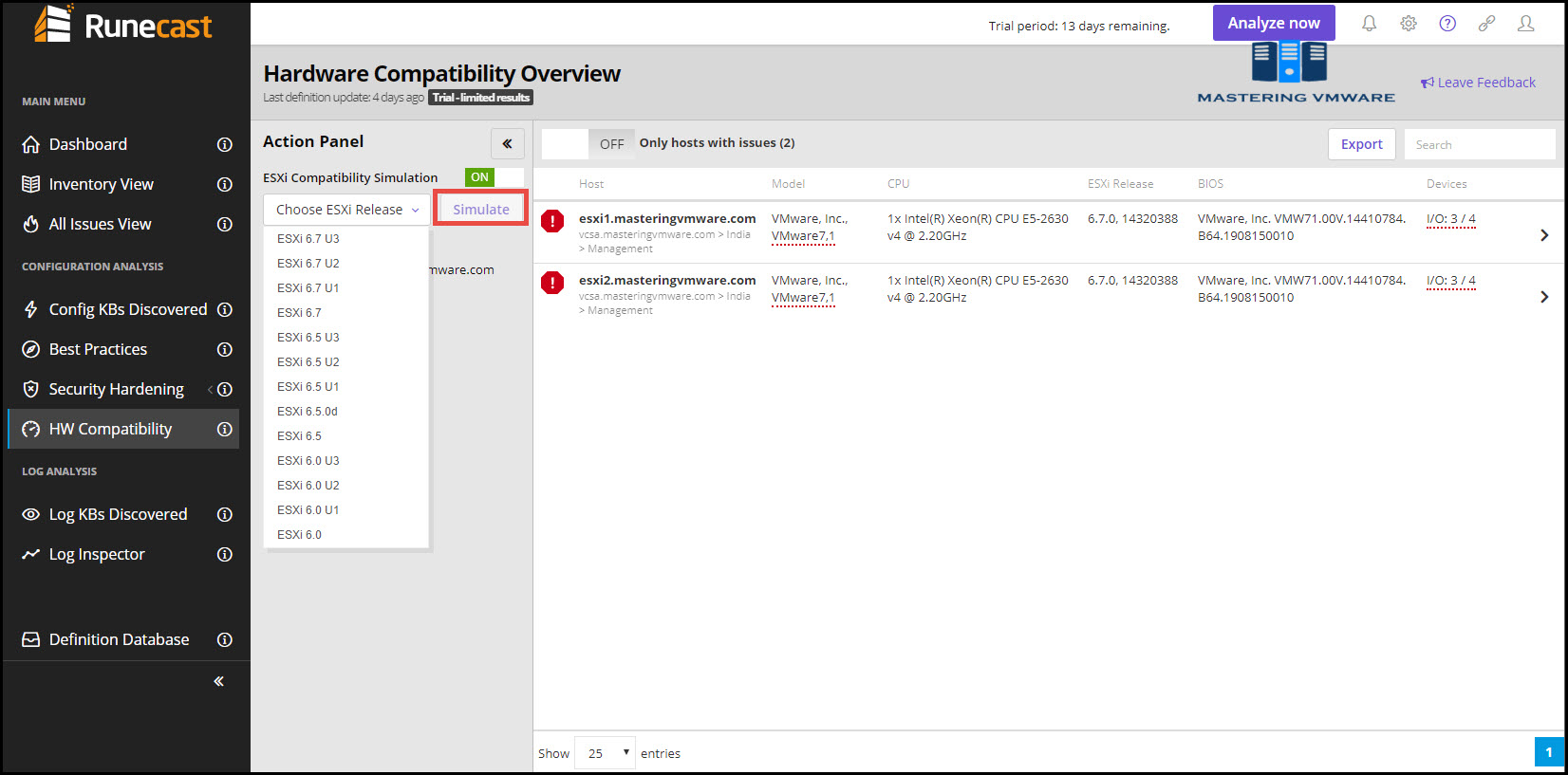 Now you can easily see the details of your current Infrastructure & upgrade compatibility:
That's it how easy it is to perform the ESXi compatibility simulation for the latest upgrade compatibility. No need to check for manual BIOS version & IO devices against the HCL list.
Granular vSAN Monitoring:
Runecast Analyzer provides you the complete insight into your vSAN configuration so that you can easily find out if any issues present & it will also show you the disk group information.
As you can see from below image that Runecast Analyzer displays vSAN Devices & Controller information where you can view the details such as Host Model, Device Type, vSAN Type, Driver & Firmware:
It also shows you the vSAN Disk group information such as how many disk groups are present, Disk group Tier Cache or Capacity , Disk details such as Vendor, Model, Type & Capacity.
So, you can have the complete overview of the vSAN Configuration in your environment where which disks are being used, are your disk drivers are compatible & many more.
vCenter Plugin:
Newer version of Runecast Analyzer comes with the vCenter plugin where you can easily integrate Runecast plugin into vCenter Server so you don't need to open Runecast every time instead you can easily have overview from within vCenter Console itself.
Installation of Plugin is also very simple where you simply must Install plugin from Runecast analyzer & provide the API access to the plugin.
Once the plugin is configured successfully you can see below how the plugin will look & how you can easily monitor your Infra within vCenter console.
Below is the sample of how you can monitor the vSphere Infra using the Runecast Plugin & How it displays the issues from inside your environment :
You can also manually perform the scan for vCenter Server to check for the health of your vSphere Infra.
As you have seen that Runecast Analyzer is very powerful solution which helps you to monitor your vm infrastructure & also provides you the upgrade compatibility within the single solution. It also provides you with the best practices that you should follow configuring the vSphere infrastructure.
Runecast Analyzer licensing is based on the number of physical CPU sockets of the ESXi hosts, with multi-tiered pricing options on an annual subscription basis – to accommodate the needs of any organization, from small business to enterprise.
For more information on licensing & pricing you can check on the Runecast official site.
Note: This is Sponsored Post.