VMware has announced vRealize Operations Manager 7.0 recently. vRealize Operations Manager comes 7 with the many new features which are very useful for day to day usage. vRealize Operations Manager delivers intelligent operations management with application-to-storage visibility across physical, virtual, and cloud infrastructures. Using policy-based automation, operations teams automate key processes and improve IT efficiency.
Featured Sponsor
Using data collected from system resources (objects), vRealize Operations Manager identifies issues in any monitored system component, often before the customer notices a problem. vRealize Operations Manager also frequently suggests corrective actions you can take to fix the problem right away. For more challenging problems, vRealize Operations Manager offers rich analytical tools that allow you to review and manipulate object data to reveal hidden issues, investigate complex technical problems, identify trends, or drill down to gauge the health of a single object.
You might be already using vRealize Operations Manager in your environment for monitoring but now it is more and more useful with the newer versions so it is recommended to go for the latest version which add new capabilities into it.
vRealize Operations Manager Deployment consists of 2 steps process. In first step we deploy OVF Template and in second step we configure and install vRealize Operations Manager.
Let's see first How to first Deploy OVF Template:
Step 1:
Download the vRealize Operations Manager 7 OVF appliance file from VMware Portal.
Login the vSphere web client.
Right click on Cluster or Host on which you want to deploy.
Choose "Deploy OVF Template."
Step 2:
Here you can either provide the URL to download the OVF package or choose Local file which you have downloaded.
Click on Choose Files to select the Appliance File. Click Next.
Step 3:
Select the Name and Folder for vRealize Operations Manager. Click Next.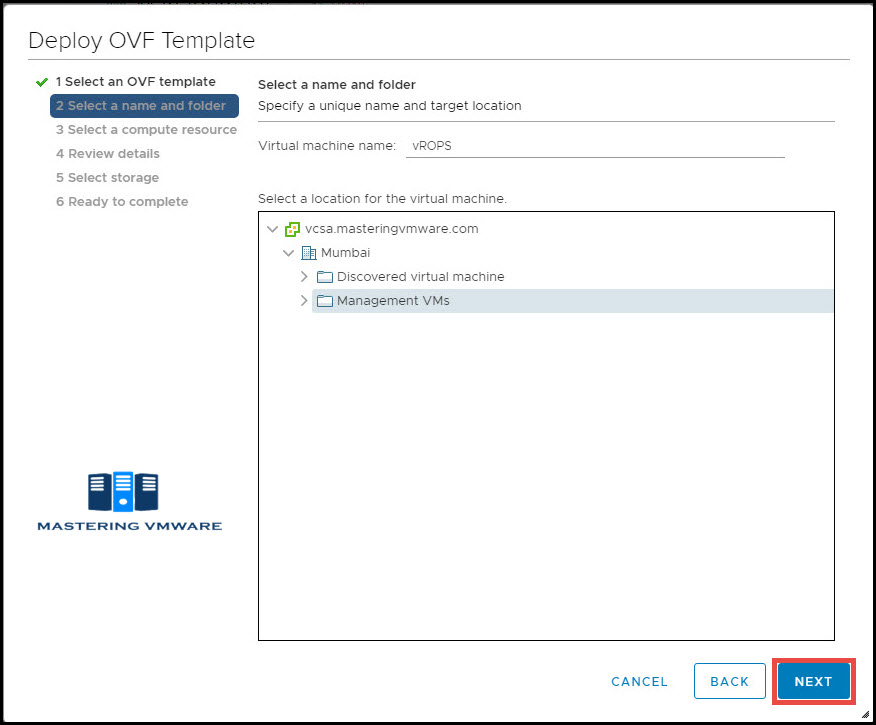 Step 4:
Select the Compute Resource for vRealize Operations Manager & click Next.
Step 5:
Review the vRealize Operations Manager Details. Click Next.
Step 6:
Read and Accept the license agreement of vRealize Operations Manager & click Next.
Step 7:
Choose the Type of Deployment which is best suited for your environment. You can also see the Description about the Configuration which you select. Select the Configuration and Click Next.
Step 8:
Select the Storage where you want to store vRealize Operations Manager Appliance.
You can also specify disk format type and storage policy if you have any. Click Next.
Step 9:
Select the Destination Network for the network connectivity and click Next.
Step 10:
Configure the Network settings such as IP, Netmask, Gateway & DNS.
It is recommended to use the static IP for vROPS.
Set the Timezone for vRealize Operations Manager.
Click Next.
Step 10:
Review all the configurations you have done.
Click Finish to start the Deployment.
Deployment will take few minutes based on your environment and configuration. Once Appliance is deployed, you can power on the Appliance.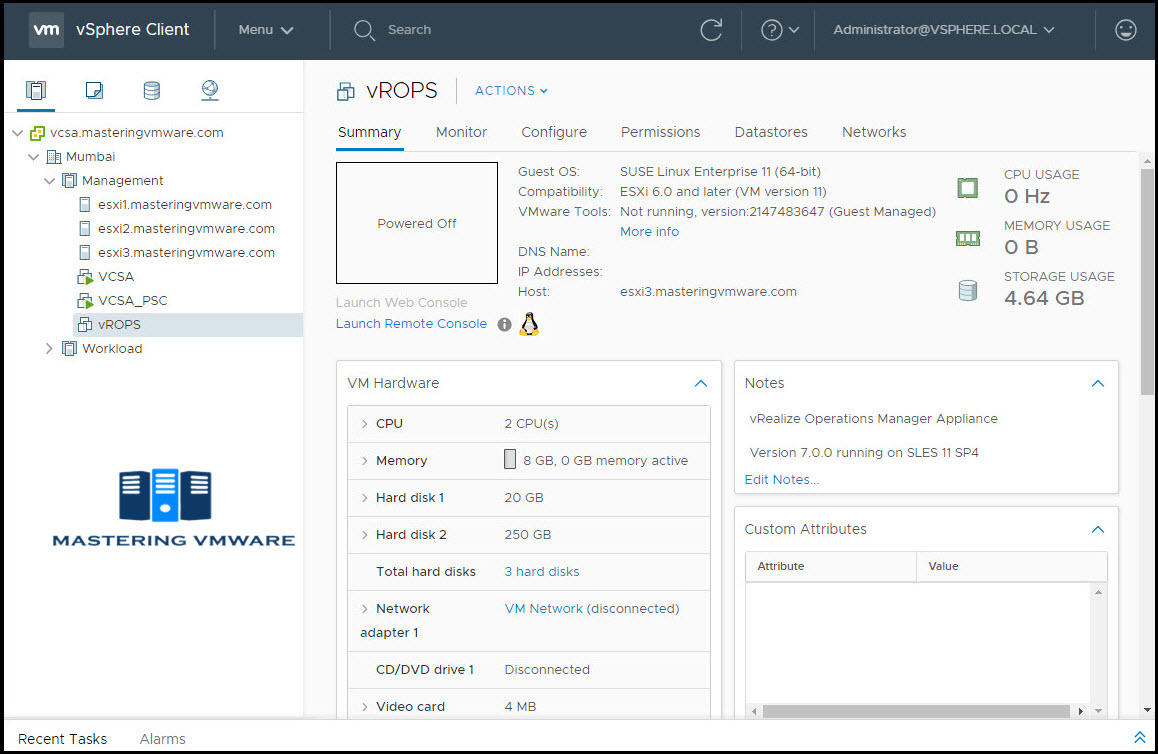 You can view the console of the vRealize Operations Manager once it is completely initialized you can see below screen.
Once you get above screen it means Appliance is deployed successfully and you can access it using the IP address or the Hostname you have set.
In this post we have successfully deployed the vRealize Operations Manager Appliance OVF, Check below link for further deployment and Configuration of vRealize Operations Manager:
How to Deploy and Configure vRealize Operations Manager Step by Step ?
Checkout our vRealize Operations Manager Deep Dive for more posts :
vRealize Operations Manager Deep Dive
That's it for Today Friends. I Hope you liked reading this post & If you find anything more to be added or removed feel free to write it in our comments. If you find it useful You are Feel free to share this on social media to help others & spread knowledge.
If you have any query on any thing you are free to write it in our comments section & we will make sure to provide you the better solution as soon as possible.
Join Our LinkedIn Group to get Updates & Discussions : Mastering VMware.
Checkout our Facebook Group for discussions & more.
You can also Like & Share our Facebook Page for Latest Updates.