vMotion Enables the Live Migration which allows user to migrate or transfer the running live virtual machine from one physical server to another physical server. In this case the physical server is your ESXi Hosts & you create virtual machines on the ESXi hosts. so by using vMotion you can easily migrate your virtual machine from one host to another host.
So in this Post I will help you with how to configure vMotion Traffic on VMkernel & How to do the Live Migration.
First Let's see How to Enable vMotion Traffic on VMkernel :-
Step 1:
First login to vSphere web client.
Choose the Host on which VMkernel you want to enable vMotion Traffic.
Click on Manage Tab.
Click on Networking.
Click on VMkernel adapters.
Here you can see available VMkernel adapters on your host.
Just click on "Pencil Icon" to edit the VMkernel settings.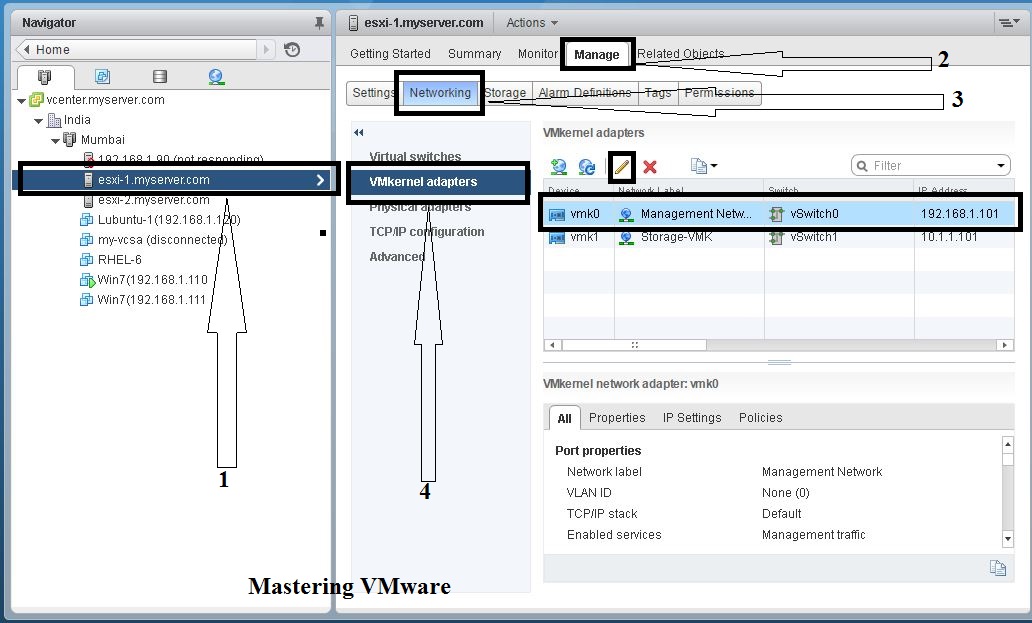 Step 2:
Choose the Port Properties first option.
Here you can see the Available service which you can Enable on your VMkernel port.
But we just require vMotion for Live migration so check the box "vMotion Traffic"
Click OK to save & close.
Now Let's see how to migrate the virtual machine using vMotion:-
Step 1:
Now you are already in the vCenter Inventory.
Choose the VM you want to migrate.
Right click & click on "Migrate".
In my case as you can see i am migrating the VM named as "Win7(192.168.1.110" which is on host "esxi-1.myserver.com"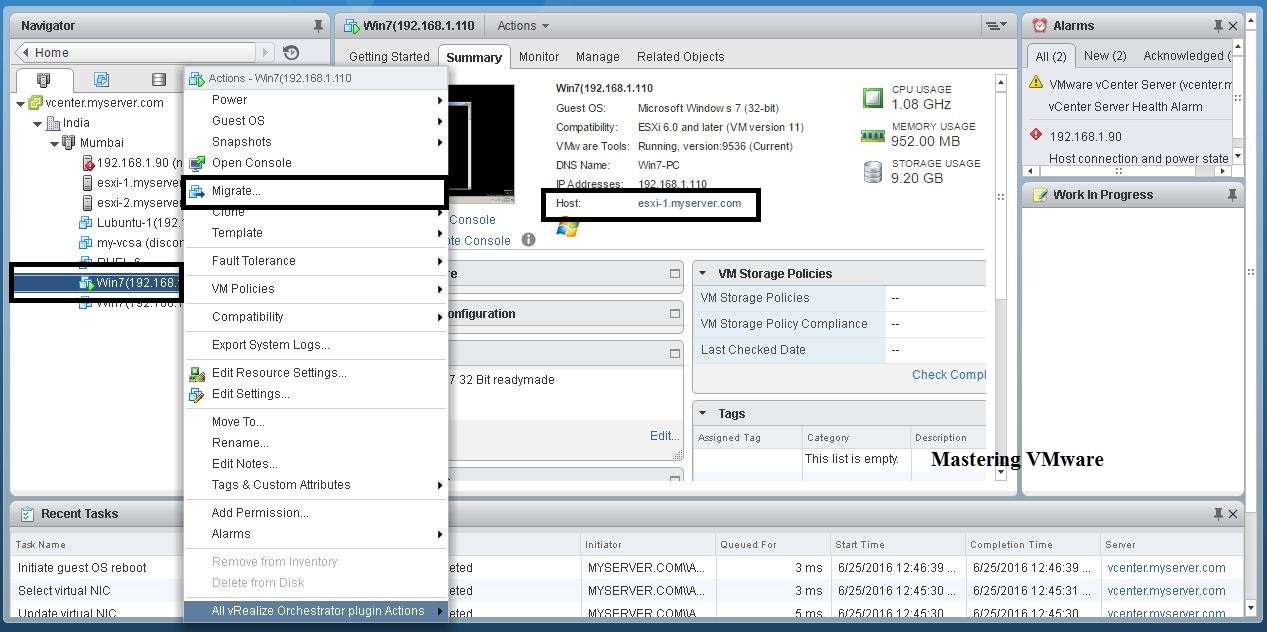 Step 2:
Now as you can see the Migration wizard.
First you have to choose what you want to migrate.
We are just migrating our VM from one host to another so just check "Change compute resource only"
Click Next to continue.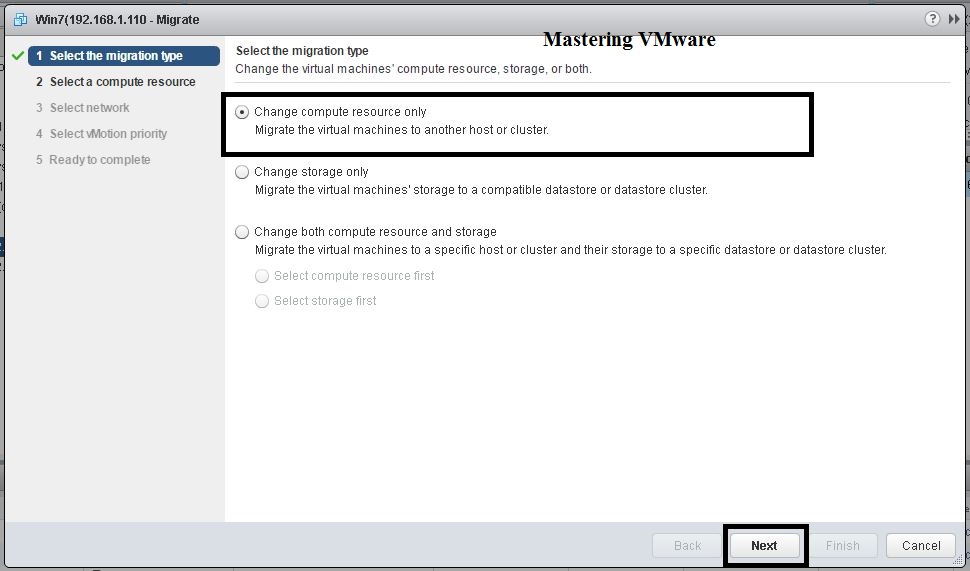 Step 3:
Here you have to provide the Host on which you want to migrate your VM.
You can also choose the Clusters, Resource pools & vApps.
So choose the correct host & click Next to continue.
Step 4:
You can specify Network for your VM on the destination host.
You can see the Source Network & you can choose which Destination Network you want to use.
So choose your correct network.
Click Next to Continue.
Step 5:
You can also provide priority to your vMotion.
You can either choose first one default which will migrate VM now.
or you can Schedule Migration by second option "Schedule regular vMotion"
So choose according to your requirement.
Click Next.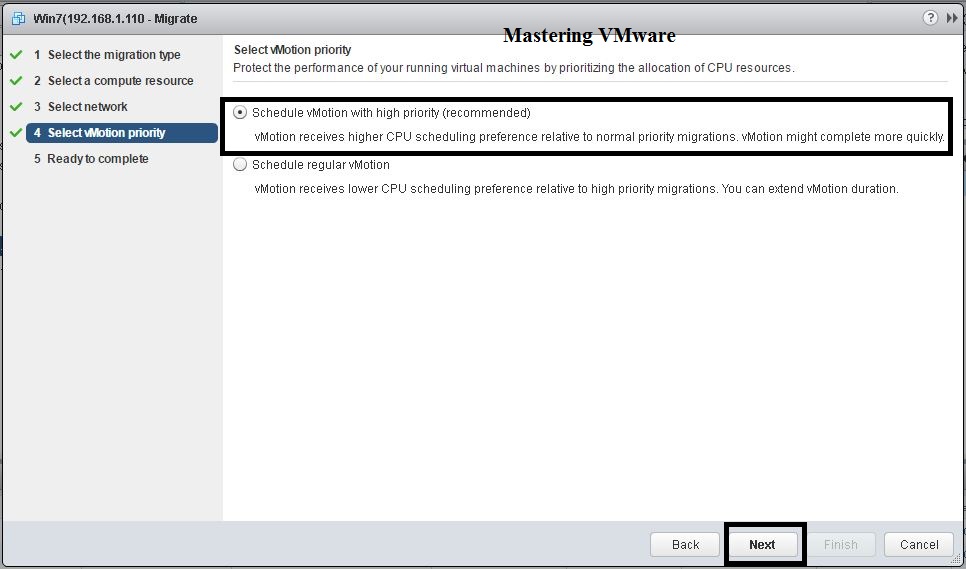 Step 6:
Now we are ready to migrate our VM.
So before migrating just review all the details.
Click Finish to start migration.
You can see the migration status in the Recent Tasks.
After successful migration you can check the VM connectivity.
In the Above Image as you can see that my VM was on esxi-1 before migration & i have migrated it to esxi-2.
Checkout Our Posts on vMotion :-
That's it for Today Friends. I Hope you liked reading this post & If you find anything more to be added or removed feel free to write it in our comments. If you find it useful You are Feel free to share this on social media to help others & spread knowledge.
If you have any query on any thing you are free to write it in our comments section & we will make sure to provide you the better solution as soon as possible.
Checkout our Facebook Group for discussions & more.
You can also Like & Share our Facebook Page for Latest Updates.