VMware vCenter server uses Inventory for storing it's objects. vCenter Inventory helps vmware admin or users to easily find & manage the different objects.
vCenter server inventory contains below objects :-
1) Data Center:- We can create the logical data center in the vCenter Server for storing all the virtual infrastructure.
Check Our Guide on how to create Data Center.
2) Cluster:- We can create the Cluster's in vCenter server to group multiple ESXi hosts. Cluster's are used to enable advance features such as DRS, HA etc.
Check Our Guide on how to create Cluster.
3) Folder :- Folder's are always best for managing & organizing the files. In vCenter you can also create the different folder to manage your virtual infrastructure. You can create the Folder for hosts, Folder for VM's.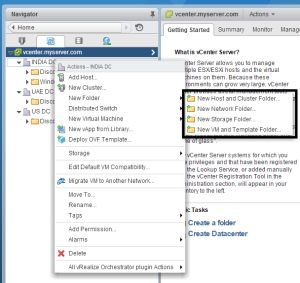 4) Tags:- You can add tags & assign tags to your virtual objects. so whenever required you can directly search by Tags. you can create the tags be clicking on the tags object in the Navigator Pane.
That's it for Today Friends. I Hope you liked reading this post & If you find anything more to be added or removed feel free to write it in our comments. If you find it useful You are Feel free to share this on social media to help others & spread knowledge.
If you have any query on any thing you are free to write it in our comments section & we will make sure to provide you the better solution as soon as possible.
Checkout our Facebook Group for Discussions & More Stuff.
Like & Share our Facebook Page for Latest Updates.