VMware has launched the ESXi host management client which is web interface client & managed through web browser. Which means you can manage your ESXi host from web browser rather than traditional vSphere Windows Client.
In Paragraph AD
ESXi Web client is still in the development state so it doesn't provide all the features But if you want you can try it. VMware has updated the Host client with the latest update of vSphere 6 which is ESXi 6.0 Update 2 .
Some of It's Features Include :-
VM operations (Power on, off, reset, suspend, etc).
Creating a new VM, from scratch or from OVF/OVA (limited OVA support)
Configuring NTP on a host
Displaying summaries, events, tasks and notifications/alerts
Providing a console to VMs
Configuring host networking
Configuring host advanced settings
Configuring host services
So let's see how you can install easily step by step.
Step 1:
First you have to download it from VMware.
Step 2:
You will get file like below.
Step 3:
Open the vSphere Client & connect to ESXi host by providing the IP Address/Name & Username, Password.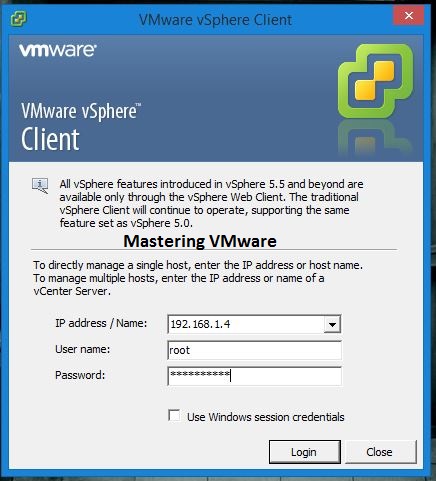 Step 4:
Click on Summary Tab & you will get screen like below.
Find for storage section.
Right click on the Datastore & choose Browse Datastore.
Step 5:
You will get the Datastore Browser where you can see all the files of the datastore.
Here you have to upload the downloaded file for esxi host client.
Choose the Upload button next to Add Folder icon to upload & browse the file & upload here.
Step 6:
After finished uploading you have to open putty which is used to get SSH access to ESXi host.
Put the Server IP or Name & Connect to host.
Step 7:
If you get security warning just click Yes to continue.
Login with Root credentials.
Step 8:
Now you will have to type below command to install the client on ESXi.
Command :-
 esxcli software vib install -v /vmfs/volumes/datastore1/Host-Client/esxui-3623722.vib
The path of the vib bundle may vary in your case.
Just use "Tab" to find & locate exact path.
Press Enter to start installation.
Step 9:
It will take few moments to install & you will get Message finished successfully.
It will not require server reboot.
You can close the Putty now.
Access the ESXi Web client open the Browser & type :
Https://ESXi server IP/ui
You might get certificate warning click advanced & proceed.
Now provide the Root username & password to login.
After Login you will get your home screen:-
You can choose virtual machine to see its settings :
Note :- This Installation is done on ESXi 6.0.
Now you can check the features of it & play around it.
That's it for Today Friends. I Hope you liked reading this post & If you find anything more to be added or removed feel free to write it in our comments. If you find it useful You are Feel free to share this on social media to help others & spread knowledge.
If you have any query on any thing you are free to write it in our comments section & we will make sure to provide you the better solution as soon as possible.
Checkout our Facebook Group for discussions & more.
You can also Like & Share our Facebook Page for Latest Updates.