VMware is the leading virtualization solution provider which provides very good features for server virtualization & as well as availability of virtual servers. VMware has its own hypervisor ESXi for virtualization.
Featured Sponsor
After creation virtual servers all the virtual server's resources came from the one or more physical server which are ESXi hosts so we always have to stay alert about the resource usage of hosts. because of all the resources are shared with multiple virtual servers we have to check the hardware status of the ESXi Server also to prevent the problems occurring because of hardware failure.
So in this small post i will help you how you can check the Hardware status of your ESXi Host which will help you to know the status of CPU, Memory, PCI, Fan, Temperature & so on.
Check ESXi Host Hardware Status:-
Step 1:
Logon to vSphere Web Client.
Step 2:
Choose the Host & Clusters option from Home.

Step 3:
Choose the Host for which you want to check the Hardware Status.
Choose Monitor Tab.
Choose Hardware Status Tab.
Click on Sensors.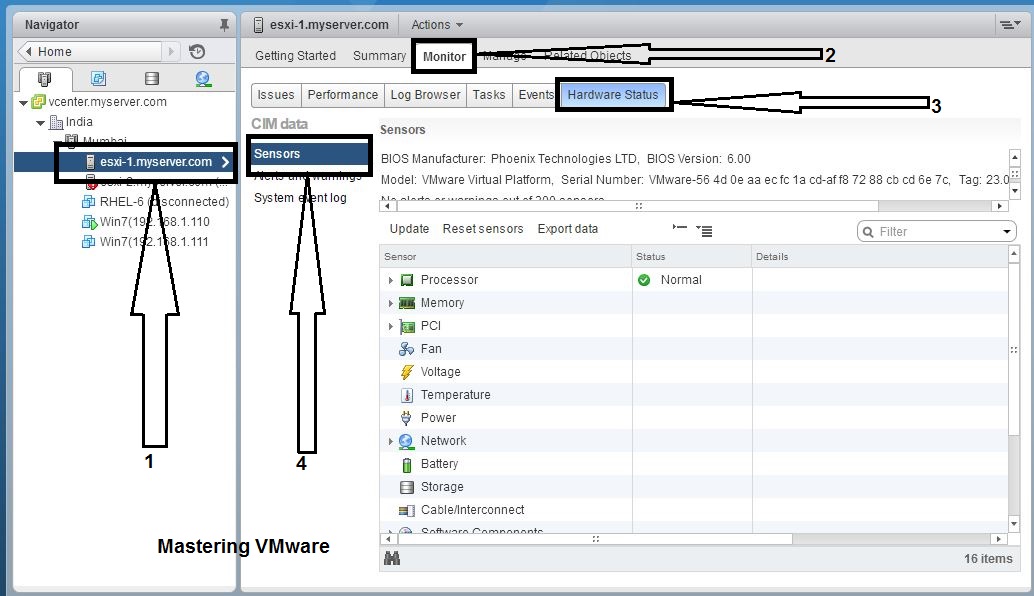 Here you will get many required information about your ESXi Host hardware. You will also get the BIOS version & other VMware Serial Number.
That's it for Today Friends. I Hope you liked reading this post & If you find anything more to be added or removed feel free to write it in our comments. If you find it useful You are Feel free to share this on social media to help others & spread knowledge.
If you have any query on any thing you are free to write it in our comments section & we will make sure to provide you the better solution as soon as possible.
Checkout our Facebook Group for discussions & more.
You can also Like & Share our Facebook Page for Latest Updates.