In this series of VUM we have seen on how to patch ESXi hosts using VUM step by step but by using VUM we can also upgrade the VMware Tools directly. VMware Tools is an complete suite of drivers & utilities for a virtual machine to perform smoothly. It is always recommended to install VMware Tools inside virtual machine to get better insight & better performance from the virtual machine.
vSphere Update Manager allows you to upgrade vmware tools of the virtual machine running in your environment. For the backup purpose take the snapshot of the virtual machine before upgrading VMware Tools so if something is not working after vmware tools upgrade you can revert to snapshot. If you don't want to take manual snapshot then at the time of upgrade you will get option to take the snapshot of virtual machine.
Let's see how to upgrade VMware Tools Step by Step:
Step 1:
Login to vSphere web client.
First go to the virtual machine & you will see that you have update available so that you can upgrade vmware tools.
Step 2:
Choose the vCenter Server > Manager > Update manager or go to Update Manager directly from Home screen.
Click on Attach Baseline to attach the baseline then we can scan for upgrades.
Step 3:
Choose the Upgrade Baseline > VMware Tools Upgrade to Match Host.
Click OK to attach.
Step 4:
Now we will scan for updates.
Click on Scan for Updates as shown.
It will scan for available upgrades.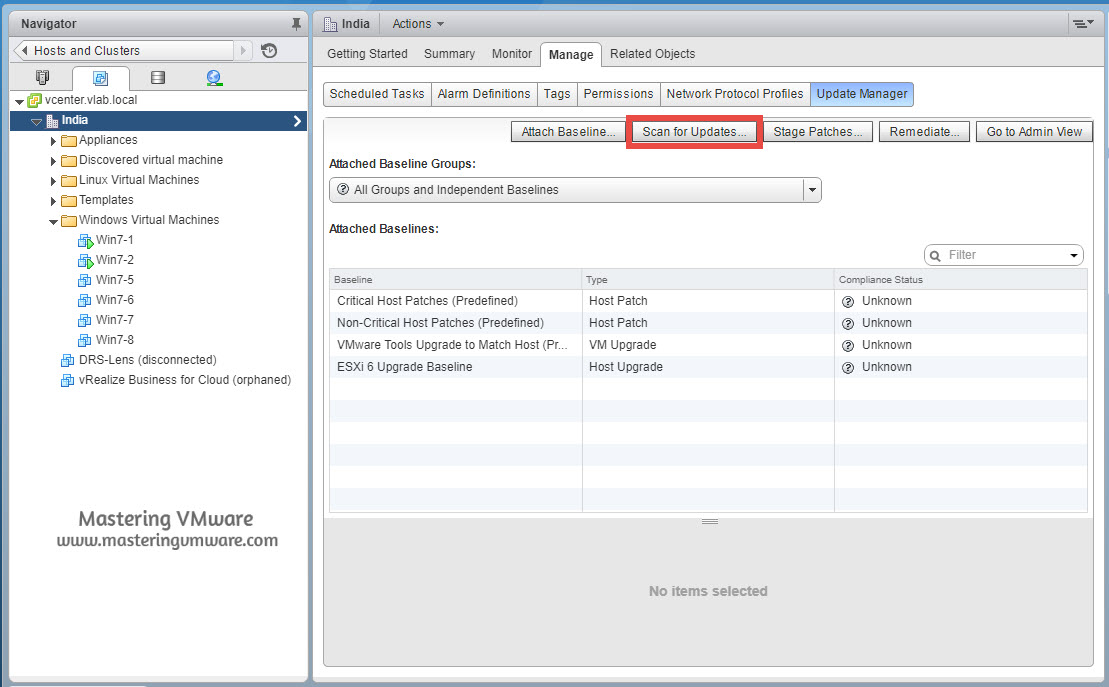 Choose VMware Tools Upgrades only & click OK to scan.
Step 5:
As you can see in the Compliance status tab it is showing Non-Compliant. We have 2 Non-Compliant's.
So that means we have 2 VM's on which we have to upgrade the VMware Tools.
Click on Remediate to start the Upgrade process.
Step 6:
Choose the remediation type as VM/VA remediation.
Select the Upgrade baselines.
Click Next.
Step 7:
Choose the virtual machine on which you want to upgrade VMware Tools & click Next.
Step 8:
If you need you can schedule the Upgrade activity according to your requirements.
Provide Task Name, Description & Schedule below.
Click Next.
Step 9:
You can configure the Rollback options here.
In this you can configure for take snapshots before the upgrade.
Click Next.
Step 10:
Review the settings.
Click Finish to start the upgrade process.
It will take few minutes to upgrade the vmware tools. Once the task has been completed you can check & view the VMware tools details in the summary of VM. If the snapshot is not deleted you can delete it manually.
Using this way you can easily upgrade the VMware Tools using vSphere Update Manager step by step.
Checkout Our Posts on vSphere Update Manager:
vSphere Update Manager Overview
How to Install vSphere Update Manager Step by Step ?
How to Patch ESXi hosts using VUM Step by Step ?
That's it for Today Friends. I Hope you liked reading this post & If you find anything more to be added or removed feel free to write it in our comments. If you find it useful You are Feel free to share this on social media to help others & spread knowledge.
If you have any query on any thing you are free to write it in our comments section & we will make sure to provide you the better solution as soon as possible.
Join Our LinkedIn Group to get Fast updates about our posts : Mastering VMware.
Checkout our Facebook Group for discussions & more.
You can also Like & Share our Facebook Page for Latest Updates.