Update Manager
How to Upgrade VMware Tools using VMware Update Manager
When you have completed upgrade of ESXi host, it is necessary to upgrade the VMware Tools running inside the Virtual Machines. In this post we will see on How you can Upgrade VMware Tools using Update Manager.
Featured Sponsor
VMware Update Manager not only for ESXi Patching or Upgrade it also supports VMware Tools upgrade for the Virtual Machines. So after upgrading ESXi host you can see that VMware Tools running in the Virtual Machines are old & doesn't match with the current version of ESXi host. At that time you should go for VMware Tools Upgrade which can be done easily using VMware Update Manager.
So let's see How to Upgrade VMware Tools using VUM:
Step 1:
Once you Upgrade ESXi host , You will see this kind of warning on every virtual machines that "newer version of VMware Tools is available"
So you can either click on Upgrade VMware Tools and you need to upgrade by logging into each Virtual Machine, but here we have Update Manager which will upgrade the VMware Tools easily.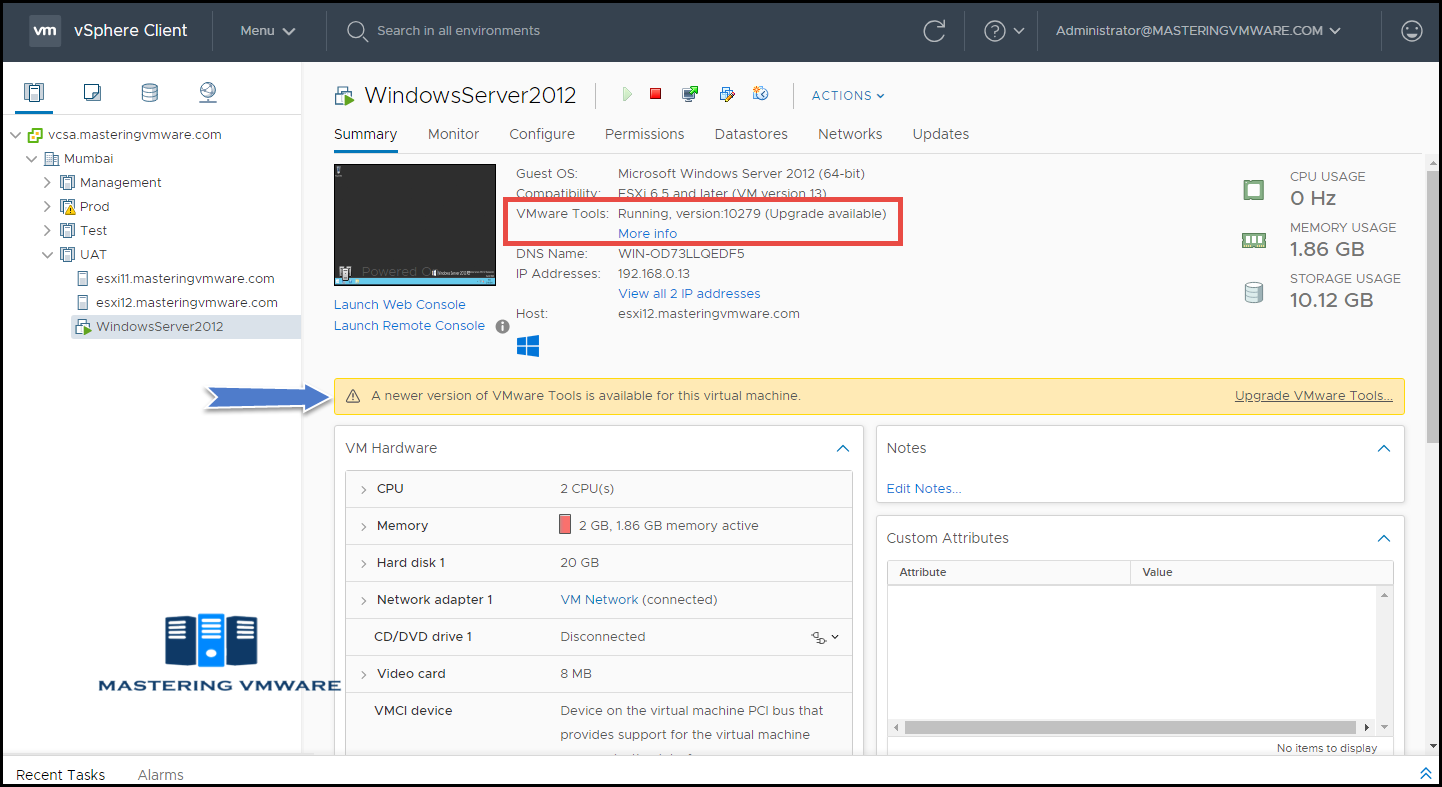 Step 2:
Select the Host on Which you want to perform VMware Tools Upgrades for your Virtual Machines.
Go to Updates tab.
Select VMware Tools.
As you can see it is not enabled by default so click on Enable.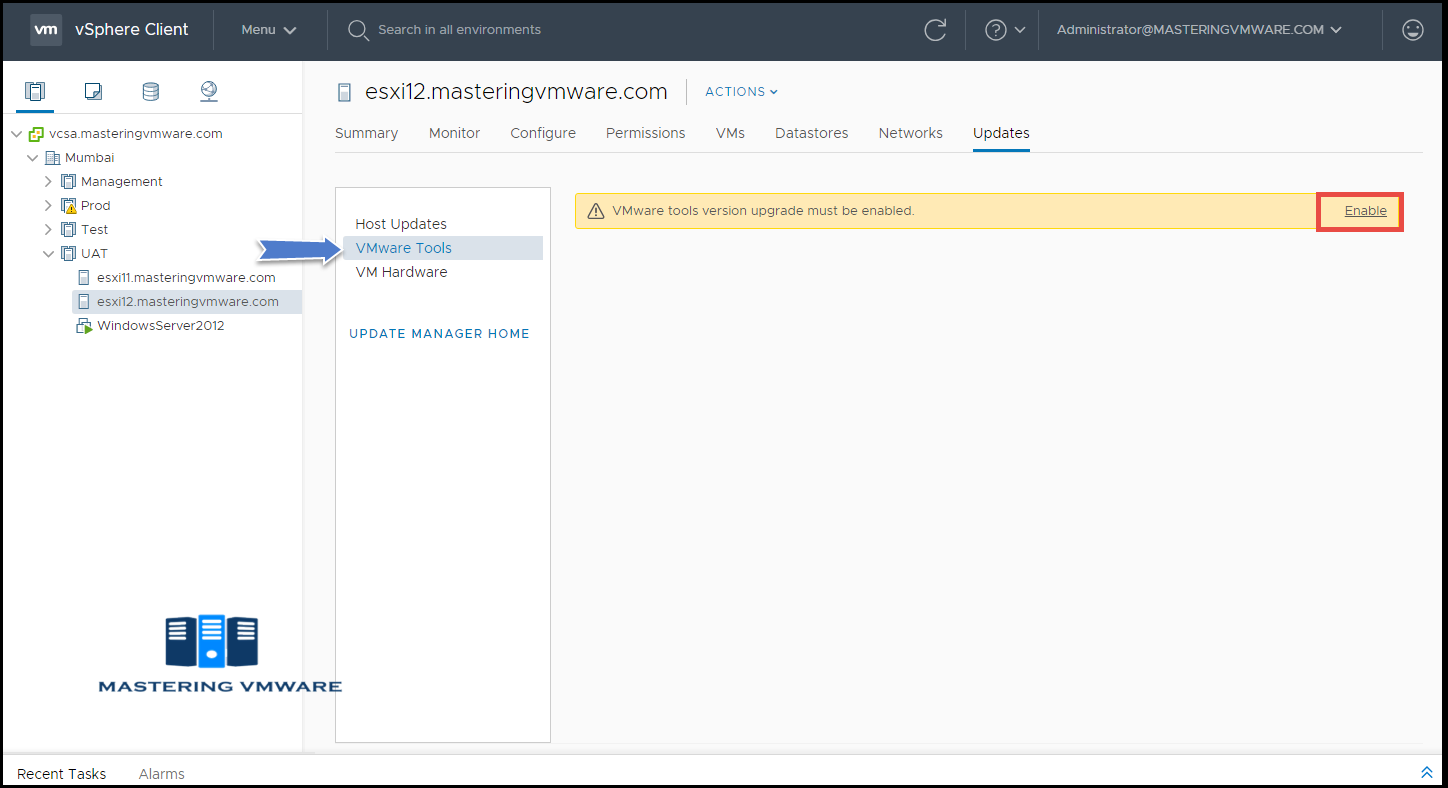 Step 3:
You can click on Check Status to find the VMs residing on this Host requires VMware Tools Upgrade.
Now you can see the list of VMs which requires VMware Tools Upgrade.
Click "Upgrade to Match Host".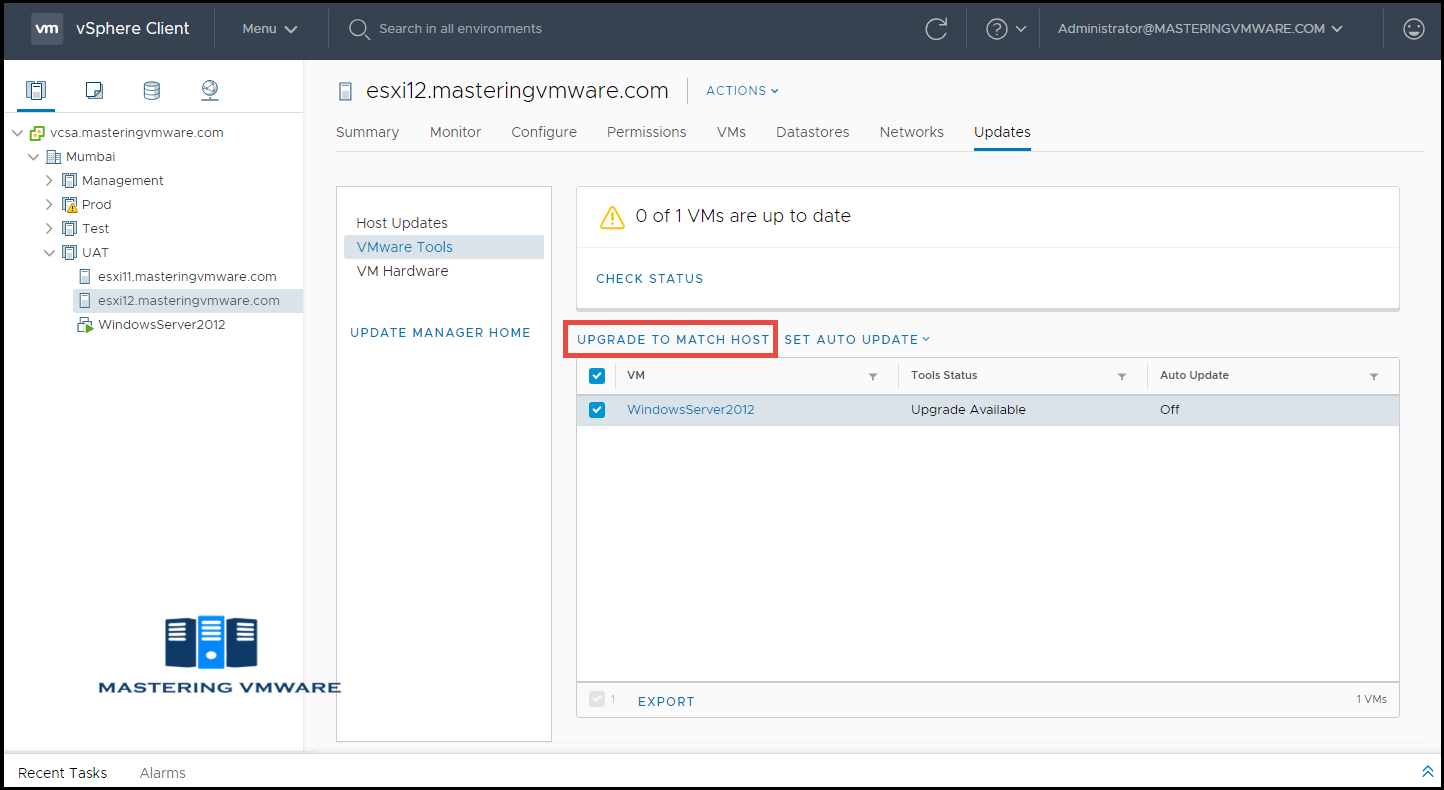 Step 4:
Upgrade VMware Tools wizard will open here.
You can see the VMs and if you have multiple VMs all will be displayed here.
You can go with one by one or you can select multiple VMs at a time but only 5 VMs VMware Tools will be upgraded per Host.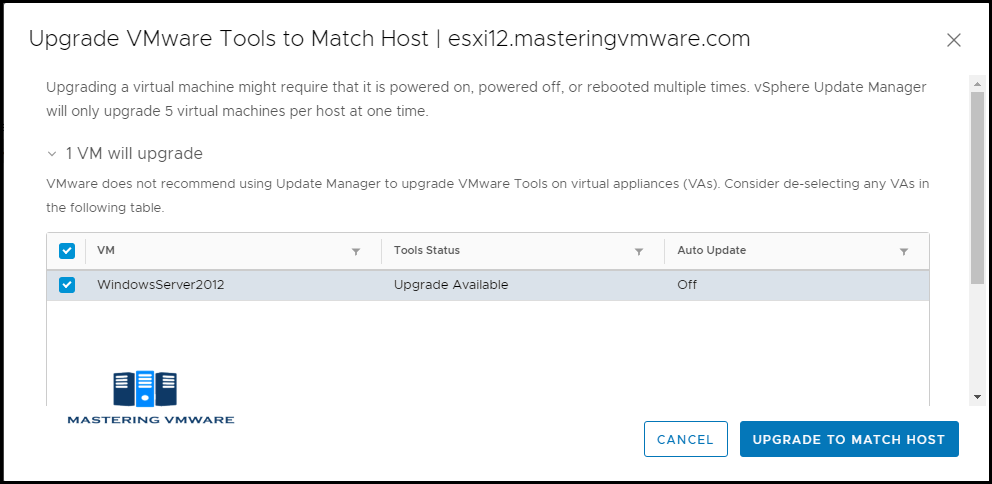 Step 5:
Scroll Down below.
Here you can see Scheduling option which is very necessary in Production environment where you can easily schedule VMware Tools Upgrade for Virtual Machines.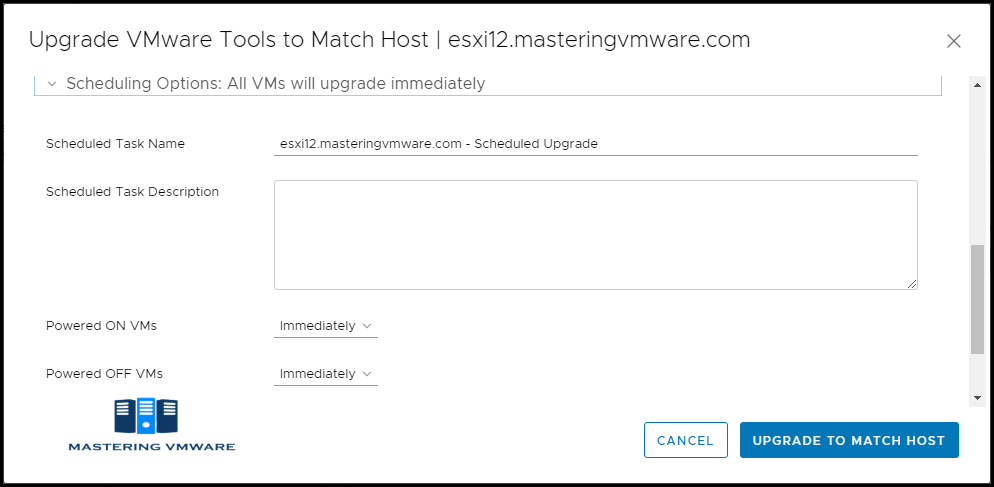 Step 6:
Scroll Down below.
Here you can see Rollback option in case if any failure occurs while upgrading VMware Tools.
So you can configure to take snapshots before upgrading VMware Tools and Specify for how long you want snapshot to be available for revert.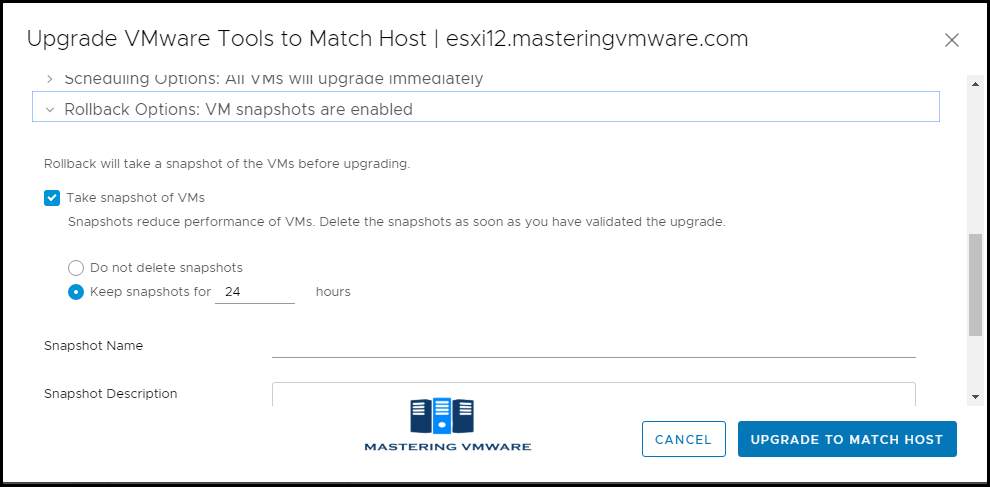 Step 7:
Now we have configured all the options, to start the Upgrade select the VMs on which you want to upgrade VMware Tools first.
Click "Upgrade to Match Host."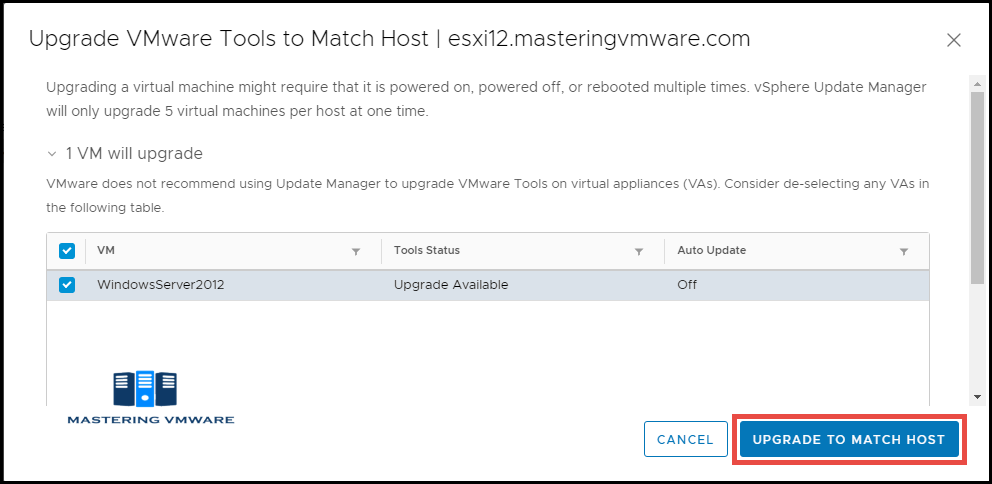 Step 8:
You can see the status of Upgrade in the Recent tasks section.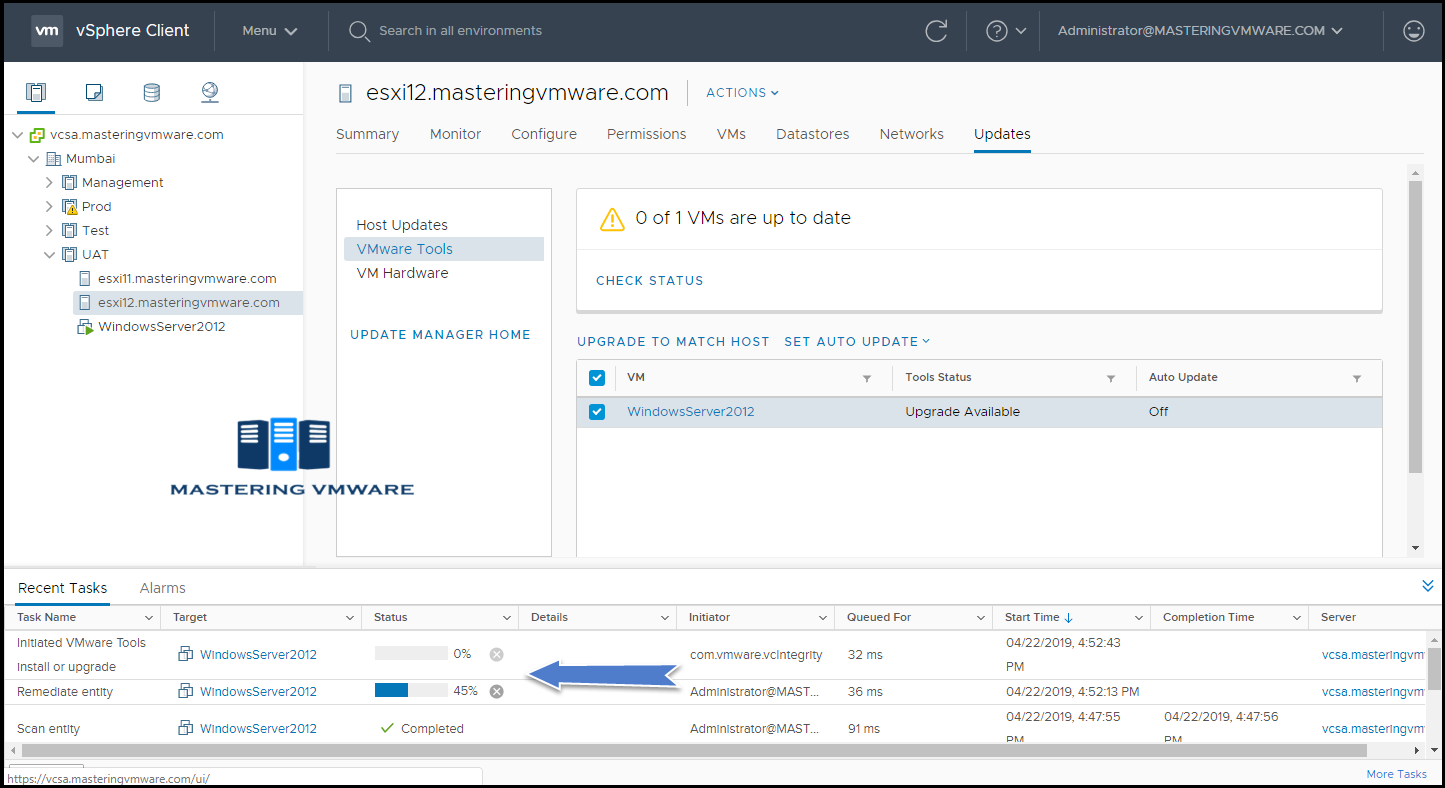 Step 9:
Once it is upgrades successfully you can see that your VMs are up to date with the latest version of VMware Tools.
You can view the details of VMware Tools in the Summary section that which version of VMware Tools you are running:
For additional options you can also configure Automatically Upgrade on Reboot of VM:
You just have to click on Turn On to configure Automatically Upgrade VMware Tools on Reboot.
Note: When you Upgrade VMware Tools your VM will be rebooted so plan accordingly.
So using this way you can easily Upgrade VMware Tools of Virtual Machines running on the ESXi host. In this post we have covered on Host basis but if you want you can just Select the VM and go to Updates tab. There you can find simple Upgrade option.
For large environment where you have more virtual machines you can go by Cluster basis as well. but at a same time only 5 VMs VMware Tools Upgrade per host can be done simultaneously.
That's it for Today Friends. I Hope you liked reading this post & If you find anything more to be added or removed feel free to write it in our comments. If you find it useful You are Feel free to share this on social media to help others & spread knowledge.
If you have any query on any thing you are free to write it in our comments section & we will make sure to provide you the better solution as soon as possible.
Join Our LinkedIn Group to get Updates & Discussions : Mastering VMware.
Checkout our Facebook Group for discussions & more.
You can also Like & Share our Facebook Page for Latest Updates.