VMware vSphere 8 is the latest offering in the vSphere portfolio. vSphere 8 was announced in Oct 2022, and newer versions of ESXi & vCenter are now available for enterprises to use. VMware vSphere 8 is the enterprise workload platform that brings the benefits of the cloud to on-premises workloads. This post will show how to upgrade ESXi 7 to ESXi 8 Step by Step.
Featured Sponsor
ESXi 8 is the latest offering VMware in vSphere 8 release. Which is now available to download for customers who want to migrate to the latest version. ESXi Upgrade can be performed using various ways such as ISO, Command Line & Lifecycle Manager. In this post, we will learn how you can upgrade the ESXi host using ISO.
If you don't know how to Install ESXi, Check out our post:
How to Install ESXi 8 Step-by-Step?
Note: Make sure you check your server compatibility with the ESXi so that you don't face problems later. In order to check compatibility you must check first whether your Hardware is Compatible, Firmware is Compatible & other checks whichever is required in your environment.
So let's see How to Upgrade ESXi 7 to ESXi 8 Step by Step:
Step 1:
In this upgrade, we will be using ISO to upgrade to ESXi.
Download the ESXi ISO from VMware and make the bootable CD/DVD.
Insert the CD/DVD and boot from it or if you have access to iLO/iDRAC you can simply mount ISO to your server.
You will see that server is loading the ESXi 8 from ISO.
Press Enter to continue.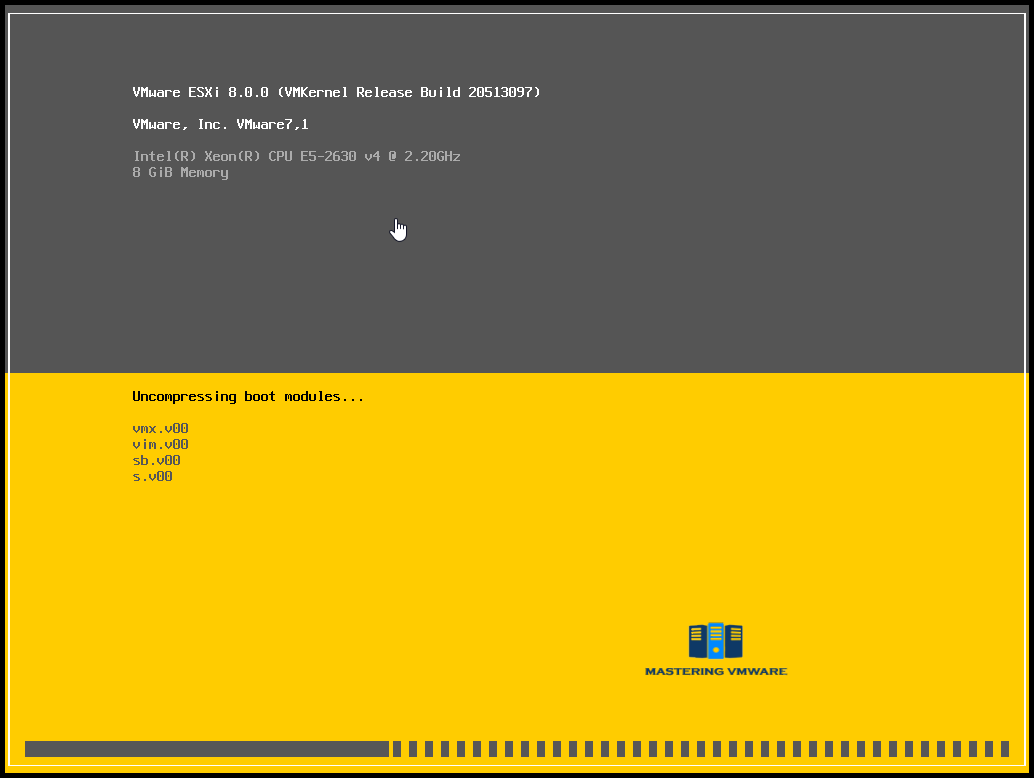 Step 2:
Press Enter to continue with the Installer.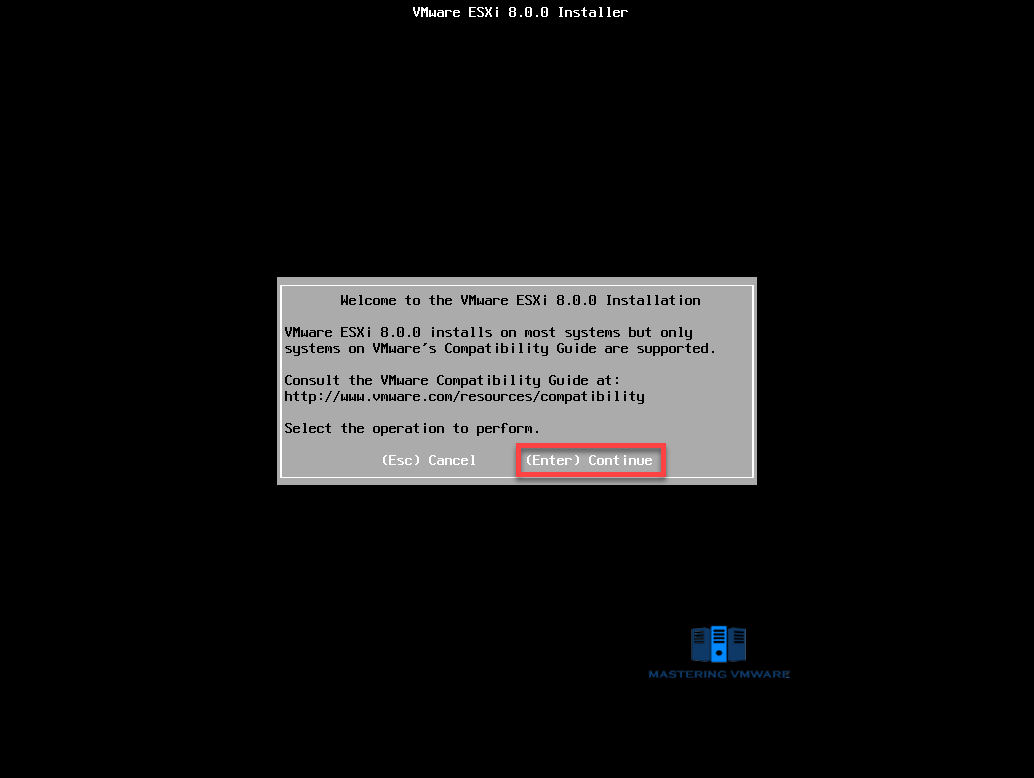 Step 3:
F11 to Accept the License Agreement & continue.
Step 4:
You will see all the available storage mounted in the ESXi.
Choose the storage device where your ESXi is installed.
Press Enter to continue.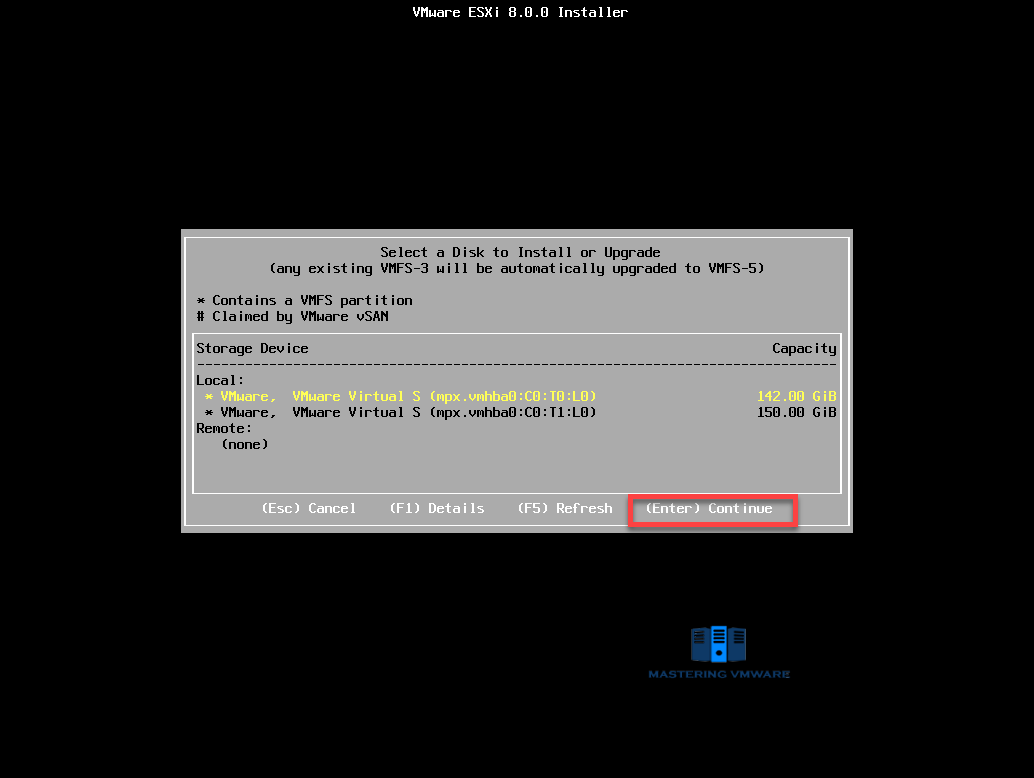 Step 5:
Here make sure to choose the first option only "Upgrade ESXi, Preserve VMFS datastore."
This will upgrade the ESXi 7 to ESXi 8.
Press Enter to OK.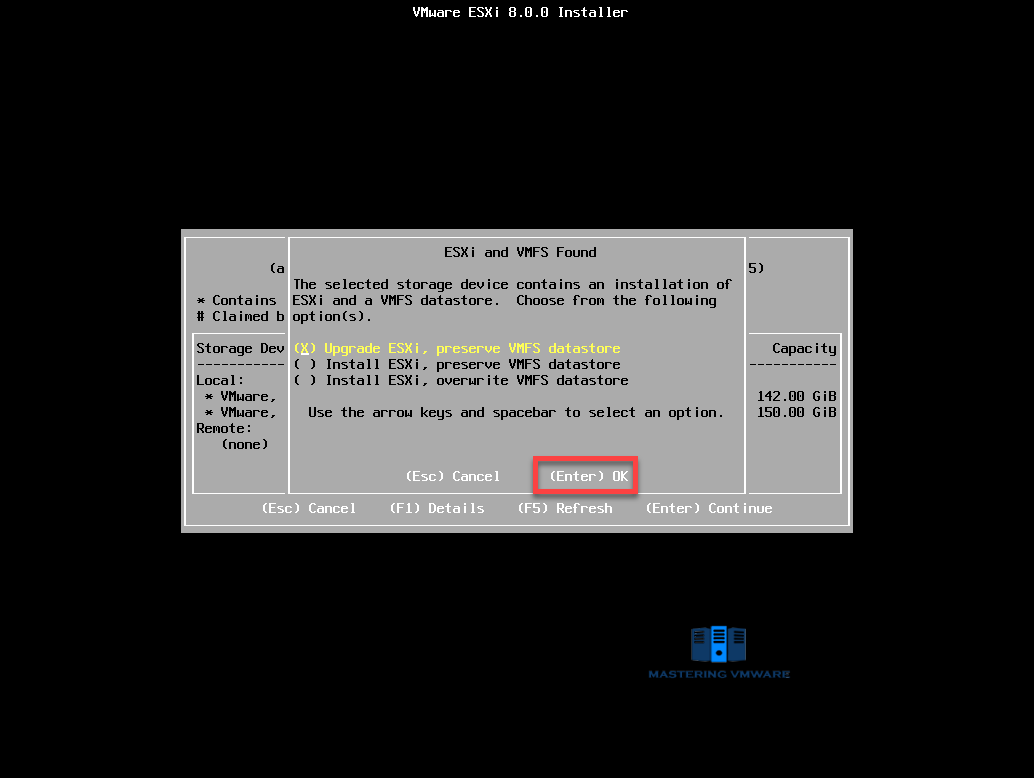 You may see the warning which says that CPU may not be supported for future release.
If everything is compatible in your environment you can safely ignore & Enter to continue upgrade.
Step 6:
Press F11 to confirm Upgrade to start the upgradation process.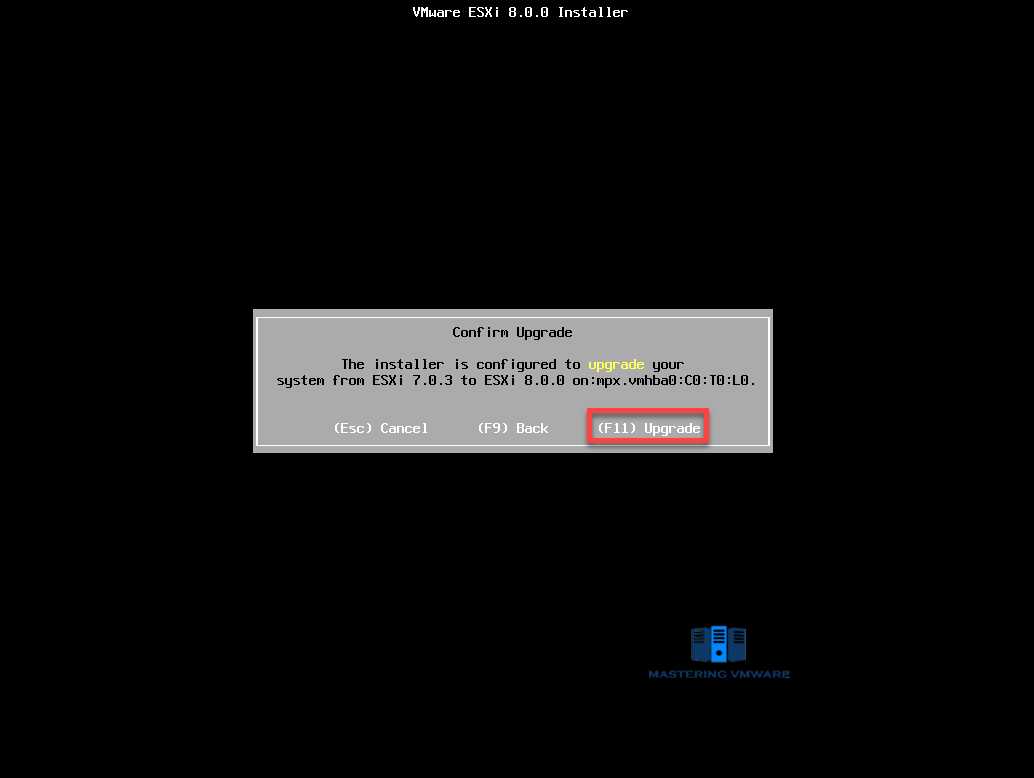 You can see that status of the ESXi Upgrade.
It can take few minutes to complete.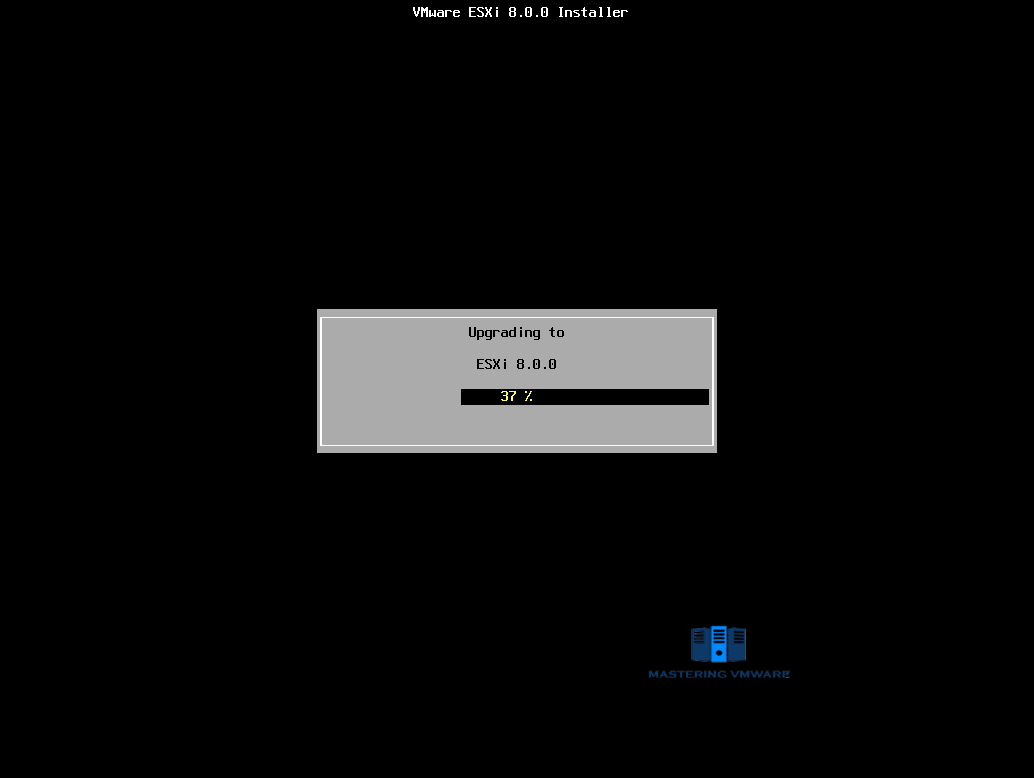 Once Upgrade is completed you will see the below screen that ESXi Upgrade is completed successfully & now you must restart your server.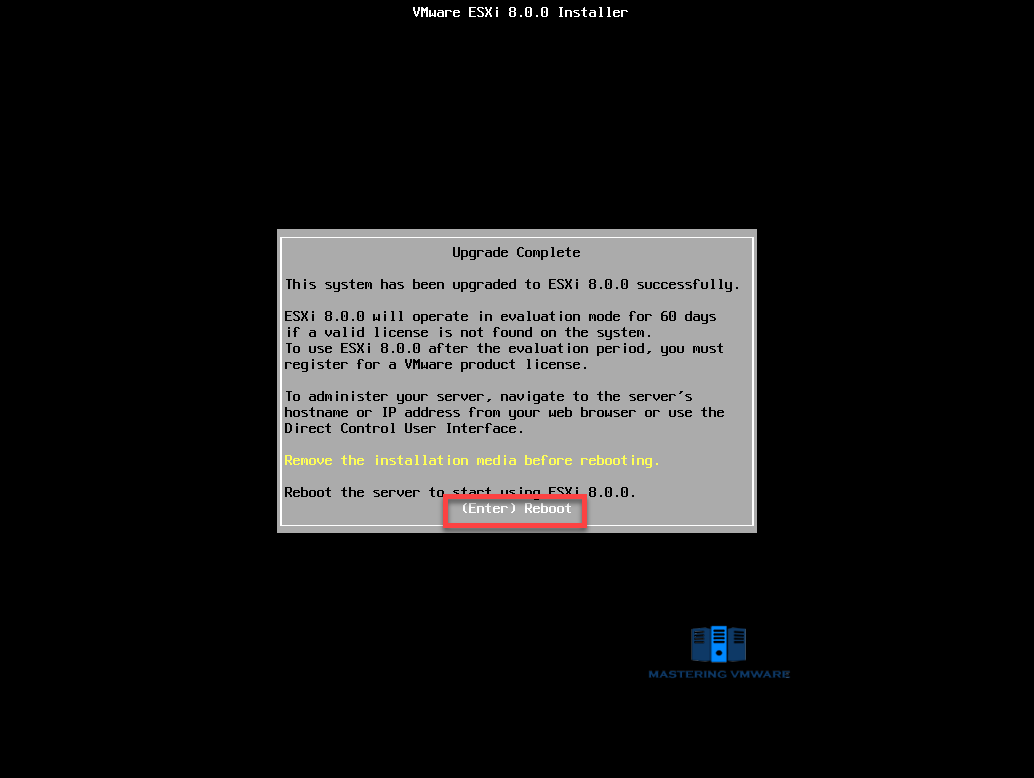 After restart you can verify that everything is working fine & check the status of physical server.
Using this way you can easily upgrade your ESXi hosts in your vSphere environment. ESXi Upgrade process using ISO image is mostly similar in all the past versions. Only thing which you have to check is your server compatibility.
Note: In this post we have upgrade ESXi 7.0U3 to ESXi 8. In your environment you must check supported upgrade path before starting the upgrade.
That's it for Today Friends. I Hope you liked reading this post & If you find anything more to be added or removed feel free to write it in our comments. If you find it useful You are Feel free to share this on social media to help others & spread knowledge.
If you have any query on any thing you are free to write it in our comments section & we will make sure to provide you the better solution as soon as possible.
Follow us on Twitter for Regular updates: Mastering VMware
Join Our LinkedIn Group to get Updates & Discussions: Mastering VMware.
Check out our Facebook Group for discussions & more.
You can also Like & Share our Facebook Page for Latest Updates.