vSAN
How to Run vSAN Proactive Test
In this series of vSAN, In last post we have successfully configured the vSAN cluster. If you haven't configured vSAN or don't know much about vSAN then suggest you to check the links at the end of this post for more details on vSAN.
Featured Sponsor
In this post we will look at How to run vSAN Proactive Tests. First What we need to know what is proactive tests. Proactive tests are the predefined configurations of automated tasks which executed on the vSAN Cluster for testing and performance guarantee. It is always recommended to run the Proactive Tests first after configuring vSAN so that you will come to know if there is any issues related to configuration or any issues related to hardware or software.
There are basically 3 types of Proactive Tests are available:
1) VM Creation Test:
VM Creation test will automatically create a VM's on each host which are in vSAN. Once the test is successful VM will be deleted without manual intervention. Use of this test is mainly to know about working of the vSAN with regards to VM creations so that one can easily say that vSAN is operational and management stack on all the hosts are operational. Creation and Deletion of the IO is working and many more benefits are there. So if you get any failure you can easily identify before deploying your production VMs.
2) Multicast Performance Test:
vSAN requires the multicast networking before setting up the vSAN Cluster. Multicast performance test will run the tests to identify the connectivity issues and if there is any speed related issues in multicast network with respect to vSAN Requirements. If the test is successful you will get the message saying that
(Note : Multicast is mandatory in vSAN 6.5 or below version, vSAN 6.6 and later version multicast is not required.)
3) Storage Performance Test:
vSAN uses the local storage disks to form a logical datastore out of it. vSAN provides Hybrid as well as All flash mode configuration. Storage performance test will provide the multiple options from basic to IO intensive stress tests where your vSAN will be tested for the performance related issues. Based on the results of this test you can measure the performance of vSAN Cluster and take decisions.
All the above tests takes the time based on the testing scenario. It is recommended to run all  the tests before deploying VM on vSAN. In the newer version of vSAN you will find only VM Creation test as because newer version of vSAN doesn't require the multicast network and storage performance tests are taken care by the VMware's own HCIBench. (HCIBench is an benchmark tool designed for vSAN and Hyper-converged Infrastructure.)
In this post we will see on How to run the VM Creation Proactive Test :
Step 1:
Login to vSphere Web Client.
Choose the vSAN Cluster.
Go to Monitor Tab> vSAN.
Click on Proactive Tests and select the VM Creation test.
Run the test by clicking on green triangle icon.
Step 2:
You will get prompt for the Tasks which will be performed. Click Yes to run the test.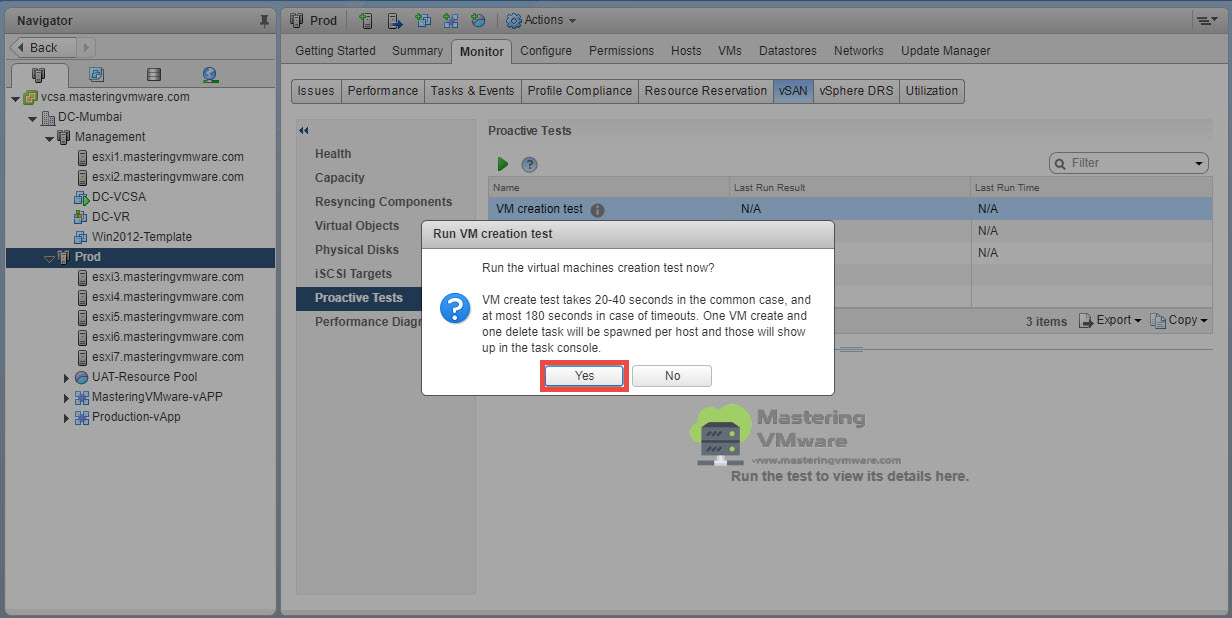 Step 3:
You can monitor the Recent Tasks tab to know about the VM Creation test.
It will take few minutes to complete the test.
Once test completes you will see details of the test results.
As you can see that the test completed successfully.
Using this way you can easily run the other 2 tests which are Multicast Performance Test and Storage Performance Test to get the know about your vSAN Configuration. Once all the tests passed successfully then you can easily go for vSAN production use.
Checkout our Posts on vSAN :
vSAN Hybrid vs All Flash Overview.
vSAN Objects and Components Overview.
vSAN Deduplication and Compression Overview.
vSAN Storage Policies Overview.
How to Create vSAN VMkernel Step by Step ?
How to Configure vSAN Step by Step ?
That's it for Today Friends. I Hope you liked reading this post & If you find anything more to be added or removed feel free to write it in our comments. If you find it useful You are Feel free to share this on social media to help others & spread knowledge.
If you have any query on any thing you are free to write it in our comments section & we will make sure to provide you the better solution as soon as possible.
Join Our LinkedIn Group to get Fast updates about our posts : Mastering VMware.
Checkout our Facebook Group for discussions & more.
You can also Like & Share our Facebook Page for Latest Updates.