VMware vSphere Replication is an VMware solution for data protection and disaster recovery for all your virtual machines in your environment. VMware vSphere Replication is a hypervisor-based, asynchronous replication solution for vSphere virtual machines. It is fully integrated with VMware vCenter Server and the vSphere Web Client. vSphere Replication delivers flexible, reliable and cost-efficient replication.
You can use vSphere Replication with the vCenter Server Appliance or with a standard vCenter Server installation. You can have a vCenter Server Appliance on one site and a standard vCenter Server installation on the other. With vSphere Replication, you can replicate virtual machines from a source datacenter to a target site quickly and efficiently.
In this series of vSphere Replication in our last post we have looked at How to replicate VM using vSphere Replication. In this post we will be looking at How to recover VM using vSphere Replication at the time of disaster or system failure.
Recover VM using vSphere Replication :
Step 1:
Login to vSphere web client at the DR site or the Secondary site.
Choose vCenter Server > Monitor Tab > vSphere Replication.
Select Incoming Replications.
Choose the VM which you want to recover and click on the Red Circle Icon as shown.
Step 2:
Select the options for recovery based on your requirement.
Click Next.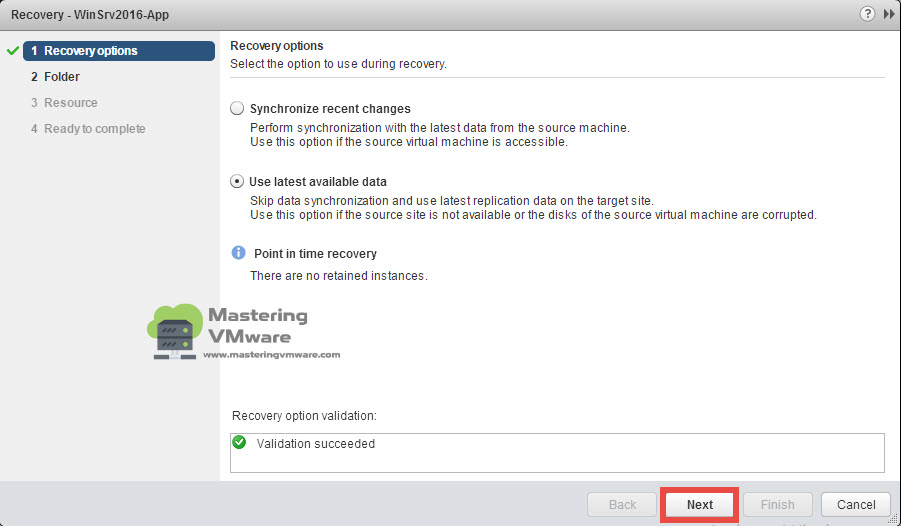 Step 3:
Select the Folder location for the recovery of the VM.
Click Next.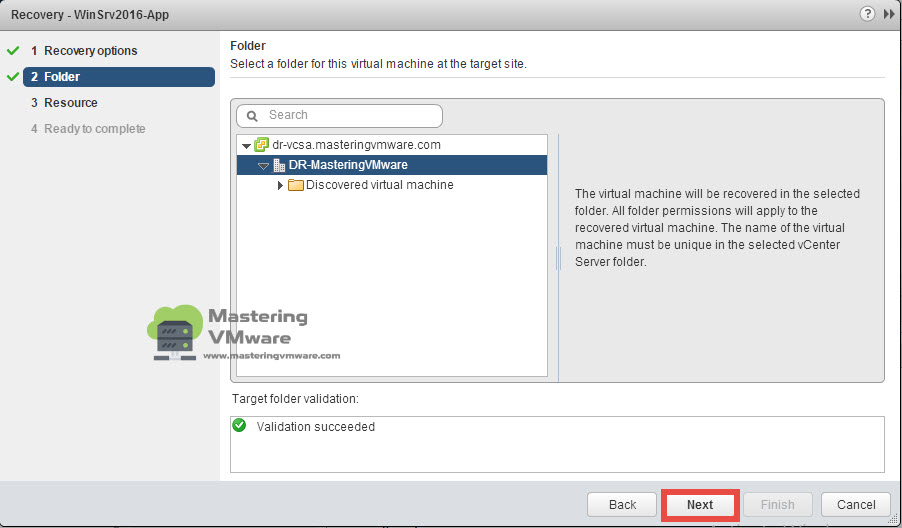 Step 4:
Select the cluster or host for running the VM.
Click Next.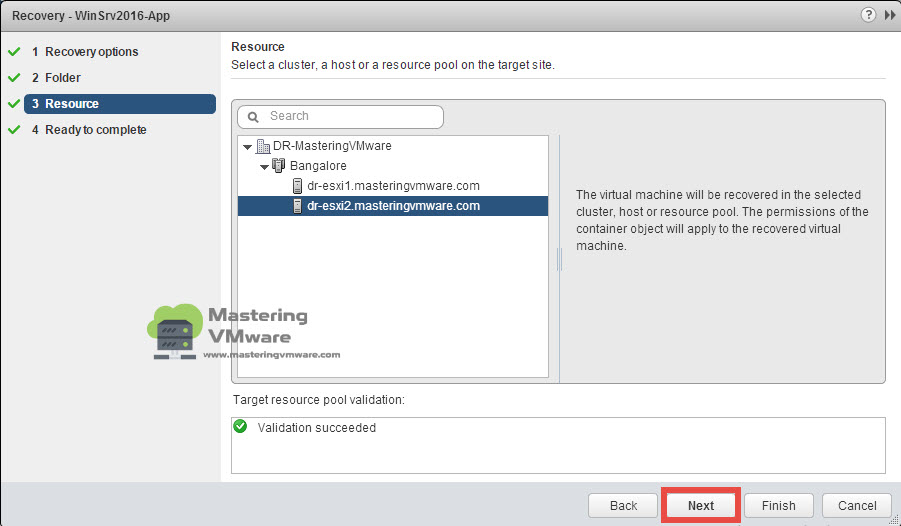 Step 5:
Review the settings and you can also power on the VM from here.
Click Finish to start the recovery process.
It will take few minutes based on the size or resources for complete recovery.
Once recovery is completed you can see that status is Recovered and your VM is visible at the DR Site.
Now VM is recovered successfully you can check the Network connectivity, Application & Services inside the VM. Using this way you can easily recover any VM which you have replicated.
Note: Once you recover the VM. you have to stop the replication from DC site to DR site and then again start the Replication from DR site to the DC site. There is no option to reverse the replication automatically in vSphere Replication.
Checkout our Posts on vSphere Replication:
How to Deploy vSphere Replication Step by Step ?
How to Add vCenter Server in vSphere Replication ?
How to Add Target site in vSphere Replication ?
How to Configure VM Replication using vSphere Replication Step by Step ?
That's it for Today Friends. I Hope you liked reading this post & If you find anything more to be added or removed feel free to write it in our comments. If you find it useful You are Feel free to share this on social media to help others & spread knowledge.
If you have any query on any thing you are free to write it in our comments section & we will make sure to provide you the better solution as soon as possible.
Join Our LinkedIn Group to get Fast updates about our posts : Mastering VMware.
Checkout our Facebook Group for discussions & more.
You can also Like & Share our Facebook Page for Latest Updates.