VMware has recently released the patch for vCenter Server 7 on 12th July 2022. This Patch includes vulnerability fixes as well as some improvements. You can patch vCenter Server 7 using the Appliance Management interface or using the command line. In this post, we will see How to Patch vCenter Server 7 Step by Step.
vCenter Server is daily used by VM admins to manage their vSphere Infrastructure. Nowadays vCenter comes only in Appliance mode which makes it easy to patch vCenter Server. VCSA appliance management is a go-to tool for VM admins to perform vCenter-related operations such as Patch, Backup, etc. Recently only VMware has released one of the patches for vCenter Server 7.0U3f which is very critical.
vCenter 7.U3f & ESXi 7U3f Patches Released
Before starting to patch vCenter Server 7 make sure that it is healthy & you have taken proper backup & snapshot so that if something goes wrong you can have availability.
So let's see How to Patch vCenter Server 7 Step by Step:
Step 1:
You must download the released patch from VMware Portal.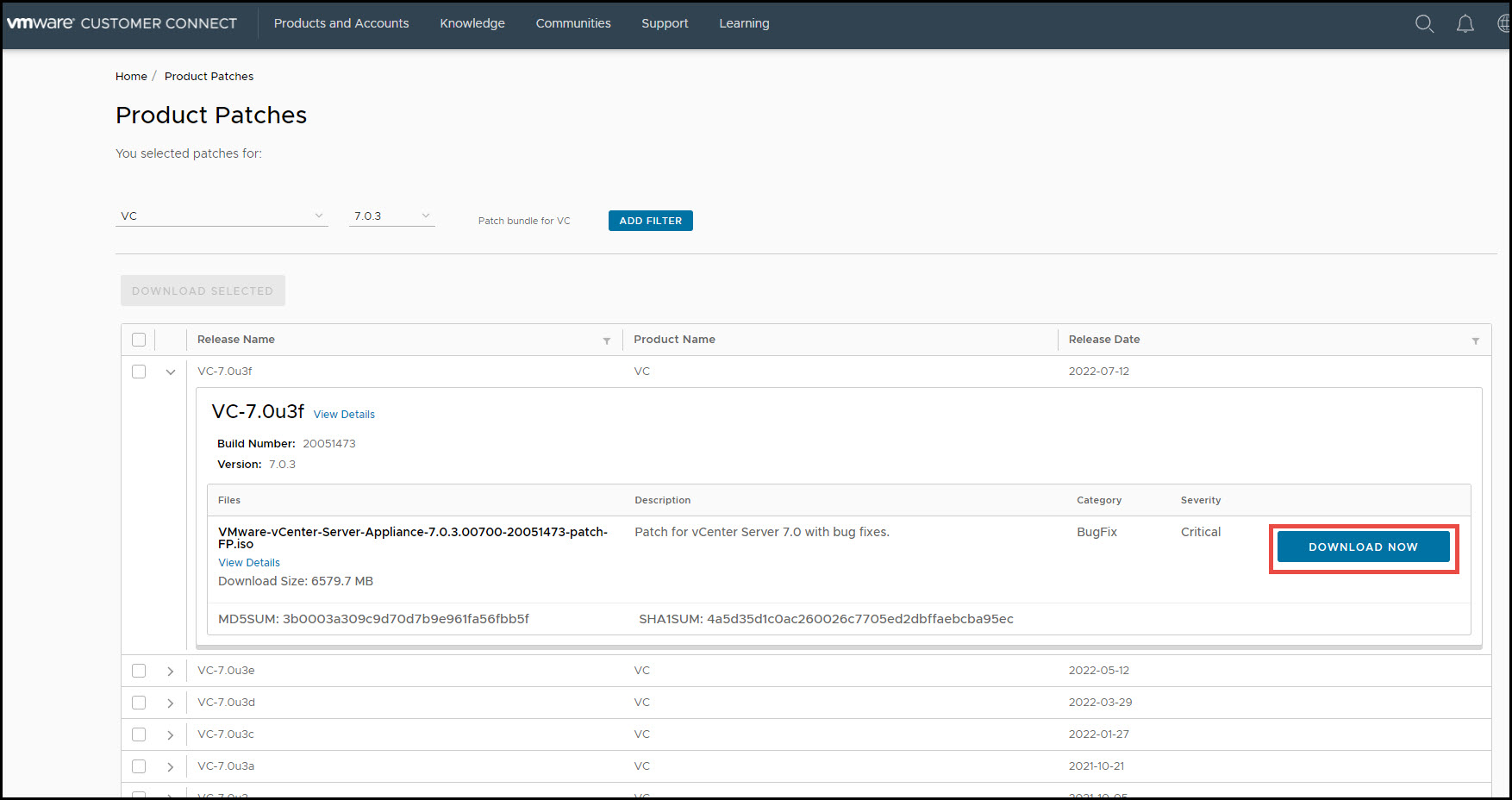 Step 2:
To patch vCenter Server you must upload downloaded patch ISO into the datastore which is accessible to vCenter Server.
You need to go to datastore & upload the Patch ISO.
After upload connect to ISO the vCenter Server VM by going into Edit settings.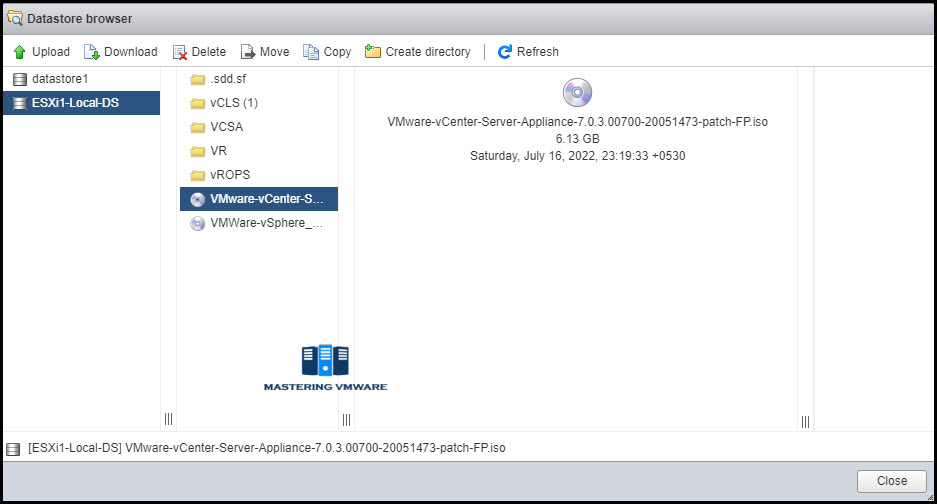 Step 3:
Login to vCenter Server Appliance Management Interface using 5480 port.
Go to Update section from left navigation bar.
For example:
https://vcenter hostname or IP:5480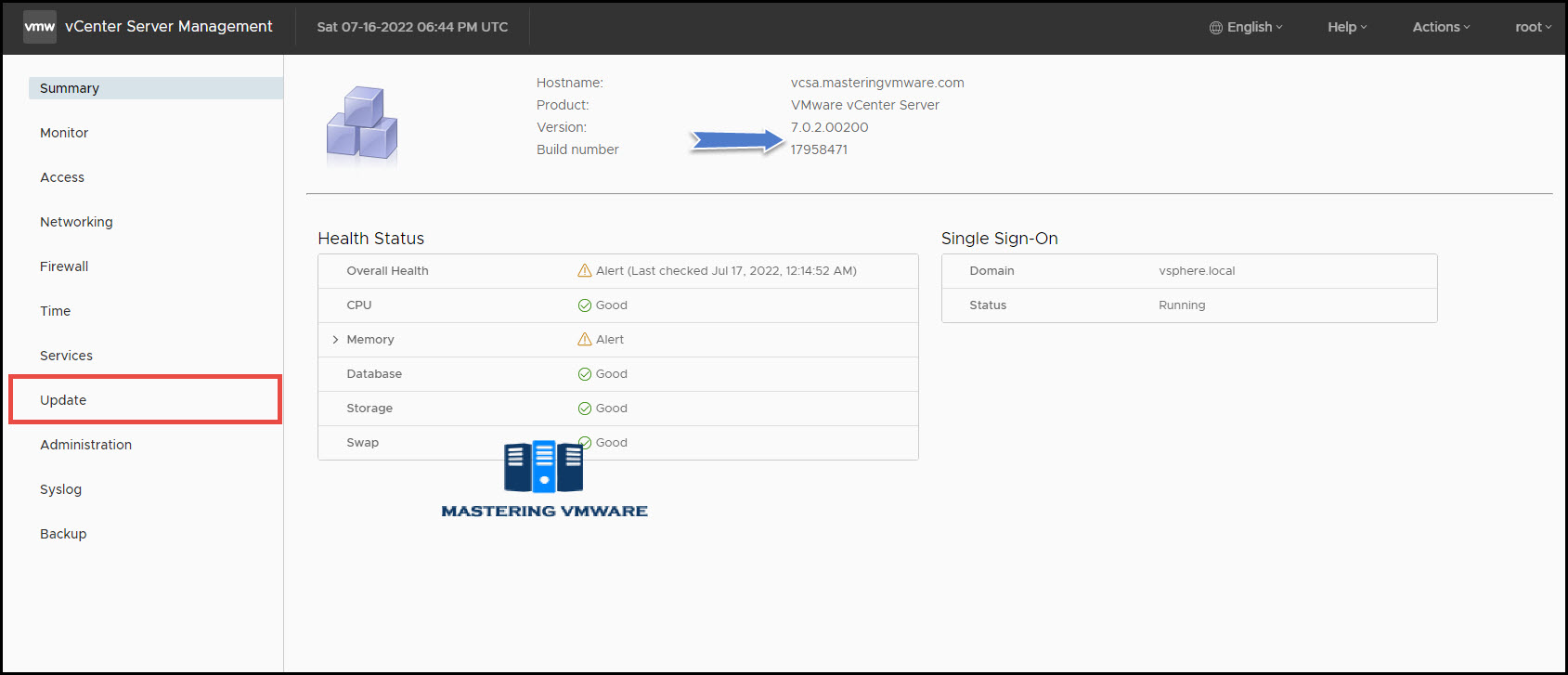 Step 4:
Click on Check Updates Drop down.
Select Check CD ROM because we have downloaded offline Patch ISO.
Step 5:
You will get the Patch ISO details.
Click on Stage & Install to start patching of vCenter Server.
Step 6:
Read & Accept the license agreement.
Click Next to continue.
Step 7:
You can join VMware Customer Experience Improvement Program if required.
Click Next to continue.
Step 8:
It will show the estimated time, Don't worry due to some cosmetic issues it is showing wrong time.
Check the box for Backup required.
Click Finish to start patching of vCenter Server 7.
Step 9:
You will get to see the progress of Patching.
It may take time based on your environment configuration.
Once completed you will see the message Installation succeeded.
Click Close to exit the wizard.
Now you can verify that your vCenter Server is patched & build number is updated.
Using this way you can easily Patch vCenter Server 7 in your vSphere environment. After patching you can check & verify the working of vCenter Server. Now you can delete the snapshot you may have taken prior to patch.
If you want to Patch ESXi hosts you can check out below links:
How to Patch ESXi 7 Using Lifecycle Manager Step by Step ?
How to Patch ESXi 7 Using Command Line Step by Step ?
That's it for Today Friends. I hope you liked reading this post & If you find anything more to be added or removed feel free to write it in our comments. If you find it useful You are Feel free to share this on social media to help others & spread knowledge.
If you have any queries on anything you are free to write it in our comments section & we will make sure to provide you with a better solution as soon as possible.
Join Our LinkedIn Group to get Updates & Discussions: Mastering VMware.
Check out our Facebook Group for discussions & more.
You can also Like & Share our Facebook Page for Latest Updates.