Lifecycle Manager is an updated version of VMware Update Manager in vCenter Server. Lifecycle Manager simplifies the lifecycle operations for the vSphere environment. In this post, we will see How to Patch ESXi 7 using Lifecycle Manager Step by Step.
Patching is a very critical task in every organization to overcome the mitigate vulnerabilities & fix the current issues of the products. In the case of the vSphere environment also VMware releases Patches for ESXi hosts to mitigate security vulnerabilities & bug fixes. Recently only VMware has released one of the patches for ESXi 7U3f which is very critical.
You can checkout about ESXi 7U3f patch details in the below link:
vCenter 7.U3f & ESXi 7U3f Patches Released
Before starting to patch ESXi host make sure that your host is healthy & there is enough available resources in cluster so that you don't face any resource crunch issues.
So Let's see How you can easily patch ESXi 7 using lifecycle manager:
Step 1:
You must download the released patch from VMware Portal.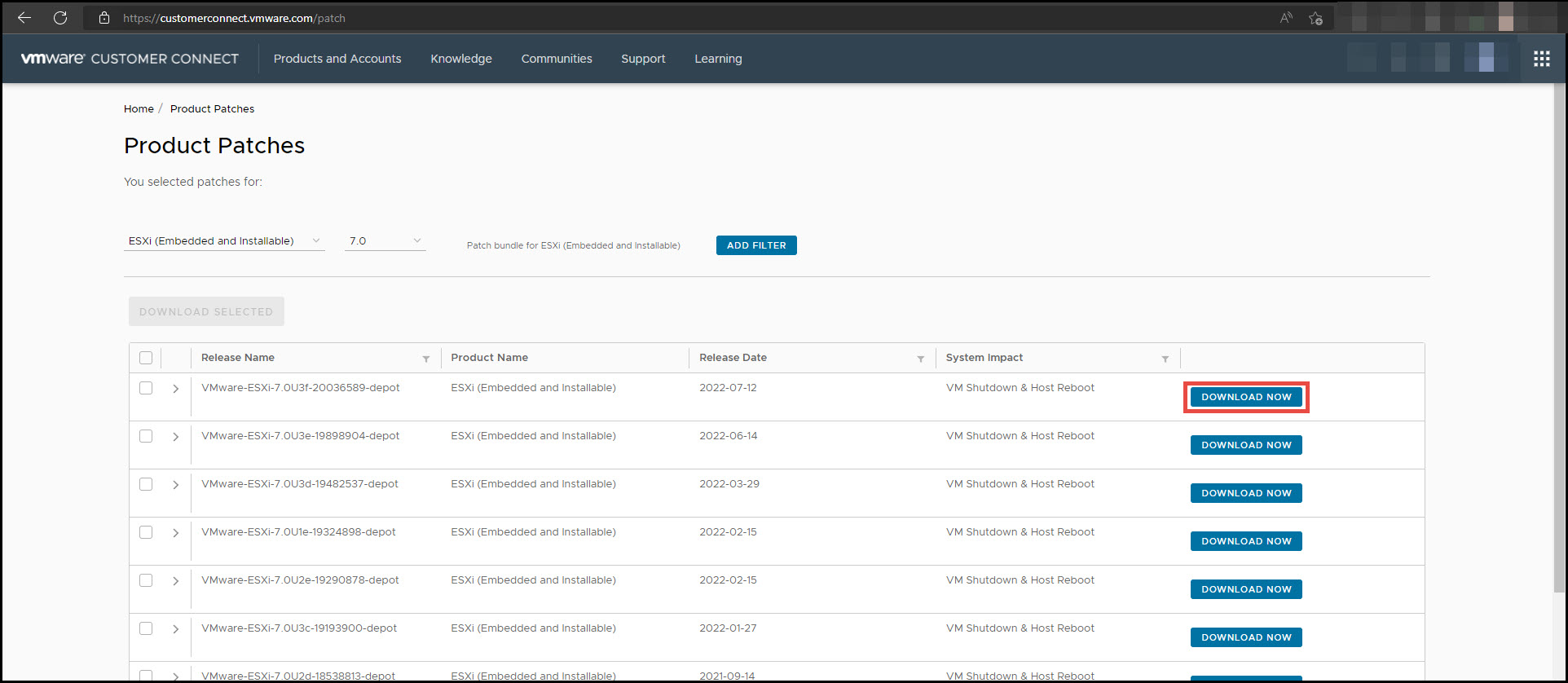 Step 2:
Login to vCenter Server.
Select the ESXi Host which you want to Patch.
Move ESXi Host into Maintenance mode.
Go to Updates Tab.
Select Host Updates.
You must attach the baseline to patch the ESXi host. If you don't now how to create Baseline check below link:
How to Create Baseline in VMware Update Manager Step by Step ?
Once you create baseline, Click on Attach tab. Select baseline & attach it.
After Attaching baseline you can click on Check Compliance.
Step 3:
Here you will see the baseline which is attached and it will be used to Patch ESXi hosts.
Click on Remediate to start the Patching Wizard.
Step 4:
Read and Accept the license agreement. Click OK to continue.
Step 5:
Here you can see ESXi host and it's details such as Number of Patches will be installed.
You will also get Pre-Check report for any issues before Patching so to avoid any prevention.
So make sure to check all the details.
Click Remediate to start ESXi Patching.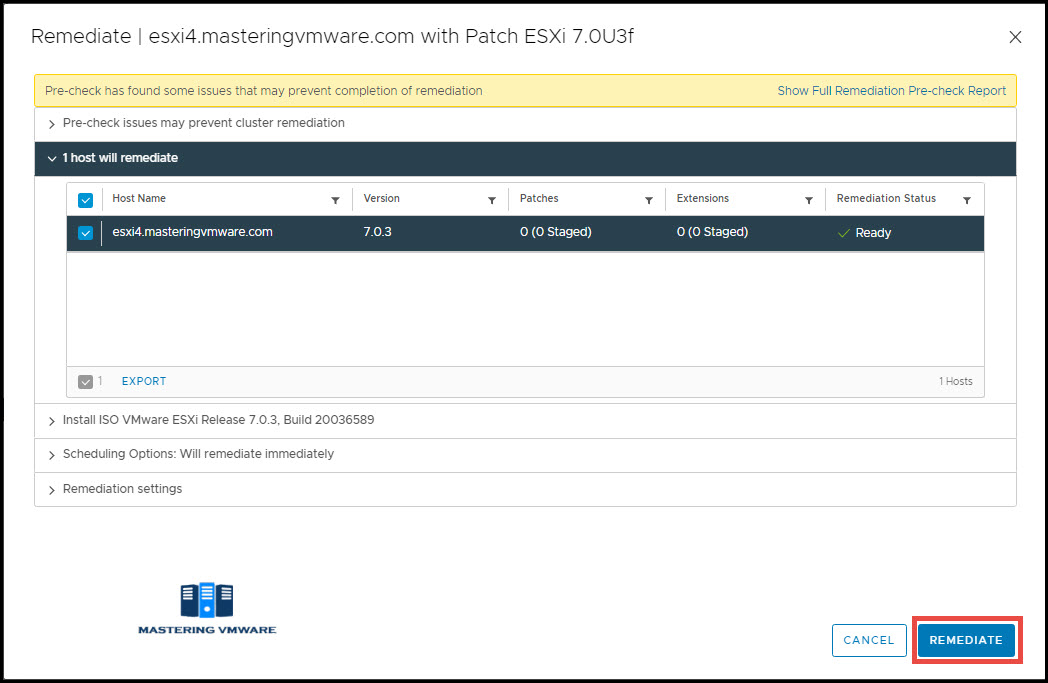 Step 6:
You can expand the Recent Tasks bar to view the progress of Remediation.
It may take time based on your environment & number of patches.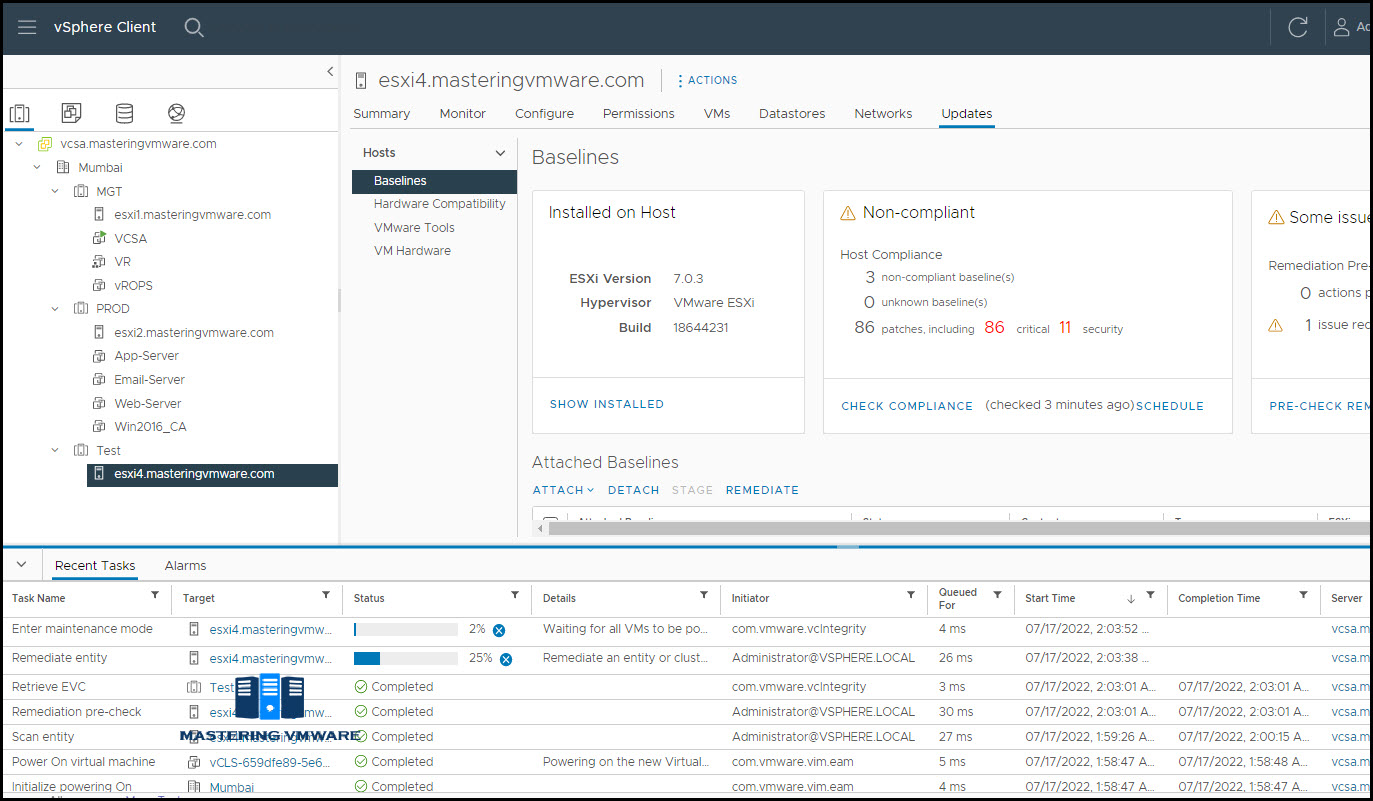 Once Remediation is completed, You will see host is Compliant.
Using this way you can patch ESXi 7 using lifecycle manager easily. After patching is completed you can check the & verify ESXi host functionality whether it is working fine or is there any issue. If all good you can move your ESXi host out of Maintenance mode.
That's it for Today Friends. I hope you liked reading this post & If you find anything more to be added or removed feel free to write it in our comments. If you find it useful You are Feel free to share this on social media to help others & spread knowledge.
If you have any queries on anything you are free to write it in our comments section & we will make sure to provide you with a better solution as soon as possible.
Join Our LinkedIn Group to get Updates & Discussions: Mastering VMware.
Check out our Facebook Group for discussions & more.
You can also Like & Share our Facebook Page for Latest Updates.