Snapshot is most useful feature in the virtual infrastructure. Snapshot provides capability to save the current state of the Virtual Machine. Snapshot is also called as point-in-time image of the virtual machine. Snapshot helps to preserve the current state of the virtual machine. we can create snapshot while vm is powered on , powered off or suspended. we can create multiple snapshots of virtual machine.
So let's check how to manage snapshots with the Snapshot Manager :-
Step 1:
Login to vSphere Web Client.
Step 2:
Choose the Hosts & Clusters from the Home Screen.

Step 3:
Choose your virtual machine & right click on it.
Choose Snapshots > Manage Snapshots.
Step 4:
You will get the Snapshot Manager Window.
[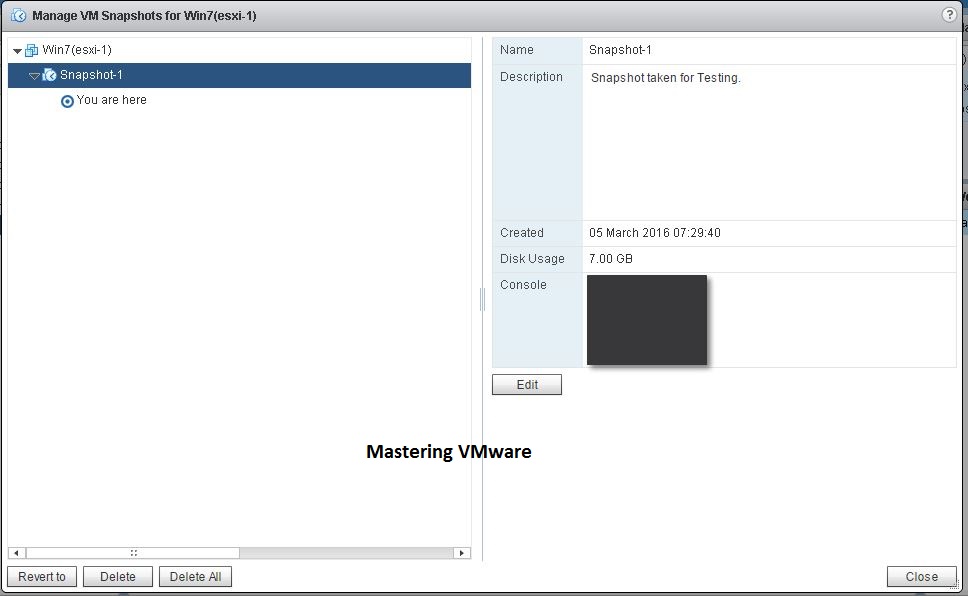 Here you can see all the Snapshots you have created. You can also revert to Snapshot by choosing snapshot & click Revert to button in the bottom.
You can also Delete Single or All Snapshot from Snapshot Manager.
You can also Edit the Name & Description by Edit button.
Checkout Our Posts on Snapshot:-
That's it for Today Friends. I Hope you liked reading this post & If you find anything more to be added or removed feel free to write it in our comments. If you find it useful You are Feel free to share this on social media to help others & spread knowledge.
If you have any query on any thing you are free to write it in our comments section & we will make sure to provide you the better solution as soon as possible.
Checkout our Facebook Group for Discussions & More Stuff.
Like & Share our Facebook Page for Latest Updates.