Windows Server 2022 is the latest server edition from Microsoft. Windows Server 2022 includes many new rich features & functionalities from the older versions of windows servers. In this post, we will see How to Install Windows Server 2022 Step by Step.
Featured Sponsor
Windows Server 2022 is built on the strong foundation of Windows Server 2019 and brings many innovations on three key themes: security, Azure hybrid integration and management, and application platform. Below we will see the key features announced in the Windows Server 2022 & improvements.
Key features in Windows Server 2022:
Azure Edition:
Support for Azure Stack HCI
Deploy from Azure Marketplace on Arc-enabled Azure Stack HCI (preview)
Azure Edition (initial release)
Azure Automanage – Hotpatch
Extended network for Azure
Azure hybrid capabilities:
Azure Arc enabled Windows Servers
Windows Admin Center
Application Platform
Security:
Secured-core server
Hardware root-of-trust
Firmware protection
UEFI secure boot
Virtualization-based security (VBS)
Transport: HTTPS and TLS 1.3 enabled by default on Windows Server 2022
Secure DNS: Encrypted DNS name resolution requests with DNS-over-HTTPS
Server Message Block (SMB): SMB AES-256 encryption for the most security conscious
SMB: East-West SMB encryption controls for internal cluster communications
SMB Direct and RDMA encryption
Storage:
Storage Migration Service
Adjustable storage repair speed
Faster repair and resynchronization
Storage bus cache with Storage Spaces on standalone servers
ReFS file-level snapshots
SMB compression
Networking performance:
UDP performance improvements
TCP performance improvements
Hyper-V virtual switch improvements
Other Features:
Enhanced support for non-Microsoft container services
Nested virtualization for AMD processors
System Insights disk anomaly detection
SetupDiag
Microsoft Defender Antivirus improvements
Windows Update rollback improvements
Microsoft Edge browser
Add Task Scheduler and Hyper-V Manager to Server Core installations
And many more improvements you will see in Windows Server 2022 when you actually start using it.
If you want to know in detail all the features than check link below of official Microsoft Documentation:
Windows Server 2022 What's New
You can see that there are many new functionalities & features are added to the latest version of Windows Server 2022. Which makes it the more useful & most feature rich OS till now.
System requirements for Windows Server 2019 Installation:
CPU: 1.4 GHz 64-bit processor
RAM: 512 MB (2 GB for Server with Desktop Experience installation option)
Disk: Minimum 32 GB
Network: Ethernet adapter capable of at least gigabit throughput
DVD Drive: DVD drive (if you intend to install the operating system from DVD media)
Keyboard & Mouse.
Above listed are minimum requirements for simple installation of Windows Server 2022. For production use cases you should have more resources for efficient use & best performance of Windows server 2022.
So let's see How to Install Windows Server 2022 Step by Step:
Step 1:
Download the Windows Server 2019 ISO or You can purchase the Windows Server 2019 DVD.
Insert the DVD drive into the server.
Start the server.
You will see this first screen Press any key here to start the installation wizard.

Step 2:
Choose language for your windows server 2022.
Choose Time & currency format for your windows server 2022.
Choose keyboard input for your windows server 2022.
Now you can click Next to continue.
Step 3:
Click on "Install now" to continue the wizard.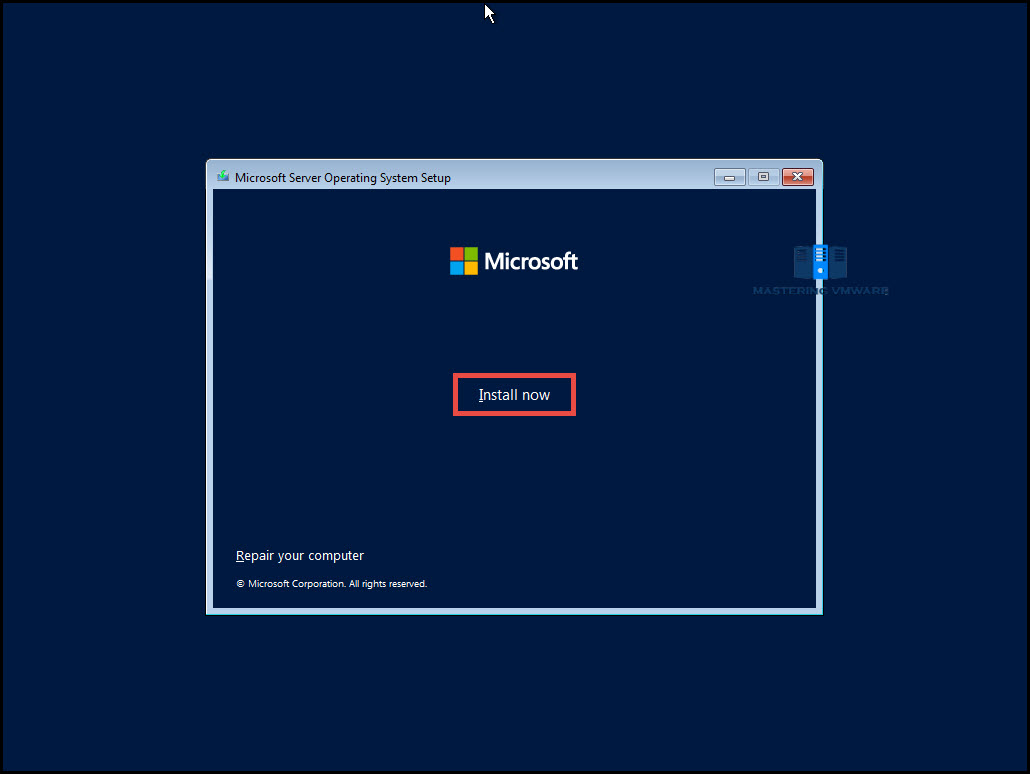 Step 4:
Here you will see the list of editions which you can install.
You can choose standard or datacenter based on your requirement.
To install GUI based edition please choose the Desktop Experience.
Click Next to continue.
Step 5:
Read & accept the license agreement.
Click Next to continue.
Step 6:
Here you will see 2 options for installation: Upgrade or Custom.
If you are upgrading your existing windows server than you can choose the Upgrade option.
We are only installing the windows server 2022 so select custom.
Step 7:
Here you will see the disk which is available in your server.
You can create partitions by selecting disk & click on New button in the box.
If you don't want to create any partitions than you can click on Next to continue.
Step 8:
Once you click Next you will see that Installation of windows server 2019 has started.
It will take few minutes to complete according to your environment.
Step 9:
You will see server is restarting once the installation is completed.
You will get the below screen to setup local administrator account password for windows server 2019.
This is the local administrator account in windows server 2019 so once you setup the password you will use the same password for login using local admin account.
Click Finish after entering the password.
Now you will get the login screen of your windows server 2022.
You can login using local administrator account which password you have set in previous screen.
That's it, Using this way you can easily install windows server 2019 in your environment. Windows Server 2019 installation is same as the previous version of windows server installation. So if you have already installed windows server previously than you already know the steps.
This post is for the users who are installing Windows Server 2022 for the first time so that they can easily install the windows server.
Checkout our other posts on Windows Servers & Windows Admin Center:
Follow us on Twitter for Regular updates : Mastering VMware
Join Our LinkedIn Group to get Updates & Discussions: Mastering VMware.
Check out our Facebook Group for discussions & more.
You can also Like & Share our Facebook Page for Latest Updates.