VMware Tools is suite of the drivers which is installed in the guest os running on ESXi host. VMware tools provides many benefits for the guest OS. It is always recommended to install VMware tools in each of your virtual machine. In this post we will see on How to Install VMware Tools in Windows Server Core.
VMware Tools is a suite of utilities that enhances the performance of the virtual machines guest operating system and improves management of the virtual machine. Without VMware Tools installed in your guest operating system, guest performance lacks important functionality. Installing VMware Tools eliminates or improves these issues:
Low video resolution
Inadequate color depth
Incorrect display of network speed
Restricted movement of the mouse
Inability to copy and paste and drag-and-drop files
Missing sound
Provides the ability to take quiesced snapshots of the guest OS
Synchronizes the time in the guest operating system with the time on the host
VMware Tools includes these components:
VMware Tools service
VMware device drivers
VMware user process
VMware Tools control panel
So you must have VMware Tools in each of your guest operating system so that you get all benefits & your guest os runs smoothly.
So let's see How to Install VMware Tools in Windows Server Core Step by Step:
Step 1:
In vCenter Server you will see warning that VMware Tools is not installed in virtual machine.
To Install VMware Tools we need to mount the ISO of VMware Tools.
You can simply click on Install VMware Tools.
Step 2:
You will be asked to mount the ISO of VMware Tools to the server.
Click on Mount.
Step 3:
Login to your windows server core.
Change the directory from C to D or E where VMware tools is mounted.
You can simply try first with D directory & than later go ahead.
Because default is the D directory.
Step 4:
Now run command "dir" to list the files of that directory.
You can see that VMware Tools ISO files are listed.
Step 5:
Now type & run "setup64.exe" to start VMware Tools installation.
If your server is 32bit than you can use "setup.exe"
Step 6:
You will get the VMware Tools installation wizard.
Click Next to continue.
Step 7:
Here you can choose the installation type.
Select the installation type which is required for your environment.
Click Next to continue.
Step 8:
Click Install to start the installation of VMware tools in Windows Server core.
Step 9:
Once the installation is finished.
You can click Finish to close the installation wizard.
Step 10:
VMware Tools requires server restart.
So click Yes to restart your windows server core.
Now you can see that VMware Tools is installed & running in the server core.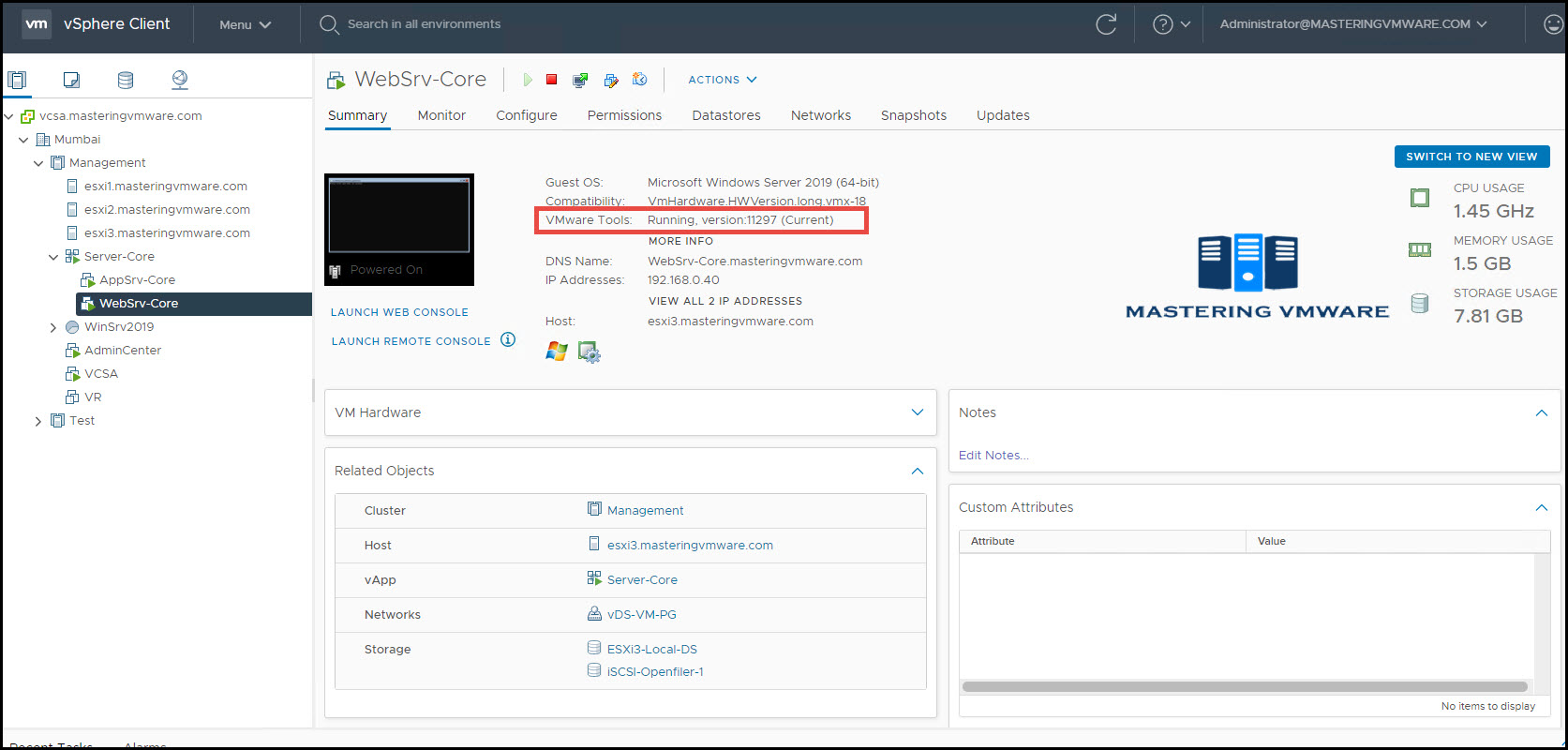 That's it, Using this way you can easily install VMware Tools in Windows server core. VMware Tools provides many benefits for guest OS. So it is must have installation for your VMware environment.
Note: In this post we have used Windows Server 2019 core edition.
Checkout our post on Windows Server 2019 Core Installation:
How to Install Windows Server 2019 Core Step by Step ?
That's it for Today Friends. I Hope you liked reading this post & If you find anything more to be added or removed feel free to write it in our comments. If you find it useful You are Feel free to share this on social media to help others & spread knowledge.
If you have any query on any thing you are free to write it in our comments section & we will make sure to provide you the better solution as soon as possible.
Join Our LinkedIn Group to get Fast updates about our posts : Mastering VMware.
Checkout our Facebook Group for discussions & more.
You can also Like & Share our Facebook Page for Latest Updates.