VMware has announced the newer version of vSphere product line which is vSphere 6.7. In the previous post we have seen on how to install ESXi 6.7 Step by step. In this post we will see on How to install VCSA 6.7 Step by step. VCSA 6.7 or vCenter Server 6.7 comes with the many new features which improves the vCenter performance and accessibility. VMware is already planning on deprecating the flash based vSphere web client this year so they have provided almost all the features to the HTML web client with vSphere 6.7. You can use for your day to day tasks.
As per the announcement by VMware that till the end of the year 2018 they will be announce the complete HTML client. HTML client is much improved as compared to previous one and it is also fast and smooth as it doesn't have any dependency.
In this series of vSphere 6.7 we will see more about the new features but in this post let's start with the installation of vCenter Server 6.7. In the installer also VMware has made some UI Changes which looks very clean and smooth.
Step 1:
Download the VCSA 6.7 ISO from VMware Website.
Once you download the ISO mount the ISO or you can also extract it.
Browse to the path as shown below.
Double Click the "installer" to start the wizard.
Step 2:
As we are installing the VCSA. Choose the Install option.
Step 3:
You can see the Installer wizard.
This will be the same 2 stage process of Installation and Configuration of VCSA 6.7.
Click Next to continue.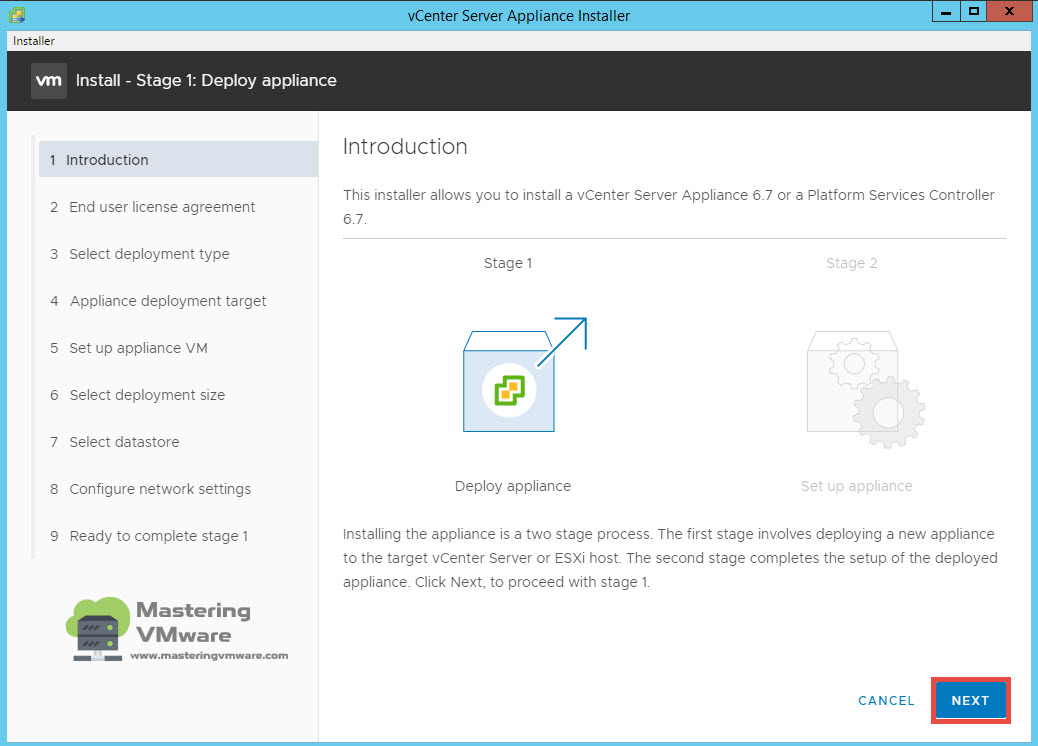 Step 4:
Read and Accept the license agreement. Click Next to continue.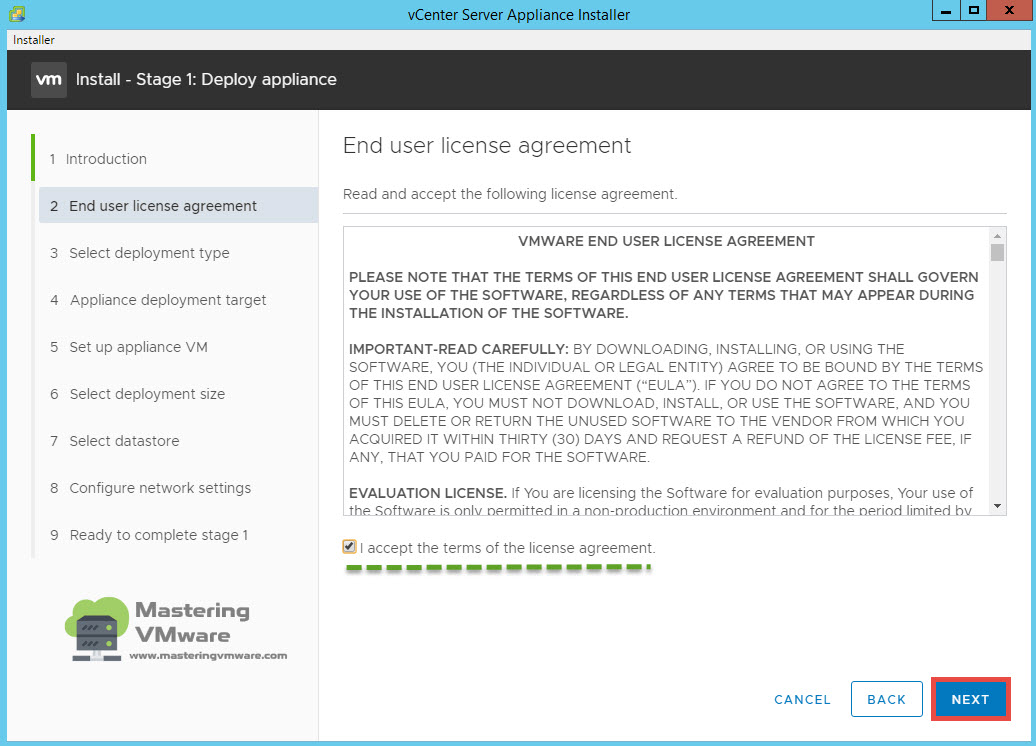 Step 5:
Choose the Deployment type based on the requirement.
Click Next.
Step 6:
Provide the ESXi host details on which VCSA VM will be deployed. Click Next.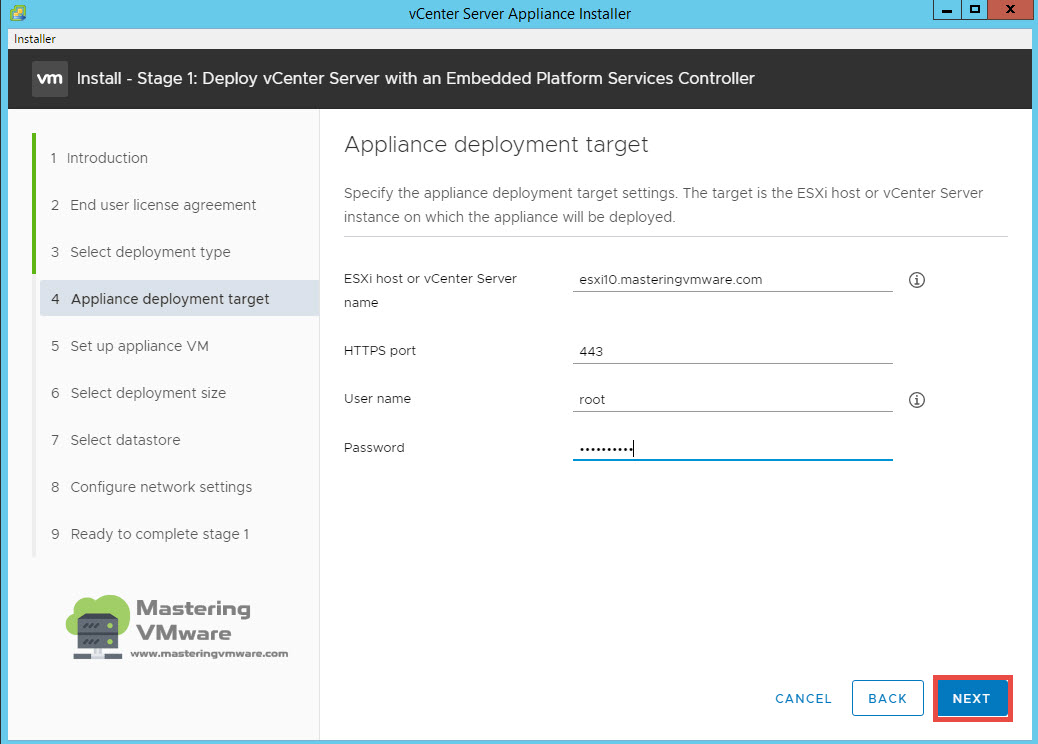 Once you click Next you will get the certificate warning. Click Yes to continue.
Step 7:
Setup the Name and credentials of the VCSA. Click Next.
Step 8:
Choose the deployment size based on your environment. If you have larger environment then you can also choose the larger storage size.
Click Next.
Step 9:
Select the datastore on for storing the VCSA data. You can also enable the Thin disk mode if required. Click Next.
Step 10:
Configure Network settings for the VCSA 6.7. Make sure you make the proper DNS entries before installation.
Click Next.
Step 11:
Review all the configuration you have done.
Click Finish to start the deployment.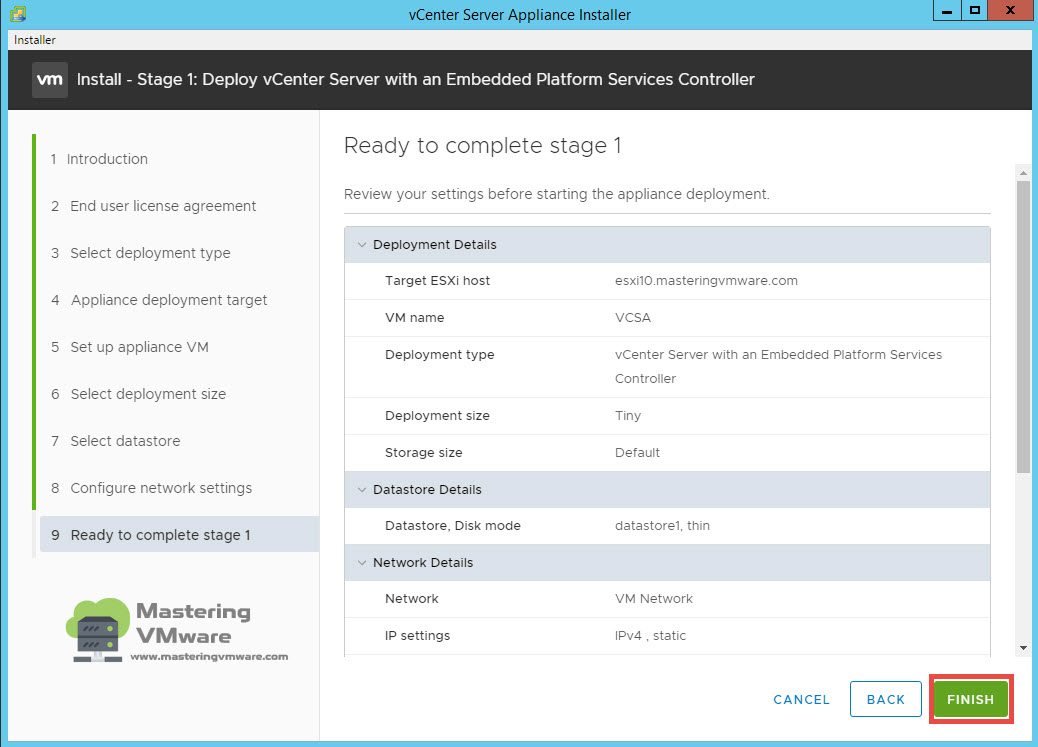 Step 12:
It will take few minutes based on your environment.
Once the deployment is completed, you will see below screen.
Click Continue to start the stage 2 process.
Step 13:
As you can see the green check bar on the stage 1 means we have successfully completed stage 1.
Click Next to proceed with stage 2.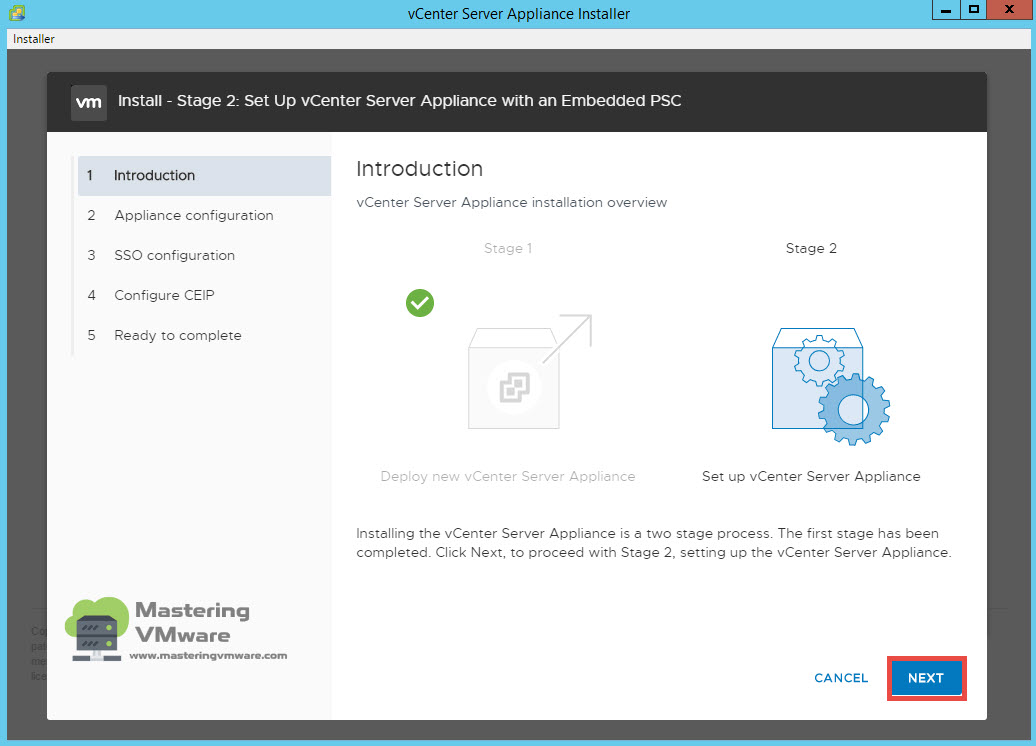 Step 14:
Configure the Time sync for the vCenter Server Appliance and you can also enable SSH Access for any troubleshooting purpose.
Click Next.
Step 15:
Configure the Single Sign-On (SSO) for the new VCSA or if you already have the SSO then you can join to the existing one.
We are deploying it for the first time so provide the domain name for SSO and password for the administrator user.
Click Next.
Step 16:
Join the VMware Customer experience improvement program or Click Next.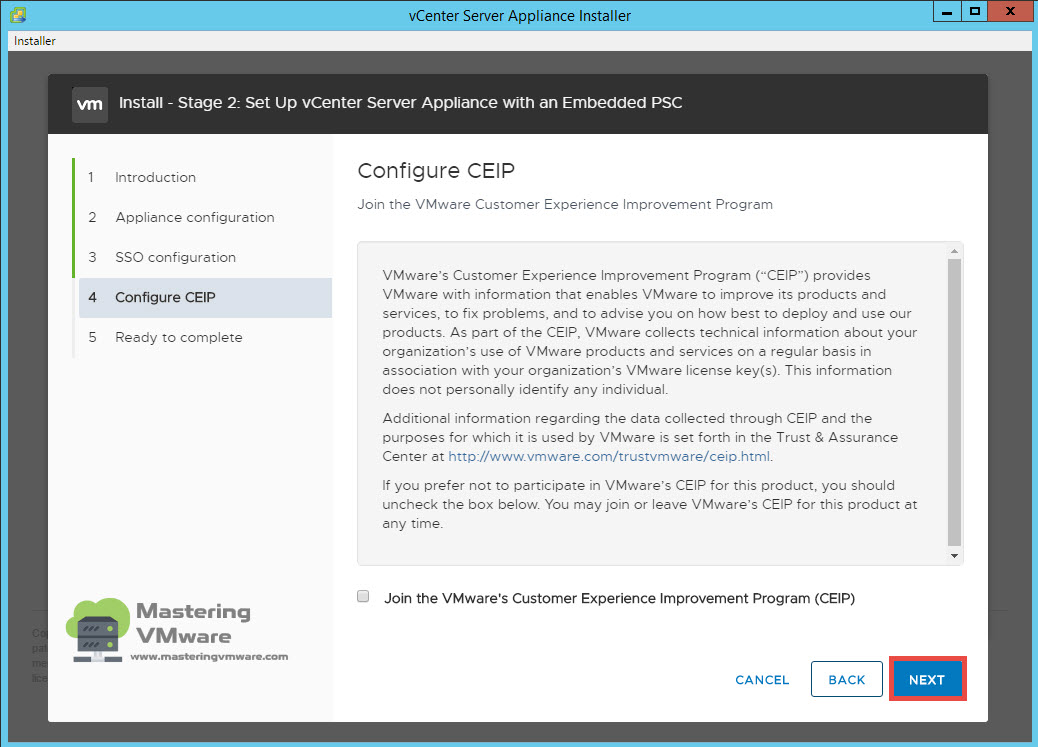 Step 17:
Review all the configurations and click Finish to start the process.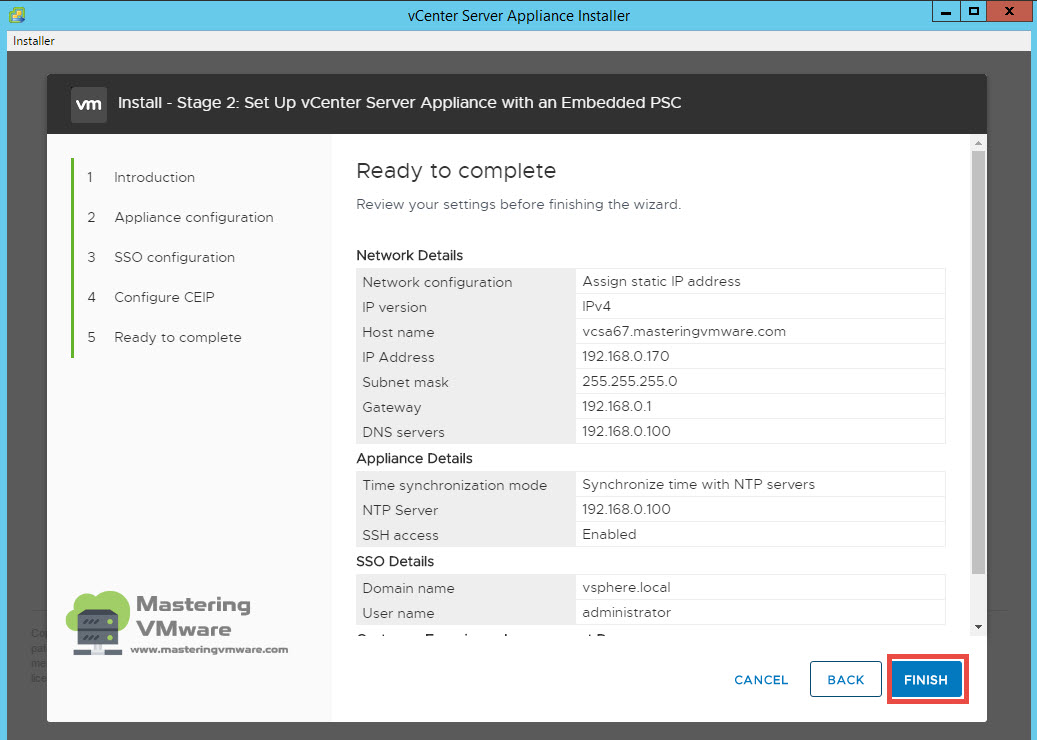 You might get warning to verify all the configuration that you can not pause or stop the install in between.
Click OK to start.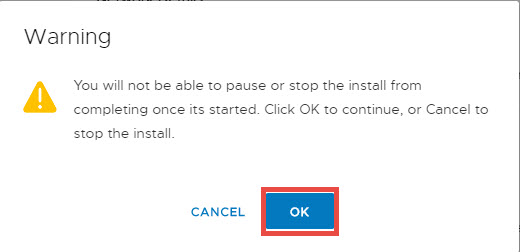 Installation might take few mintues to complete.
Once it completed you will get below screen that Appliance is setup successfully.
Click Close to exit the wizard.
You can see that Appliance getting started link is displayed, so you can access the VCSA using it.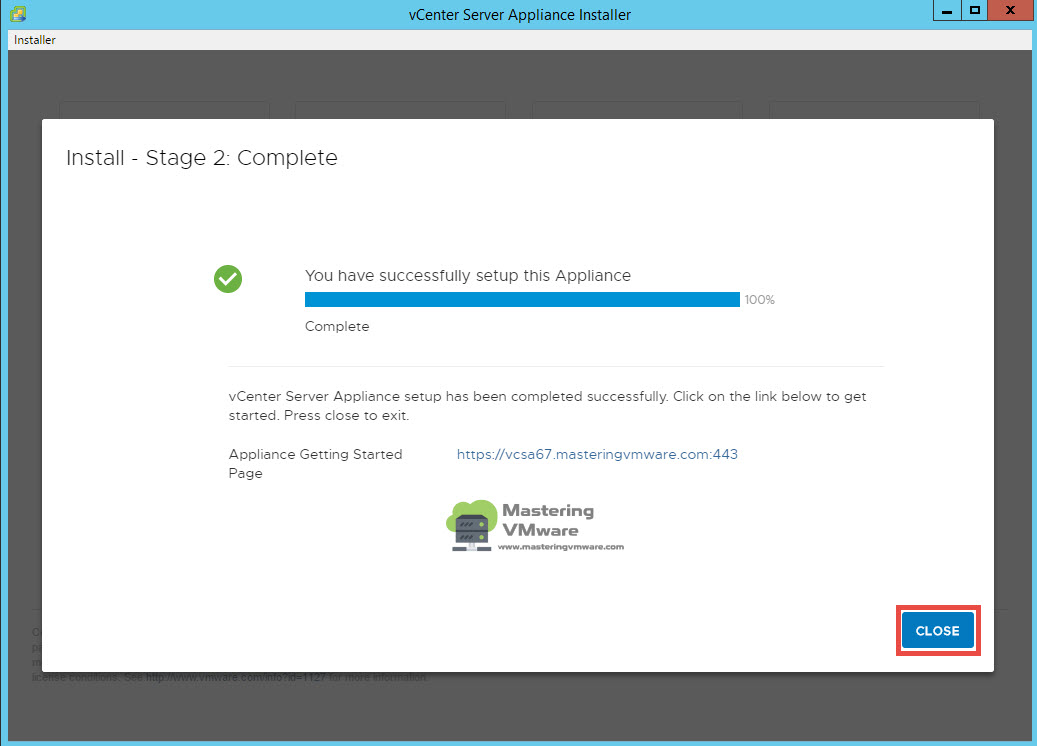 This is the first screen you will see every time when you access the vCenter Server 6.7.
As you can see that HTML5 Client is appeared first and then Flex client(Regular flash client.)
Now you can login to your newly deployed VCSA 6.7 and start by creating datacenter, cluster, resource pool and adding hosts. Using this way you can easily deploy the vCenter Server 6.7 Step by Step easily.
If you haven't installed ESXi 6.7 yet then check the below link:
How to Install ESXi 6.7 Step by Step?
That's it for Today Friends. I Hope you liked reading this post & If you find anything more to be added or removed feel free to write it in our comments. If you find it useful You are Feel free to share this on social media to help others & spread knowledge.
If you have any query on any thing you are free to write it in our comments section & we will make sure to provide you the better solution as soon as possible.
Join Our LinkedIn Group to get Fast updates about our posts : Mastering VMware.
Checkout our Facebook Group for discussions & more.
You can also Like & Share our Facebook Page for Latest Updates.