vSAN
How to create vSAN Storage Policy Step by Step
In this series of vSAN we will see in this post about how to create vSAN Storage policies step by step. In the next post we will see on how to assign vSAN storage policy to the VM. In previous posts we have successfully configured the vSAN Cluster and saw how to run the proactive tests on the vSAN datastore to check the performance of the vSAN Datastore. vSAN Storage policy can be assigned on per vm or per vmdk level.
In Paragraph AD
Most important feature of vSAN is an storage policy in which you can set your own requirements and create storage policy based on that. Once you create a storage policy then you have to assign storage policy to the VM's to make them compliant. In this series of vSAN we have already looked on vSAN Storage policies overview in previous posts so if you aren't familiar with the vSAN storage policy i strongly suggest you to have a look. Link is available at the end of this post.
So let's see how to create vSAN Storage policy step by step:
Step 1:
Login to vSphere Web Client.
Click on VM Storage Policies.
Step 2:
Here you will see predefined storage policies.
Click on "Create VM Storage Policy" to create an policy.
Step 3:
Provide the Name and Description for the vSAN Storage Policy.
Click Next.
Step 4:
Here you can see about the Policy Structure and how it works.
Click Next.
Step 5:
You can configure the Common rules for the data services provided by the ESXi Hosts. Common rules includes encryption, I/O Control etc.
As we are using the vSAN for storage policy leave it as it is and click Next.
Step 6:
In this section we will be configuring the vSAN Storage policy.
First choose the Storage Type as vSAN from the drop down as shown.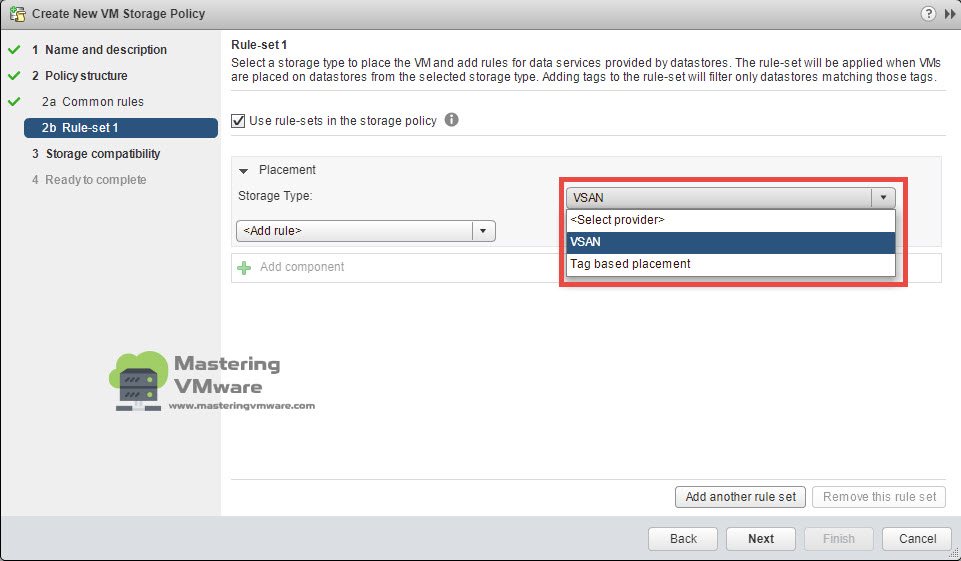 Step 7:
Now we will be adding the Rules which we require for the VM on the vSAN Datastore.
We will be creating a simple mirroring policy in the vSAN.
So select the "Primary level of failures to tolerate"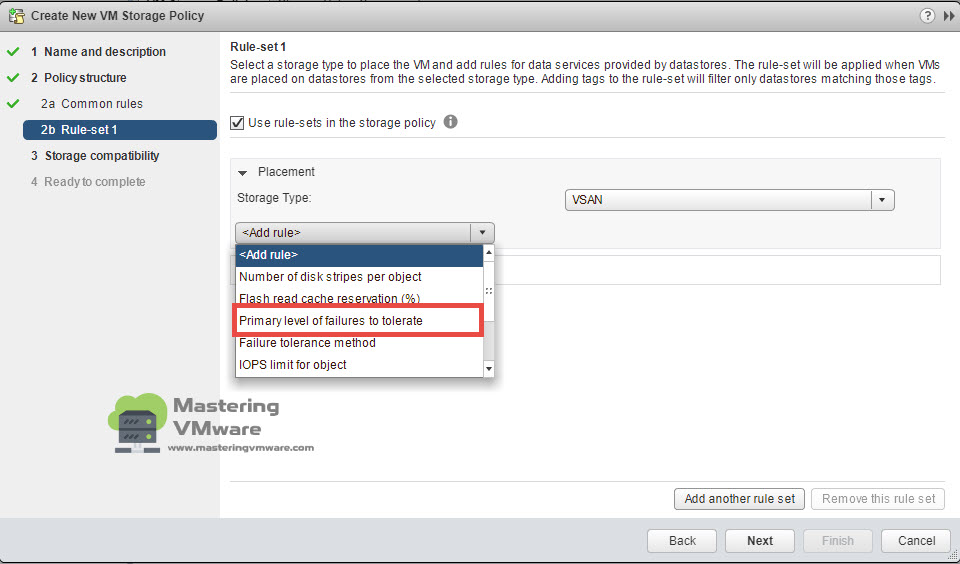 Step 8:
Default value for Primary level of failures to tolerate is 1.
Now we will have to provide the failure tolerance method.
Click on Add rule select "Failure Tolerance method" from the drop down.
Choose "RAID-1 (Mirroring) – Performance."
In the right side you can see the storage consumption model which will give you the overview of the storage consumption based on the storage policy you configure.
Click Next once you select and configure all the values.
Step 9:
Here you will see the compatible storage for the storage policy you have configured. There is nothing much to do here.
Click Next.
Step 10:
Review all the configurations and click Finish to create the policy.
Once you click Finish, Storage policy will be created and it will be listed under the policies.
Using this way you can easily create your own storage policy based on your requirements. You can also edit the storage policy after creation. Make sure you set proper Name and Description for vSAN Storage policy as it will be easy to understand from Name only.
Checkout our Posts on vSAN:
vSAN Hybrid vs All Flash Overview.
vSAN Objects and Components Overview.
vSAN Deduplication and Compression Overview.
vSAN Storage Policies Overview.
How to Create vSAN VMkernel Step by Step ?
How to Configure vSAN Step by Step ?
How to Run vSAN Proactive Tests ?
That's it for Today Friends. I Hope you liked reading this post & If you find anything more to be added or removed feel free to write it in our comments. If you find it useful You are Feel free to share this on social media to help others & spread knowledge.
If you have any query on any thing you are free to write it in our comments section & we will make sure to provide you the better solution as soon as possible.
Join Our LinkedIn Group to get Fast updates about our posts : Mastering VMware.
Checkout our Facebook Group for discussions & more.
You can also Like & Share our Facebook Page for Latest Updates.