How to create Dashboard in vRealize Operations Manager Step by Step ?
In this series of vRealize Operations Manager we have seen on how to deploy & configure vROPS to monitor your vSphere inventory & objects. vRealize Operations Manager is an powefull tool which helps IT Team to monitor all the activities running or completed directly from single console of vRealize Operations Manager. vROPS is the best solution for your virtual environment because it can monitor all the objects running in the VMware vSphere.
vRealize Operations Manager provides Dashboards to have a quick look at your Infrastructure. vROPS comes with the many pre built Dashboards which provides the complete monitoring from your Infra. You will find many Dashboards such as Infrastructure dashboards which provides cluster, network , datastore & ESXi monitoring. You can also see specific VM dashboards which will provide the VM configuration, VM usage details.
vROPS comes with all the useful dashboards but sometime if you need to create your own dashboard based on your requirement then this post is for you. vROPS provides functionality to create your own customized dashboards. Note: Custom dashboards are only supported in the vROPS Advanced & Enterprise Licenses. It is not available in standard license.
Let's have a look at how to create custom dashboard:
Step 1:
Login to vROPS.
Click on Actions drop down.
Choose Create Dashboard.
Step 2:
Provide dashboard name & description. You can also set your custom dashboard as default dashboard.
Choose Widget List.
Step 3:
From here you can choose the multiple widgets. Widgets are configurable, modular visuals, and are the building blocks for your dashboard.
First choose the Object list to get the widgets output using Objects.
Drag & drop the widgets you want to use.
Step 4:
Here we need to specify the Widget Interactions. Widget Interactions provides data from one widget to another widget.
Here we have used Object list for that.
So you can choose the Object list.
Click on Apply Interactions.
You can select any of the object from Object List widget that will give you the overview of the Interactions.
Step 5:
You can set widgets to navigate to other dashboards. To enable dashboard navigation, click the Destination Dashboards drop-down menu for the specified widget and select the dashboard and the widget to navigate to.
This is optional you can leave it as it is if you don't want to set Dashboard Navigation.
Click Save to create dashboard.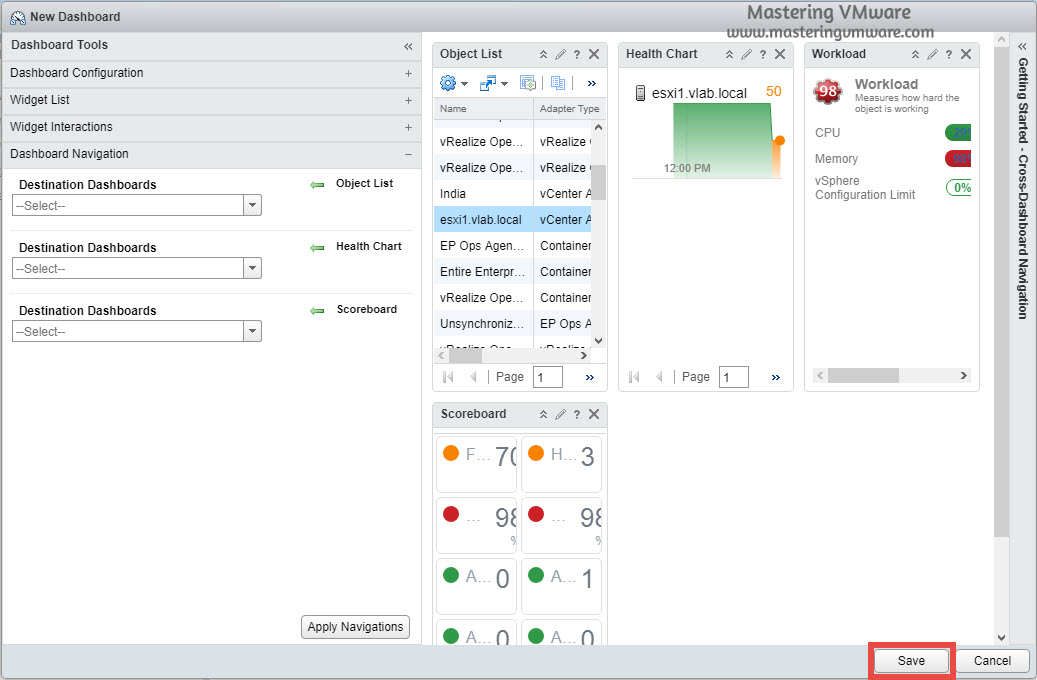 That's it you have successfully created the Dashboard now you can see your dashboard from the Home page.
If you want to see specific object then choose the object from Object List widget.
That's it you have successfully created your customized Dashboard now you can create your own custom dashboard based on your requirements.
Checkout other posts on vRealize Operations Manager:
How to install vRealize Operations Manager Step by Step ?
How to install vRealize Operations Manager using Express Installation Step by Step ?
How to Integrate vCenter Server in vROPS Step by Step ?
How to Generate Report in vRealize Operations Manager ?
That's it for Today Friends. I Hope you liked reading this post & If you find anything more to be added or removed feel free to write it in our comments. If you find it useful You are Feel free to share this on social media to help others & spread knowledge.
If you have any query on any thing you are free to write it in our comments section & we will make sure to provide you the better solution as soon as possible.
Join Our LinkedIn Group to get Fast updates about our posts : Mastering VMware.
Checkout our Facebook Group for discussions & more.
You can also Like & Share our Facebook Page for Latest Updates.