vSphere Guides
How to Convert Physical Server to Virtual Machine P2V
Convert Physical Server to Virtual Machine P2V
VMware vCenter Converter is used for converting the physical servers into virtual machine which is also called P2V. In this post we will see on how to convert physical server to virtual machine P2V step by step.
In Paragraph AD
Using VMware vCenter Converter makes your task easy of migration from Physical servers to virtual machines from one single tool without much impact. Conversion process requires the good network connectivity & supported operating systems so that you don't face hurdles & conversion can be completed in the time.
If you haven't installed VMware vCenter Converter than you can check our post on How to Install VMware vCenter Converter Step by Step ?
Before starting conversion make sure that you have all the credentials of your physical server & vCenter server is ready.
So let's see how to convert Physical Server to Virtual Machine P2V:
Step 1:
Open VMware vCenter Converter.
Click on Convert Machine option at the left side top.
Step 2:
Here you have to provide the source machine details.
Provide the source machine details with username & password to access the machine.
Click on View Source details.
Step 3:
VMware vCenter Converter will install agent in the physical server to perform the conversion process.
Here you can choose either you want tool to perform uninstallation or you can manually perform the uninstallation.
Click Yes to continue.
Step 4:
You can see that Agent deployment is started.
Step 5:
You will see the source physical machine details.
You can verify the details & click Close to continue.
Step 6:
You can deploy Virtual Machine of vCenter Server Infrastructure or you can also deploy on VMware workstation.
Provide the vCenter Server Details & credentials.
Click Next to continue.
Step 7:
You can Ignore the certificate warning.
Step 8:
You will see your vCenter Server inventory.
So you can choose where you want your virtual machine to be present.
Click Next to continue.
Step 9:
Select the Host & datastore on which you want to put your converted virtual machine.
Click Next to continue.
Step 10:
You will see the configuration for your virtual machine on how it will be after conversion.
If you want to make any changes you can click on Edit to perform changes.
Click Next to continue.
Step 11:
Review the conversion parameters & click Finish to start your physical server to virtual machine P2V Conversion.
Once you click Finish you will see the details about the conversion in the Home page where you will get all the tasks details which are being performed.
Conversion will take time based on your network connectivity. Once Physical server to virtual machine P2V completed you will see status as completed & the time it took to convert.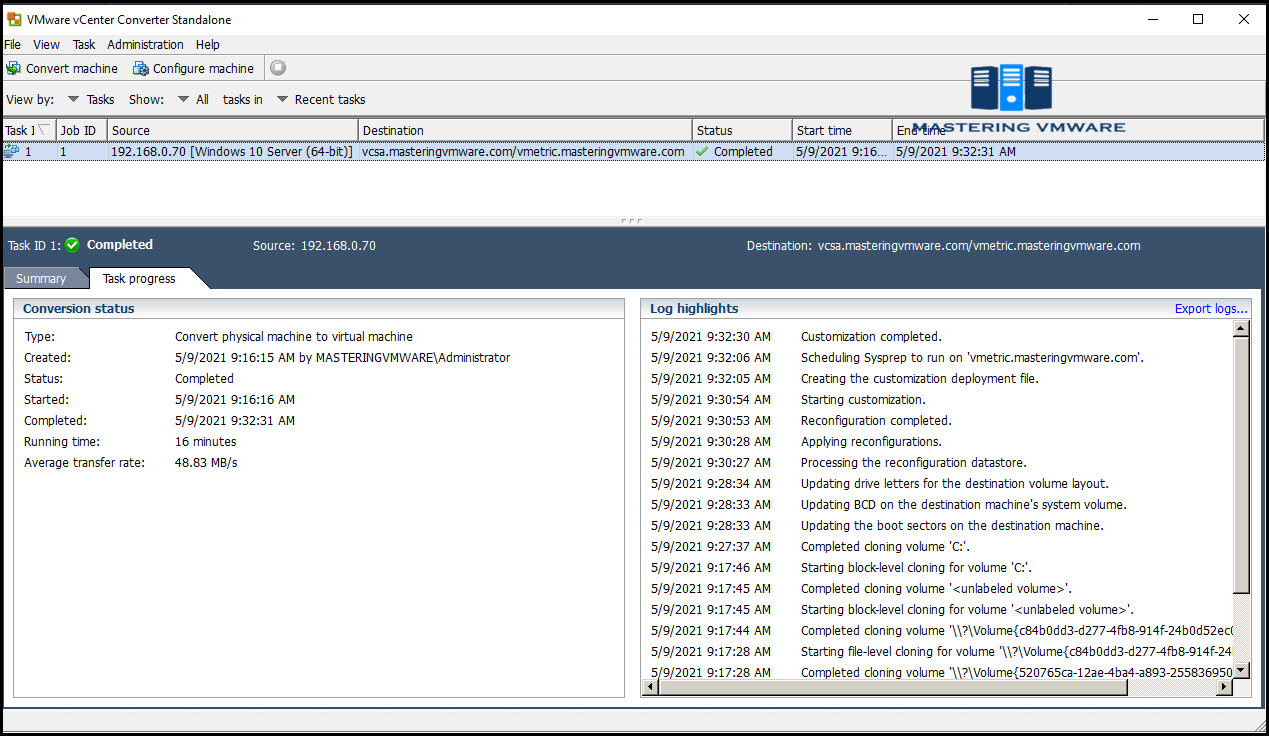 Now your Physical server to virtual machine P2V is completed, you can login to vCenter Server & check the status of the virtual machine.
You can also power on the virtual machine & verify that everything is running fine.
That's it, Using this way you can easily convert your Physical Server to Virtual Machine P2V using VMware vCenter Converter step by step. There are some requirements which OS is supported & it's editions so before planning for conversion check for VMware vCenter Converter documentation.
That's it for Today Friends. I Hope you liked reading this post & If you find anything more to be added or removed feel free to write it in our comments. If you find it useful You are Feel free to share this on social media to help others & spread knowledge.
If you have any query on any thing you are free to write it in our comments section & we will make sure to provide you the better solution as soon as possible.
Join Our LinkedIn Group to get Fast updates about our posts : Mastering VMware.
Checkout our Facebook Group for discussions & more.
You can also Like & Share our Facebook Page for Latest Updates.