vSAN
How to Configure vSAN 2 Node Cluster Step by Step
vSAN 2 Node cluster is used when there is low resource available or you can say for remote or branch sites where you just want to use vSAN with limited resources. vSAN 2 Node Cluster works in the same way as normal vSAN cluster but it will have 2 vSAN hosts participating in vSAN Cluster & one witness node will be required in order to use it.
Featured Sponsor
vSAN 2 node cluster configuration is almost same as vSAN cluster configuration but in 2 node configuration you will be asked for witness host details which you must deploy before 2 node cluster configuration. A vSAN 2 Node Cluster typically runs in a single site, with the vSAN Witness Host residing in an alternate location or on an alternate host in the same site.
vSAN Witness host is used to provide quorum for the 2 nodes so to avoid the scenarios such as Split brain where both site should not be active for single VM.
Below is the Simple Architecture design of vSAN 2 Node Configuration taken from VMware Documentation:
As you can see from above image how the vSAN 2 Node Cluster configuration looks like.
Each node in vSAN Cluster is configured as a vSAN Fault Domain. The supported configuration is 1+1+1 (2 nodes + vSAN Witness Host). With two Fault Domains available, virtual machines deployed on vSAN 2 Node Clusters typically have mirrored data protection, with one copy of data on Node 1, a second copy of data on Node 2,  and the Witness component placed on the vSAN Witness Host.
In the event of a node or device failure, a full copy of the virtual machine data is still available on the alternate node. Because the alternate replica and Witness component are still available, the virtual machine remains accessible on the vSAN datastore.
Before going for Stretched Cluster configuration make sure you have Deployed & configured vSAN Witness Host. If you have not configured yet then you can check below links to configure same:
So let's see How to configure vSAN 2 Node Cluster:
Step 1:
Login to vSphere Web Client.
Select cluster > Go to configure tab > Expand vSAN.
Click Services.
Here you can see that vSAN is currently Turned off.
Click on Configure to start configuration of 2 node vSAN Cluster.
Step 2:
Configure vSAN wizard will open.
Select "Two host vSAN Cluster" & click Next.
Step 3:
You can enable services on vSAN such as Deduplication, Compression & Encryption.
Click Next.
Step 4:
Claim disks from your ESXi hosts which are participating in vSAN Cluster.
Claim disk for cache tier & capacity tier.
You will see claimed capacity & cache above.
Click Next.
Step 5:
Select the Witness host which you have deployed previously. Make sure witness host meets the requirements listed. Click Next.
Step 6:
Here you need to claim disks for witness host.
Claim disk for cache tier & capacity tier.
This disks won't be used to store VM disks , it will only be used to store witness components.
Click Next.
Step 7:
Review the complete configuration & click Finish to start the vSAN 2 node cluster creation process.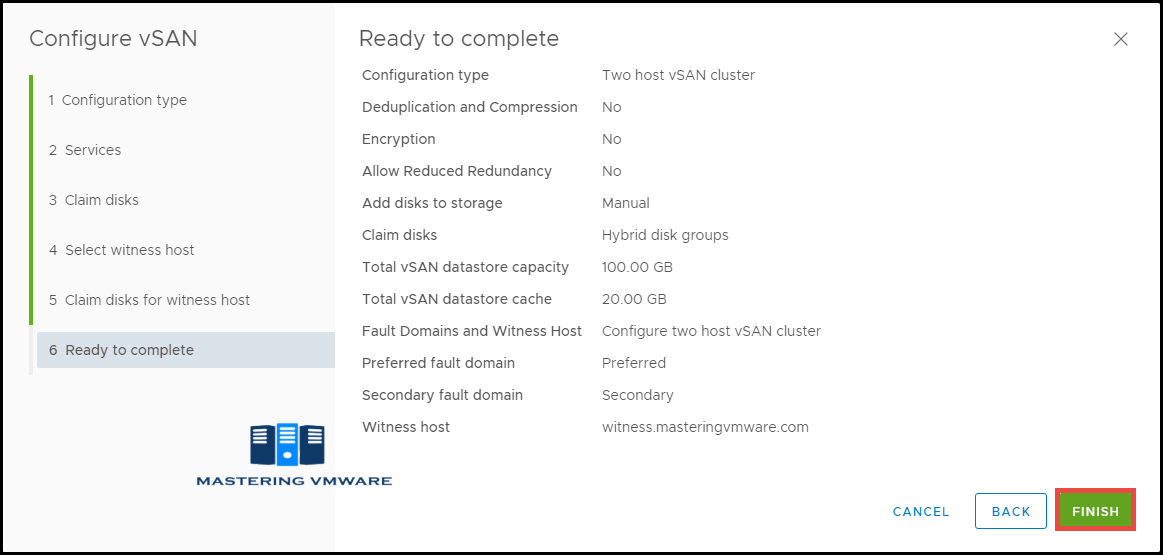 It may take time to configure 2 node vSAN cluster depending on your environment. Once it is configured successfully you can go & view your vSAN Configuration:
You can see that you have fault domain configured as Preferred & Secondary by default.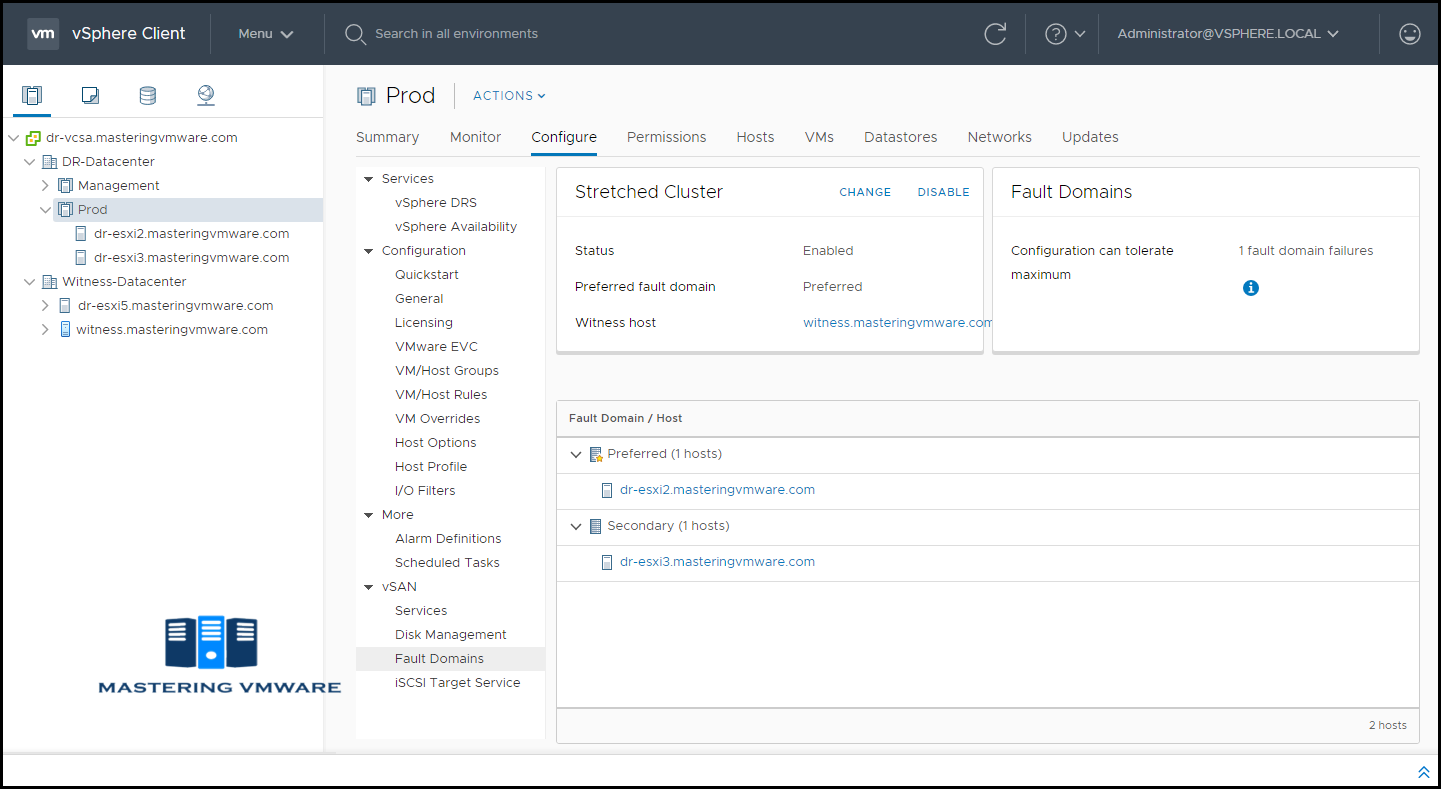 That's it, So using this way you can configure vSAN 2 node cluster easily step by step. Before going for configuration make sure to check all the requirements,compatibility & networking in between vSAN hosts & witness host.
We recommend you to check for complete system & network requirements for 2 Node vSAN Cluster with VMware to avoid any issues later.
That's it for Today Friends. I Hope you liked reading this post & If you find anything more to be added or removed feel free to write it in our comments. If you find it useful You are Feel free to share this on social media to help others & spread knowledge.
If you have any query on any thing you are free to write it in our comments section & we will make sure to provide you the better solution as soon as possible.
Join Our LinkedIn Group to get Fast updates about our posts : Mastering VMware.
Checkout our Facebook Group for discussions & more.
You can also Like & Share our Facebook Page for Latest Updates.
Information source: VMware Documentation.