VMware Skyline
How to Configure VMware Skyline Appliance for First Use
Configure VMware Skyline Appliance for First Use
In the previous post, we successfully deployed the VMware Skyline Appliance in vCenter Server. VMware Skyline Appliance as you know the proactive tool to detect & provide remediation to the issues for the vSphere environment. In this post, we will learn How to Configure VMware Skyline Appliance for First Use.
Every organization has their product & solutions configured according to its needs & requirement. The same goes for the VMware Skyline Appliance where you can set it up & use based on your requirements.
After the deployment of the VMware Skyline Appliance, your first task is to access the appliance & check connectivity with the vCenter Server. You can do further configuration in the VMware Skyline such as User Management, Notification settings, Scheduler setup, etc.
If you don't know about VMware Skyline Health Diagnostics, Check our post:
What is VMware Skyline Health Diagnostics?
So let's learn more about VMware Skyline Appliance Setup & Configuration.
How to access the VMware Skyline Appliance:
You can access VMware Skyline Appliance using any browser by simply putting its IP or FQDN.
You will be greeted with the Welcome page where you have to provide login credentials that you have set during deployment.
The default user for VMware Skyline Appliance is "shd-admin".
So you can enter a password for the user & login.
After login you have to read & accept the End user license agreement for VMware Skyline Appliance.
Click Next to continue.
VMware Skyline Appliance is used as proactive tool to detect & analyze the problems in vSphere. So it is recommended to join VMware Customer Experience Improvement Program.
Click Finish to complete.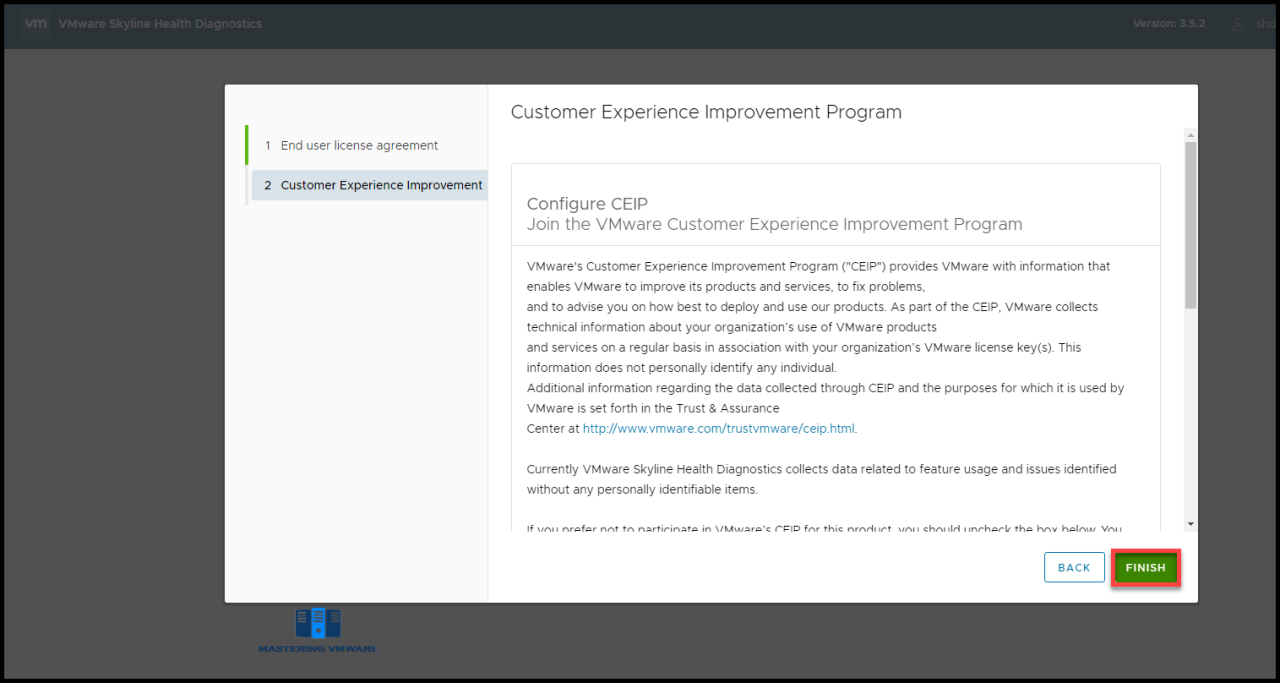 Check Connection with vCenter:
You will get the Home page of VMware Skyline Health Diagnostics appliance. From here you can access other functionalities of it.
Here you can check the connection with vCenter/ESXi host by providing credentials.

If your connection is successful you will see the successful message displayed in green.
So after deployment of VMware Skyline Health Diagnostics Appliance, It is your first step is to login & check the connection with your vCenter Server. In future whenever you want to run diagnostics you won't have any problems later.
You can also explore the various tabs to check it's functionality & options which can be used.
Checkout our posts on VMware Skyline Health Diagnostics Appliance:
What is VMware Skyline Health Diagnostics ?
How to Deploy VMware Skyline Appliance Step by Step ?
That's it for Today Friends. I Hope you liked reading this post & If you find anything more to be added or removed feel free to write it in our comments. If you find it useful You are Feel free to share this on social media to help others & spread knowledge.
If you have any queries on anything you are free to write it in our comments section & we will make sure to provide you with a better solution as soon as possible.
Follow us on Twitter for Regular updates: Mastering VMware
Join Our LinkedIn Group to get Updates & Discussions: Mastering VMware.
Check out our Facebook Group for discussions & more.
You can also Like & Share our Facebook Page for Latest Updates.