vApp is an cool feature from VMware provided in vCenter Server. A vApp is a container, like a resource pool and can contain one or more virtual machines. In addition, a vApp also shares some functionality with virtual machines. A vApp can power on and power off, and can also be cloned. vApps have the same basic operations as virtual machines and resource pools. With vApps, you can set the order in which virtual machines in the vAPP power on, automatically assign IP address to virtual machines in the vAPP, and provide application level customization. vApps also uses the resource pools so that you can manage the VM's inside the vApps to use the resources efficiently. vApps can be exported directly as an OVF Template.
In previous post we have seen on vApps and How to create an vApp. In this post we will be setting the start order for Virtual Machines residing in the vApp so that the dependent virtual machine starts after the specific time.
So Let's see How to set the start order in vApp.
Step 1:
Login vSphere Web Client.
Select the vApp on which you want to set the start order.
Click on Actions as shown and click Edit Settings. You can also right click vApp and choose Edit settings.
Step 2:
Scroll down to the Authoring.
Expand the Start Order.
Here you will see your VM's are listed in the Box. You can Up or Down the VM's which you want to start first.
Set the Start Action Power On.
Specify the startup sequence time so after the specified seconds another VM will start automatically. You can also use VMware Tools ready value to in the Start Order.
Same as Power On operations you can set the same for Power Off as well so that VMs will power off in the order specified.
Click OK to save and exit.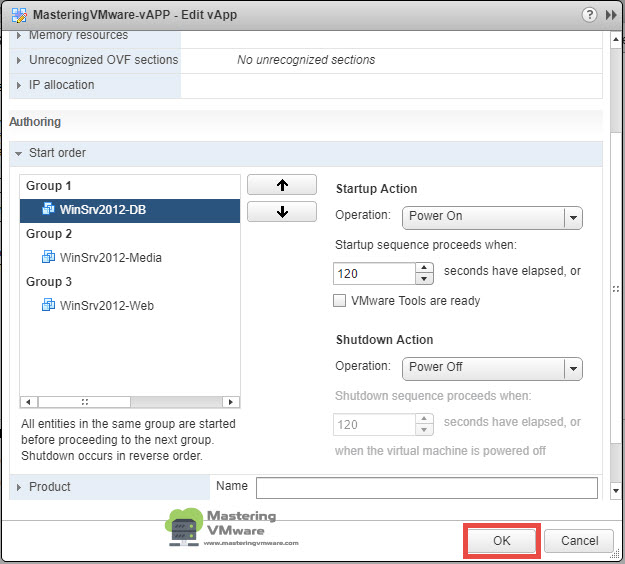 Step 3:
We have configured the start order.
So for powering on VMs don't power on Individual VMs.
Power On the vApp so it will automatically start the VMs based on the startup order.
Once your Power on the vApp you can see the Recent tasks for the VMs starting order and monitor it.
Using this way you can provide the additional support for the Applications which requires dependency on the another VMs. So you don't need to start the individual VMs. vApp will do it for you as configured in the settings of vApp.
That's it for Today Friends. I Hope you liked reading this post & If you find anything more to be added or removed feel free to write it in our comments. If you find it useful You are Feel free to share this on social media to help others & spread knowledge.
If you have any query on any thing you are free to write it in our comments section & we will make sure to provide you the better solution as soon as possible.
Join Our LinkedIn Group to get Fast updates about our posts : Mastering VMware.
Checkout our Facebook Group for discussions & more.
You can also Like & Share our Facebook Page for Latest Updates.