In this series of posts we are discussing about VMware Workstation and how it can be useful for you to create and mange your own test environment. In this post we will see on How to configure shared folders in vmware workstation for virtual machines.
In Paragraph AD
Shared Folders are very useful when you are simulating virtual environment so that every time you don't have to copy files to the virtual machine. Shared folder you can easily map as a network drive so that you can access the files from your host machine.
So let's see How to configure Shared Folders:
Step 1:
Select the VM on which you want to configure shared folder. Right click on the VM.
Go to Settings.
Step 2:
Go to Options Tab.
Select Shared Folders.
Here you can see settings for shared folders.
Select Always enabled so you don't have to enable it every time when you power on VM.
Check the Box "Map as a network drive in windows guests"
Click Add button to add folder.
Step 3:
Share folder wizard starts. Click Next to continue.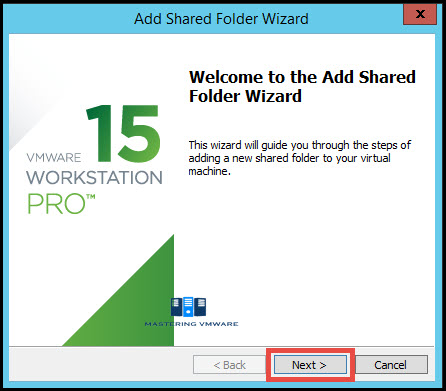 Step 4:
Click on Browse and select the folder which you want to share inside your virtual machine.
Give name to your shared folder.
Click Next.
Step 5:
You can specify permissions here.
Set the permission which you want and click Finish to add folder.
Step 6:
Now you can see that your folder is listed under folders section.
Click OK to save and close.
Now inside your virtual machine you will see your shared folder is visible. you can access the shared folder and copy data.
So using this way you can easily configure shared folders in your virtual environment so that you don't have to copy files every time when ever required .
That's it for Today Friends. I Hope you liked reading this post & If you find anything more to be added or removed feel free to write it in our comments. If you find it useful You are Feel free to share this on social media to help others & spread knowledge.
If you have any query on any thing you are free to write it in our comments section & we will make sure to provide you the better solution as soon as possible.
Join Our LinkedIn Group to get Updates & Discussions : Mastering VMware.
Checkout our Facebook Group for discussions & more.
You can also Like & Share our Facebook Page for Latest Updates.