NIC Teaming is a feature which provides the Network redundancy & load balance the traffic. NIC teaming requires at least 2 NIC's to configure NIC Teaming. NIC Teaming groups the multiple NIC into one single logical NIC which will help when one NIC fails to load or network fails.
You can Configure NIC Teaming on vSwitch as well as on DvSwitch to balance load & in case of uplink failure to provide the redundant connectivity to your virtual infrastructure.You can configure NIC Teaming by option Teaming & failover in vSwitch Edit Settings.
Configure NIC Teaming Step By Step:-
Step 1:
Login to vSphere Web Client.
Step 2:
Choose the Hosts & Clusters from the Home Screen.

Step 3:
Choose the vSwitch on which you want to configure NIC Teaming.
Choose Following as shown:-
ESXi Host > Manage > Networking > Virtual Switches.
Here you will find your vSwitch.
Click on the icon shown with Number 5 to configure NIC Teaming.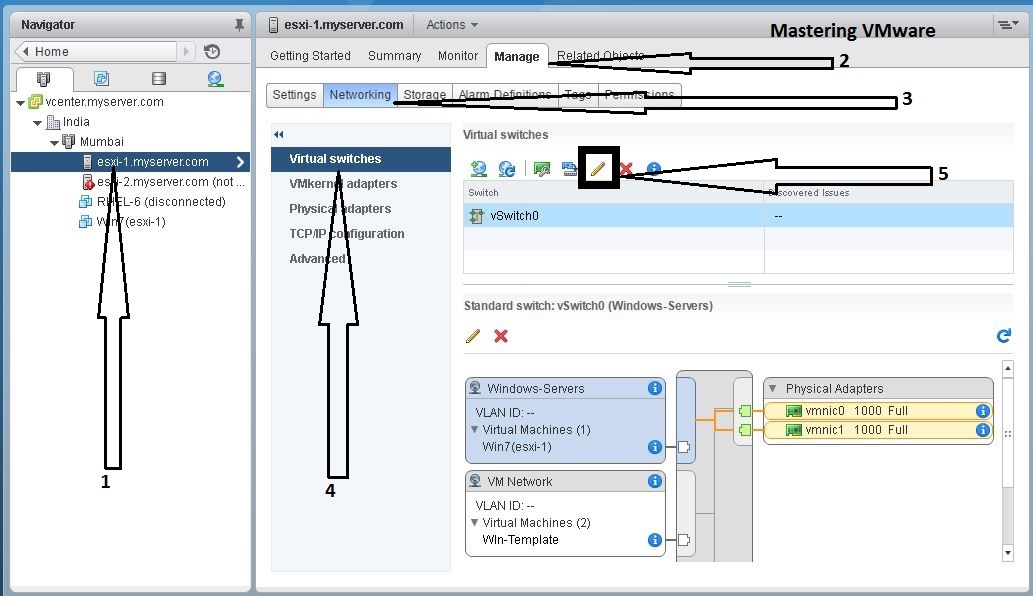 Step 4:
vSwitch Edit Settings Wizard will open.
Choose the Last option Teaming and failover.
First choose the Load balancing policy.
Second Choose the Network Failure Detection.
Third Choose the option Yes or No for Notify Switches.
Fourth Choose the Failback option Yes or No.
Than You can also arrange Failover order according to your requirement.
Just choose the Adapter in the list & choose the Up & Down arrow to move adapter.
Click OK to Save & close.
Note:- NIC Teaming requires at least 2 Adapters.
That's it You have successfully configured the NIC Teaming.
Checkout What is NIC Teaming ?
Checkout Our Posts on vSwitch :-
That's it for Today Friends. I Hope you liked reading this post & If you find anything more to be added or removed feel free to write it in our comments. If you find it useful You are Feel free to share this on social media to help others & spread knowledge.
If you have any query on any thing you are free to write it in our comments section & we will make sure to provide you the better solution as soon as possible.
Checkout our Facebook Group for discussions & more.
You can also Like & Share our Facebook Page for Latest Updates.