Windows Server 2019
How to Configure Networking in Windows Server Core
How to Configure Networking in Windows Server Core 2019
Windows Server core comes as an only command line operating system. So for any functionality you want to perform on the server core you must know the command line or powershell. In this post we will see on How to Configure Networking in Windows Server Core.
In Paragraph AD
Configuring networking is the first step after installation of any server Windows or Linux. Networking allows you to connect your server to outside as well as with other servers in same environment. So in case of windows server core as well after installation you must configure networking.
Networking configuration is the simple task where we will configure IP address, Gateway, Netmask & DNS Server in the server. So that our server can connect to other servers. We will use the same sconfig utility to configure networking in windows server core.
So let's see How to Configure Networking in Windows Server Core.
Step 1:
Login to your Windows Server core first.
You will get the command prompt.
Type "sconfig" & press Enter.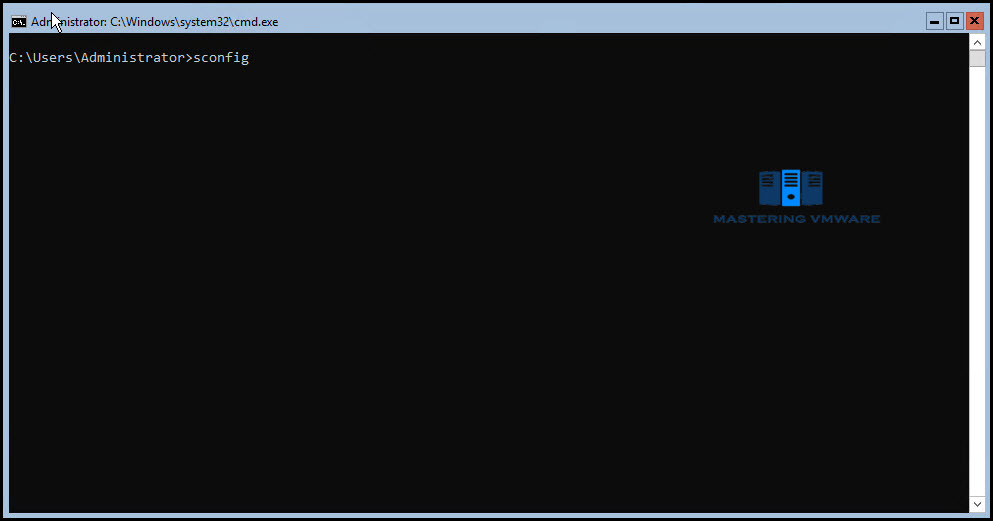 Step 2:
For Network settings of windows server core we have to use number 8.
So enter number 8 & press Enter.
Step 3:
Now you will see available network adapters in your windows server core.
Provide the number of your network adapter such as 1 or 2.
Press Enter.
Step 4:
Here you will see Network adapter details.
Now you will have 4 options for Network configuration.
First we must set the Network adapter address.
Enter number 1 & press Enter.
Step 5:
You can setup the network as DHCP or Static.
We are configuring the static network.
So enter S for static IP & press Enter.
Step 6:
You will be asked for the Static IP address, Subnet mask & Gateway.
Provide your details & press Enter.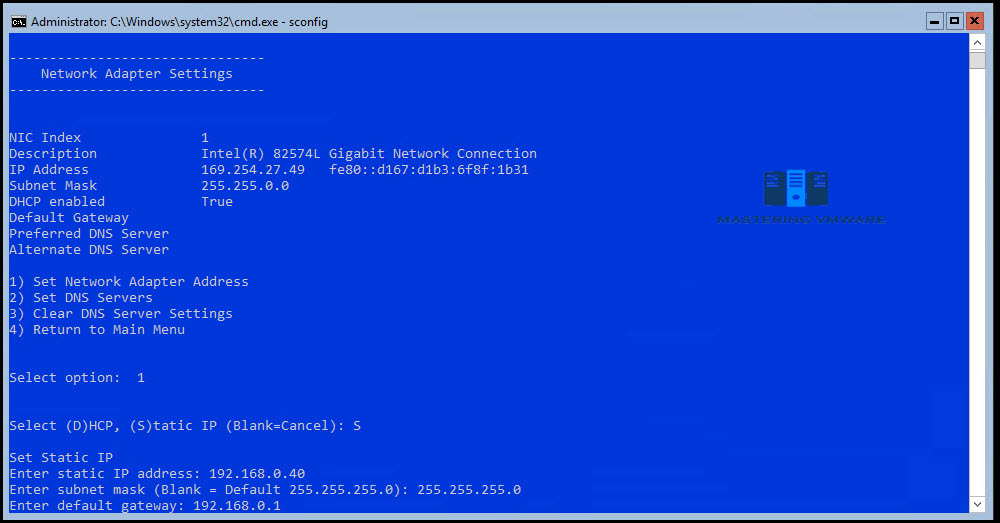 Step 7:
Now you can see that IP address, Subnet Mask & Gateway has setup successfully.
Now we need to set DNS Server as well.
To set DNS Server enter number 2 & press Enter.
Step 8:
Provide the Preferred & alternate DNS Servers.
Press Enter to continue.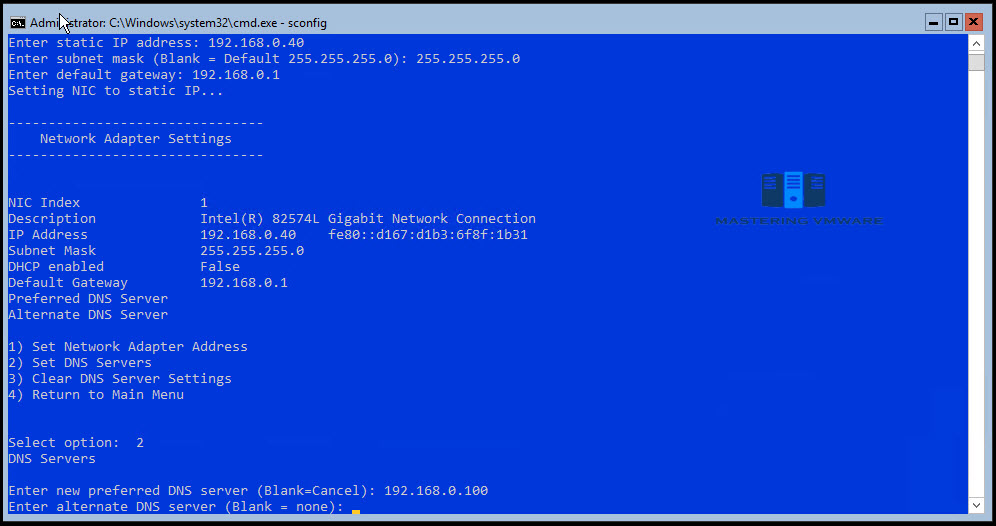 You can see that your networking is setup successfully.
Now we can return to main menu by entering number 4 & press Enter.
That's it, Using this way you can use the sconfig utility in server core to setup networking in your windows server core machines. Once networking is setup you can try connectivity with other servers using ping.
If you mistype any network details than no need to worry you can follow the same process & configure your networking again.
Note: In this post we have used Windows Server 2019 core edition.
If you haven't installed Windows Server Core than you can check our post :
How to Install Windows Server Core Step by Step ?
That's it for Today Friends. I Hope you liked reading this post & If you find anything more to be added or removed feel free to write it in our comments. If you find it useful You are Feel free to share this on social media to help others & spread knowledge.
If you have any query on any thing you are free to write it in our comments section & we will make sure to provide you the better solution as soon as possible.
Join Our LinkedIn Group to get Fast updates about our posts : Mastering VMware.
Checkout our Facebook Group for discussions & more.
You can also Like & Share our Facebook Page for Latest Updates.