vSAN
How to Configure iSCSI Initiator Groups in vSAN
VMware has announced the iSCSI Target service on the vSAN datastore with the release of vSAN 6.5. So if you are using the older version of vSAN you won't see this feature. vSAN 6.5 or above versions are supported for vSAN iSCSI Target feature. Use the iSCSI target service to enable hosts and physical workloads that reside outside the vSAN cluster to access the vSAN datastore.
Featured Sponsor
You can define a group of iSCSI initiators that have access to a specified iSCSI target. The iSCSI initiator group restricts access to only those initiators that are members of the group. If you do not define an iSCSI initiator or initiator group, then each target is accessible to all iSCSI initiators. A unique name identifies each iSCSI initiator group. You can add one or more iSCSI initiators as members of the group. Use the IQN of the initiator as the member initiator name.
In previous post we have configured an iSCSI Target. In this post we will see on How to Configure iSCSI Initiator Groups in vSAN.
Let's see How to Configure iSCSI Initiator Groups:
Step 1:
Go to the iSCSI initiator Groups.
Here you will see Default group which provides access to everyone.
Click on green plus icon to create new group.
Step 2:
Provide the Group Name , Member Initiator name which is IQN (IQN of the initiator)and click Add button to add member initiator to the group.
Click OK to create.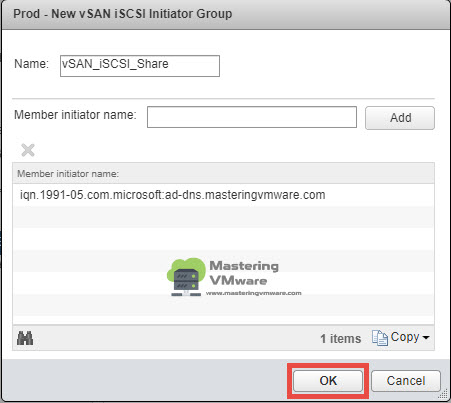 Step 3:
We have successfully created a initiator group. You can see it is listed.
Now we will provide the Target Access to the initiator group.
Step 4:
Go to the Accessible Targets Tab.
Click on Green Plus icon.
Step 5:
Select the target which you have created.
Click OK to save.
As you can see that Target is listed here.
Using this way you can easily secure your iSCSI Target Access and provide access only to the specified initiators.
If you haven't created a iSCSI Target in vSAN Then check below post:
Checkout our Posts on vSAN:
vSAN Hybrid vs All Flash Overview.
vSAN Objects and Components Overview.
vSAN Deduplication and Compression Overview.
vSAN Storage Policies Overview.
How to Create vSAN VMkernel Step by Step ?
How to Configure vSAN Step by Step ?
How to Run vSAN Proactive Tests ?
How to Create vSAN Storage Policy Step by Step ?
How to Assign vSAN Storage Policy to the virtual machine ?
vSAN Maintenance Mode Overview ?
That's it for Today Friends. I Hope you liked reading this post & If you find anything more to be added or removed feel free to write it in our comments. If you find it useful You are Feel free to share this on social media to help others & spread knowledge.
If you have any query on any thing you are free to write it in our comments section & we will make sure to provide you the better solution as soon as possible.
Join Our LinkedIn Group to get Fast updates about our posts : Mastering VMware.
Checkout our Facebook Group for discussions & more.
You can also Like & Share our Facebook Page for Latest Updates.