Every time VMware announces newer version of vSphere, we look for the upgrade options and upgrade path. I got so many questions on the upgrade path option where people asks for can i directly upgrade from this version to this version etc. So in this post we will discuss about how you can easily identify the upgrade path of VMware Products where you can see is the direct upgrade is supported or not.
VMware has their own upgrade path matrix where you can easily provide some basic information and see for the upgrade options. In this post we will see about it how to check for upgrade path. This upgrade path works on all of the VMware Products that are available now.
So let's see how you can check for the upgrade path :
Step 1:
Go to the VMware Interoperability Matrix using below link:
https://partnerweb.vmware.com/comp_guide2/sim/interop_matrix.php#upgrade
Go to Upgrade Path Tab.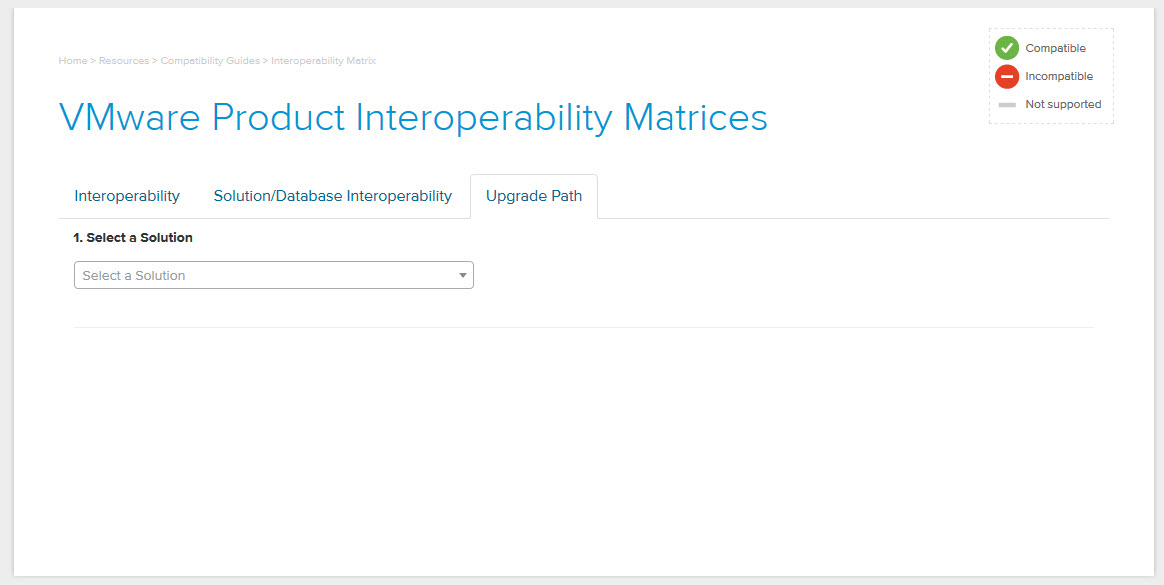 Step 2:
Enter the Name of the solution for which you want to find the upgrade path.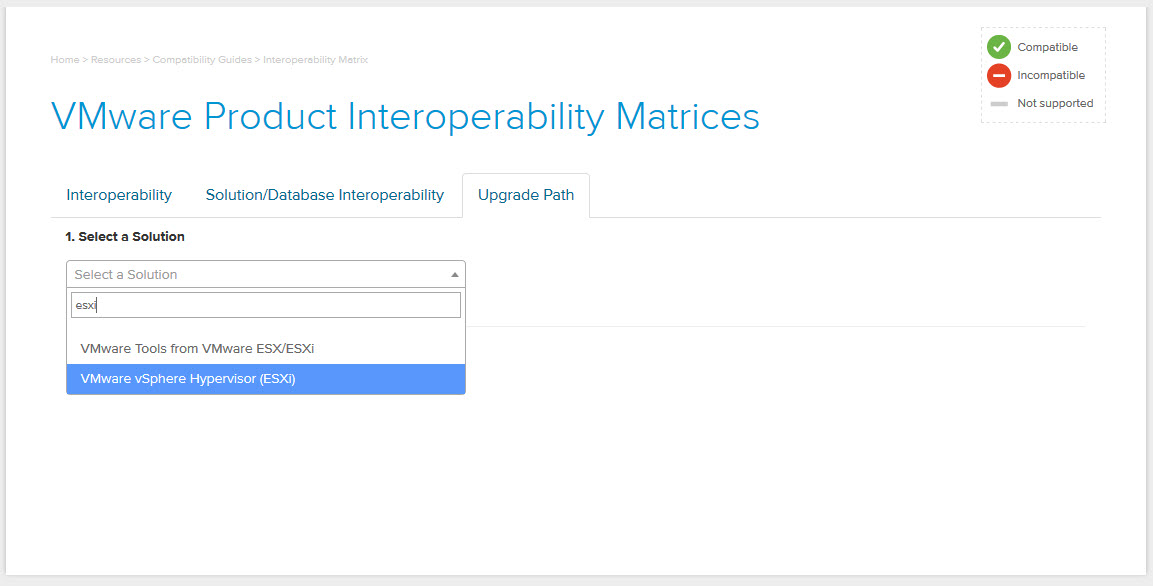 Once you select the solution. You will get the details of the compatible upgrades and not compatible upgrades.
In the Below image you can see the Three different values: Compatible, Incompatible, Not Supported.
Compatible : This values is shown in green where direct upgrade is compatible and you can directly upgrade to that version.
Incompatible: This values shown in red where upgrade is not supported for some reasons.
Not Supported: This values shown as dash line, where you directly can not upgrade to the latest version.
For Example:
If you see in the above image we have checked for the ESXi Upgrade Path.
Upgrade from ESXi 6.5U1 can be directly upgraded to the ESXi 6.7.
Upgrade from ESXi 5.5 or 6.5U2 is not supported upgrade to ESXi 6.7. So you can't directly upgrade to the latest version and you can't upgrade to the specific version.
Upgrade from older version of ESXi such as 5.1U3 is not supported to upgrade to ESXi 6.7.
Same you can find below for the vCenter Server:
Using this way you can easily identify whether direct upgrade from the current version to the latest version is compatible and supported or not. You can check for all the VMware Products using the same way, just provide the Solution Name.
That's it for Today Friends. I Hope you liked reading this post & If you find anything more to be added or removed feel free to write it in our comments. If you find it useful You are Feel free to share this on social media to help others & spread knowledge.
If you have any query on any thing you are free to write it in our comments section & we will make sure to provide you the better solution as soon as possible.
Join Our LinkedIn Group to get Fast updates about our posts : Mastering VMware.
Checkout our Facebook Group for discussions & more.
You can also Like & Share our Facebook Page for Latest Updates.