Host is an ESX or ESXi Server which is hypervisor used to virtualize the server & allow us to create the virtual server's in that host. Host provides the resources to the virtual machines such as CPU, Memory, Storage, Network Connectivity etc
In this post i will show you how to add hosts inside the cluster step by step.
Adding ESXi Hosts to vCenter:-
Step 1:
Login to your vSphere Web Client.
In the Navigator Pane choose the Hosts & Clusters.
Step 2:
Choose your cluster right click on it & choose the first option Add Host.
Step 3:
New Window will open for Adding Host. Provide the Host Name or IP address of your ESX or ESXi host.
Click Next to continue.
Step 4:
Enter the Host's administrative account root & password.
Click Next to continue.
Step 5:
It will validate the credentials provided & show the security alert.
Click Yes to continue.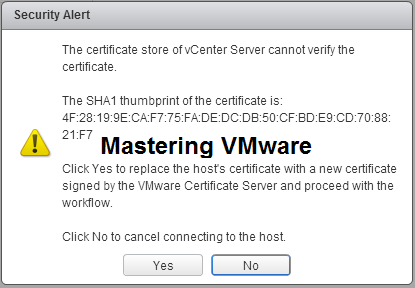 Step 6:
Next window will show the host information such as model number, version etc.
Click Next to continue.
Step 7:
Now you will be asked to assign the license.
License windows will show the available licenses. You can also add the License by clicking the Green plus icon shown or you can use the Evaluation License which will expire in 60 days.
Choose the License.
Click Next to continue.
Step 8:
Here you can select the Lock down Mode.
There are 3 modes are available Disabled, Normal & Strict.
Choose the Lock down mode according to your requirement but be careful about strict mode or choose the Disabled & Click Next to continue.
Step 9:
It will show all the summary of the configuration you have done.
Click Finish add the host.
Step 10:
Now you can see the Host in you cluster.

Now you can easily add hosts into vCenter Server.
That's it for Today Friends. I Hope you liked reading this post & If you find anything more to be added or removed feel free to write it in our comments. If you find it useful You are Feel free to share this on social media to help others & spread knowledge.
If you have any query on any thing you are free to write it in our comments section & we will make sure to provide you the better solution as soon as possible.
Checkout our Facebook Group for discussions & more.
You can also Like & Share our Facebook Page for Latest Updates.