On this page, we will show you the solutions which are used in Small and Medium Organizations or large enterprises. This solution includes data protection products, monitoring products, etc.
The products listed here are free for trial with some limitations but positive thing is that you can download & try them in your environment so that you can test all the functionalities of the product to find out whether they meet your requirements. Mostly all these products are used by the IT Teams, VM Admins or you can say, Technical Teams.
Note: There is no sequence on this page like one is highest or one is lowest. All are available based on their features & functionalities. So you can choose to go with the one which fulfills your requirements.
Altaro VM Backup: 
Altaro develops award-winning backup solutions for managed service providers (MSPs), IT resellers, and companies. With 50,000+ customers in 121+ countries, 10,000 partners, and 2,000+ MSPs, Altaro provides affordable, easy-to-use, enterprise-class functionality coupled with outstanding 24/7 tech support.
Altaro is a one-stop-shop for all your backup and recovery needs, providing solutions for all key areas of your network, including Hyper-V and VMware virtual environments; Microsoft Office 365 mailboxes, OneDrive, and SharePoint; roaming and on-premise endpoints such as network desktops and laptops; and physical Windows servers.
Get your free trial for Altaro VM Backup: Altaro VM Backup
Nakivo VM Backup & Replication: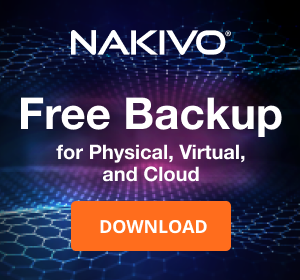 NAKIVO Backup & Replication is a fast, reliable, and affordable solution for business data protection in the virtual, physical, cloud, and SaaS environments. It offers a wide range of advanced features to increase backup performance, improve reliability and automate recovery processes, saving you time and money. Nakivo Backup & Replication solution provides the protection for your Virtual, Physical as well as cloud environment.
Nakivo provides a comprehensive Backup & Disaster Recovery solution that meets the data protection needs & fulfills the requirements of SMBs & Enterprises in every industry across the world.
To get free trial for Nakivo VM Backup & Replication: Nakivo VM Backup & Replication
Runecast Analyzer:
Runecast is a single platform that automates proactive audits of your on-premises, hybrid, or multi-cloud infrastructure for better security, visibility, and time savings, enabling Security and Operations teams to accomplish more with less. Operations teams can improve visibility and decrease time wasted on troubleshooting and operational costs, freeing time to focus more on the projects that contribute to business growth.
A simplified, intelligent platform for your Dev and SecOps teams. From on-prem to cloud, virtualized to containerized. Which helps you in optimize & secure your IT Infrastructure.
Try Runecast Analyzer for 14 days with full functionality: Runecast Analyzer