VMware vSphere 6.5 comes with the complete web client interface where ESXi also accessed using the web client. We can't connect ESXi or vCenter Server using the Windows vSphere Client. Web Client removes the dependency of operating system so you can access the web client from any operating system using just browser. You can access the web client from any of the web browser. When we create a VM we have to upload an ISO image of the Guest Operating system into the datastore.
Featured Sponsor
Today while working on vCenter Server web client i required an ISO image so when i tried to upload the ISO image into one of the ESXi host i got an error. Below is the screenshot and the Error message which is displayed.:
As per the above error you can easily identify that this is an error due to some certificate issues. You can directly login to ESXi web client from there you can easily upload the ISO image without any error but this comes while uploading from vCenter Web Client. So for permanent solution to this is to Install the certificates in the system so you will not get error again.
So let's see How to Install certificates step by step:
Step 1:
Access the vCenter Server Web client using IP or Hostname.
Click on "Download trusted root CA certificates."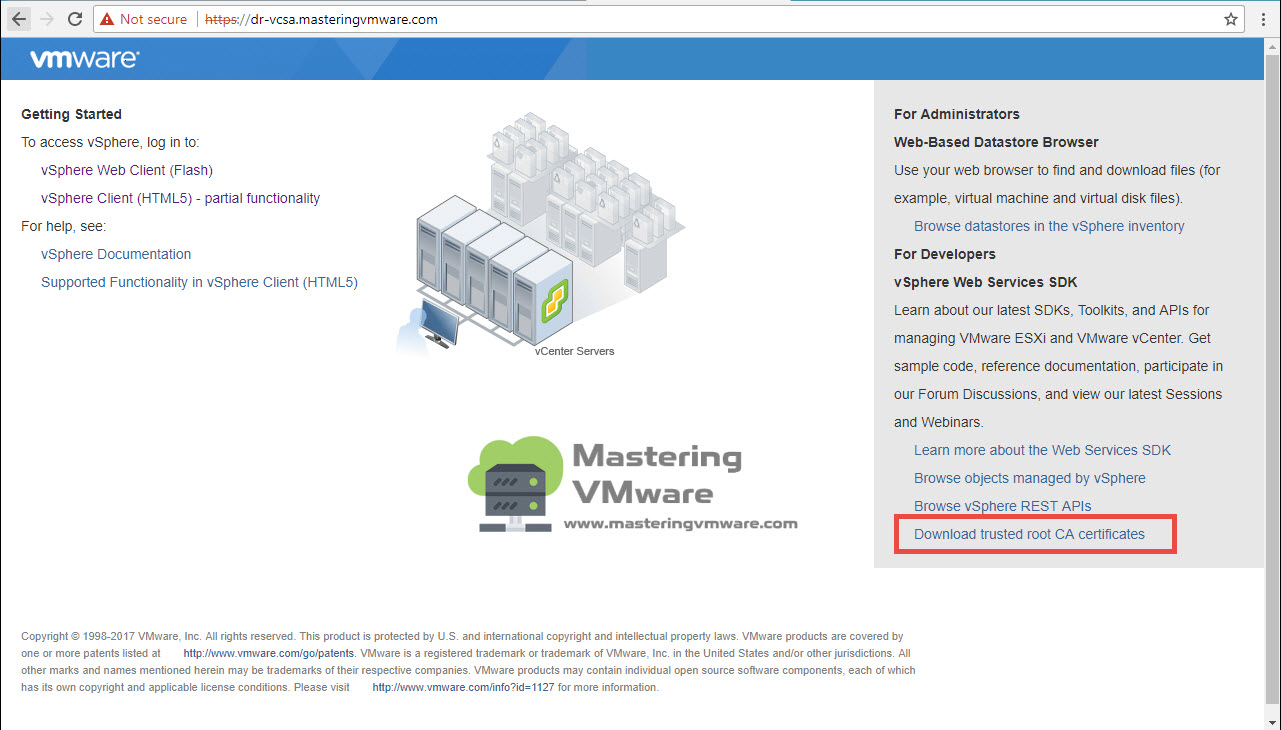 Step 2:
Once Certificates download completes. Extract the Zip file and go to win folder.
Double click on Certificate file to Install.
Step 3:
You will see the Certificate Information.
Click on Install Certificate.
Step 4:
Choose the Local Machine and click Next.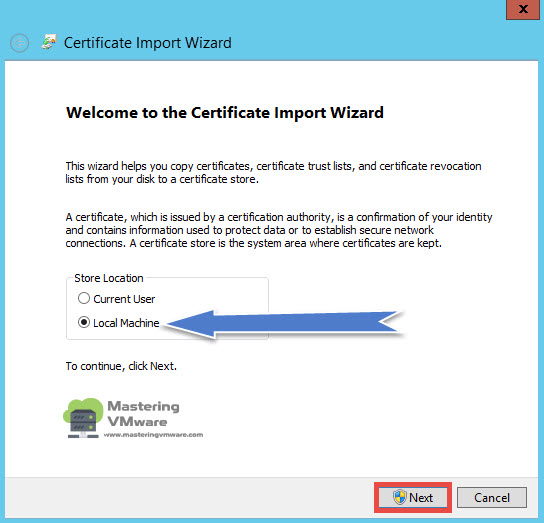 Step 5:
Select "Place all certificates in the following store".
Click on Browse to browse the certificate stores.
Step 6:
Select the "Trusted Root Certification Authorities" from the available stores.
Click OK.
Step 7:
You will see the Certificate store is displayed.
Click Next.
Step 8:
Click Finish to start the Import.
Step 9:
As you can see that Import is successful.
Click OK to close the wizard.
Now you can upload the ISO image using the vCenter Web Client easily.
This error was found in ESXi 6.5. If you are using ESXi 6 you might not get this kind of error and if you are using the custom certificates instead self signed certificates which are installed in the system then you might not get error.
By Installing the Certificates you will not get this error again.
That's it for Today Friends. I Hope you liked reading this post & If you find anything more to be added or removed feel free to write it in our comments. If you find it useful You are Feel free to share this on social media to help others & spread knowledge.
If you have any query on any thing you are free to write it in our comments section & we will make sure to provide you the better solution as soon as possible.
Join Our LinkedIn Group to get Fast updates about our posts : Mastering VMware.
Checkout our Facebook Group for discussions & more.
You can also Like & Share our Facebook Page for Latest Updates.