In Today's world every company has its infrastructure on Virtualization technologies such as VMware & Hyper-V. Due to easy portability & management of Virtual Machines they are used widely in every sector in the industry. When you have your infrastructure on Virtualization than you must have a solution which protects your virtualization infrastructure from system crash, failure & any disaster events.
Featured Sponsor
Altaro VM Backup is your go to solution which provides protection for your virtual machine by Backup & Replication. Altaro VM Backup works for both virtualization technologies which are VMware & Microsoft Hyper-V. Altaro VM Backup is built specifically for the small & mid-market business who wants the complete solution for their virtual machines.
With Altaro VM Backup, you can get started quickly: install and run your first virtual machine (VM) backup in less than 15 minutes, without the need for complex configurations, software dependencies, or steep learning curves.
Altaro VM Backup is designed to give you the reliability and performance you need, without hassle or complexity, so you can deliver value to your organization immediately and consistently.
Key Features of Altaro VM Backup :
VM Backup Features
Easy to configure & setup VM Backups within seconds.
Back up live VMs by leveraging Microsoft VSS with zero downtime.
Fully supports for Cluster Shared Volumes & VMware vCenter.
Schedule VM backups & Specify backup retention policies for individual VMs.
Back up to other public clouds – The Altaro Offsite Server, provided at no cost, can be installed on a VM in any cloud platform such as Google Storage, to act as a backup server in the cloud. (Offsite backups to blob storage are also possible; Azure, Amazon S3 & Wasabi)
3-2-1 backup – Keep at least three copies of your data for added security, 2 local copies and at least 1 copy offsite (Multiple Offsite Copy Locations can be configured for each VM).
VM Restore Features
Granular Restore Options for full VM or individual files or emails.
Retrieve individual files directly from your VM backups with a few clicks.
Fast OnePass Restores
Restore from multiple points in time rather than just 'the most recent backup.
Instantly boot any VM version from the backup location without affecting backup integrity.
Flexible backup destinations & Supported Backup Media:
Save backups to a local drive or UNC share (NAS Devices, File Server Network share). Save offsite copies to local drive, UNC share, to single or multiple locations (swapped), offsite (WAN) Altaro Backup Server and Cloud Storage Accounts.
Augmented Inline Deduplication:
Augmented Inline Deduplication means that common data is only transferred to the backup or offsite location ONCE.
This process happens inline and not as a post-process like most competitors, which ensures that only changed data gets sent to your backup repository from the get-go (rather than removing the identical data after the transfer). The result: Superior efficiency, drastically reduced backup storage requirements and blazing fast backup speeds.
Altaro VM Backup with Augmented Inline Deduplication drastically reduces your storage requirements for your backup repository. Altaro VM Backup with Augmented Inline deduplication improves backup and restore speed. It's the best deduplication in the industry, creating the smallest backup size. Augmented Inline deduplication runs across all backup jobs, no need to group VMs together (no use of post processing).
WAN-Optimized Replication & Continuous Data Protection (CDP):
You can replicate your VMs to a remote site continually, drastically improving the Recovery Time Objective (RTO).
Switch from running daily backups to backing up as frequently as every 5 minutes through a continuous data protection model, significantly improving the Recovery Point Objective (RPO).
Cloud Storage provider Integration:
Store your backups to MS Azure, Amazon S3 and Wasabi with ease. Simply input your access credentials and Altaro VM Backup will securely and seamlessly handle the data transfers, without requiring any additional resources running in the cloud to provide backup storage.
256-bit AES encryption:
All Altaro offsite backup copies automatically benefit from 256-bit AES encryption through the secure passphrase you configure upon initial setup. Encryption is optional for local backups.
Backup Health Monitor:
Ensure you always have healthy backups with Altaro's unique Backup Health Monitor, which proactively monitors the health of your backup storage. Should any minor corruption be detected, the block(s) in question will be repaired automatically as part of the next backup job.
Cloud Management Console:
Altaro's ground-breaking Cloud Management Console (CMC) is a web-based, multi-tenant management tool.
Centrally manage and monitor all your Altaro VM Backup installations, offsite copies, replicated VMs, backup templates, failed backups and much more. MSPs can also manage and monitor customers physical Window Server backups & many more.
Altaro VM Backup Installation:
Altaro VM Backup installation is remarkably simple & easy. You just have to download the product from Altaro Portal & you can perform installation in your windows server. It does not require any SQL Database for installation. Within few clicks you will easily complete the installation of Altaro VM Backup.
Quick Setup & Configuration :
Once you have installed Altaro VM backup there is simple quick setup wizard which requires you to complete 3 steps which are Add VMware/Hyper-V Host, Choose Where to Store Backups & Take your first Backup.
Once you complete this quick setup now you are ready to take backups & easily configure backup for your infrastructure.
Altaro VM Backup Dashboard:
Altaro VM Backup comes with the quite simple, Easy to use & intuitive UI which makes it simple for you to implement a reliable backup strategy for your virtual machines. Dashboard will give you the overall information about Backup Status such as Backup Drive status free space & utilized space. Deduplication & Compression shows the deduplication & compression ratio.
Active & Upcoming Operations shows the details about any active & queued up backup/restore operations. Recent operations show the recently completed backup/restore tasks with all the details.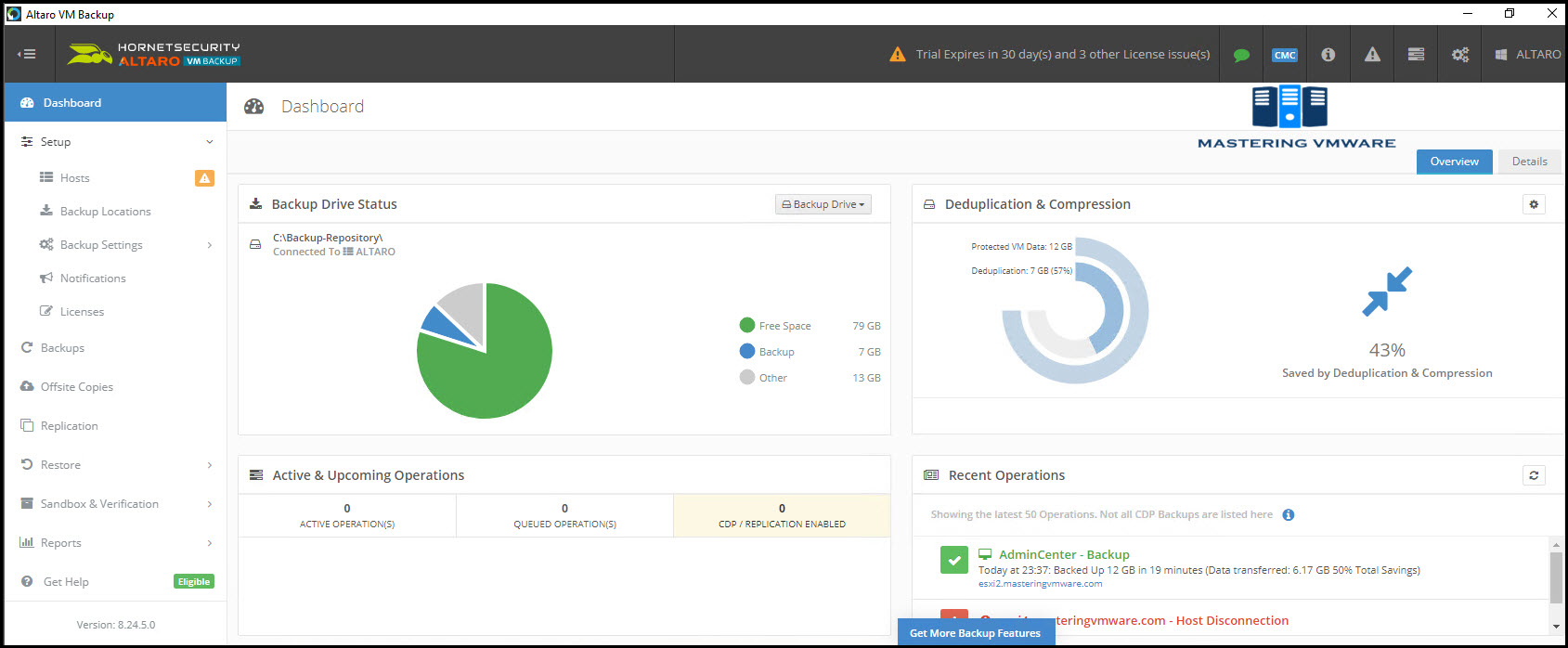 Backup Settings:
Backup Settings page allows you to configure various settings which you can configure on backup operations.
In Backup Settings you can configure backup schedules & Retention policies for your virtual machines. You can configure CDP for virtual machines. You can simply configure options while checking the boxes.
If you are taking backup of database servers than you can configure enable application consistent backups as well as you can truncate logs for those servers.
Advance settings allow you to configure options such as enable or disable Deduplication, Compression & CBT on the VMs. You can also setup to exclude ISOs & Exclude specific drives from backup. You just need to make selections according to your requirements.
Restore Operations:
This section allows you to perform all the operations related to VM restore.
You can restore your original VM directly as a Clone. You can also restore virtual disk, or you can mount virtual disk as read only to your VM. You can directly boot VM from the backup for a verification purpose or the complete recovery purpose where you have disaster situation.
You can perform granular level restore for your files from backup as well as any exchange objects so that which ever file is corrupted or deleted you can easily recover it.
Sandbox & Verification:
As the name suggests you can verify your backups in the sandbox environment either by verifying Backup folders or you can perform full test restore so that you can verify integrity of the backups. You can also schedule Test Drills to verify backup or trigger automated full test restores so that you can frequently verify the integrity of your backups and ensure they can be restored easily.
Backup Health monitor is the unique tool which Altaro offers which runs in the background & detects any data integrity issues of your backup data to disk issues. If there is any issue it will automatically try to resolve it & if unable to resolve it will list the affected VM Backup Versions so that you can check & validate it.
Altaro offers you the protection for your virtual environment in easy & effective way so that you do not have to spend long time on configuring & scheduling your backups. Once backup is configured you can easily perform restore operation with 3 clicks.
Altaro is Backup & Replication is a must have tools for all the IT departments. If you are managed service provider than also you are supported by the Altaro.
Altaro offers 30 days unlimited plus edition where you can deploy & test Altaro VM Backup in your environment. You can avail your trial by clicking on below link:
That's it for Today Friends. I Hope you liked reading this post & If you find anything more to be added or removed feel free to write it in our comments. If you find it useful You are Feel free to share this on social media to help others & spread knowledge.
If you have any query on any thing you are free to write it in our comments section & we will make sure to provide you the better solution as soon as possible.
Join Our LinkedIn Group to get Fast updates about our posts : Mastering VMware.
Checkout our Facebook Group for discussions & more.
You can also Like & Share our Facebook Page for Latest Updates.