vRealize Operations Manager Express installation Step by Step ?
In this series of vRealize Operations Manager we already saw on how to deploy vROPS Appliance & How to configure the vRealize Operations Manager for the first time. vROPS comes in 3 different types of installation modes which are Express Installation, New Installation & Expand an Existing Installation. We already seen on New installation step by step in our previous post.
In this post we will work on vRealize Operations Manager Express Installation step by step procedure.Express Installation takes less time & few steps as compared to New Installations. So without waiting much let's see how to do vROPS Express Installation.
First you need to deploy the vROPS Appliance using vSphere web client that we have already posted so check below post for that :
How to deploy vRealize Operations Manager Appliance Step by Step ?
Once you have successfully deployed the vROPS appliance put the vROPS IP address in browser & follow below steps:
Step 1:
Once you enter vROPS IP address in the browser you will get below screen.
Choose the Express Installation option.
Step 2:
You can see that in this Express Installation option you only have 3 steps but in New Installation you had 5 steps. Check links below for New Installation.
Click Next to run the initial setup.
Step 3:
Set the admin account password for vROPS.
click Next.
Step 4:
Click Finish to begin the configuration of vROPS.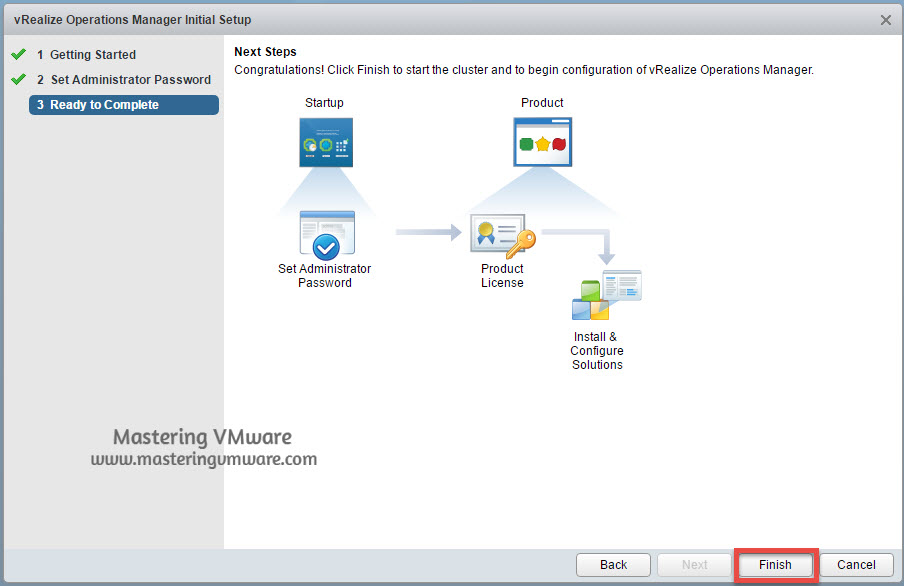 Step 5:
Once you click Finish in above step it will take few minutes to complete.
You will see login screen.
Login using Admin account.
Step 6:
Click Next to start the configuration of vROPS.
Step 7:
Read & Accept the license agreement.
click Next.
Step 8:
If you have license key you can insert it here or choose product evaluation for trial.
Check below post on adding license in vROPS:
How to Insert license in vROPS Step by Step ?
Click Next.
Step 9:
If you want to join VMware customer experience improvement program you can join it here.
Click Next.
Step 10:
You have configured the vROPS.
Click Finish to complete.
That's it you have successfully installed vROPS using express installation. If you want to go with all the steps using New Installation then check below links.
Checkout our posts on vROPS:
How to install vROPS Step by Step (Using New Installation) ?
How to Integrate vCenter Server in vROPS Step by Step ?
That's it for Today Friends. I Hope you liked reading this post & If you find anything more to be added or removed feel free to write it in our comments. If you find it useful You are Feel free to share this on social media to help others & spread knowledge.
If you have any query on any thing you are free to write it in our comments section & we will make sure to provide you the better solution as soon as possible.
Checkout our Facebook Group for discussions & more.
You can also Like & Share our Facebook Page for Latest Updates.